← Back
Village Parks and Gardens Round-Up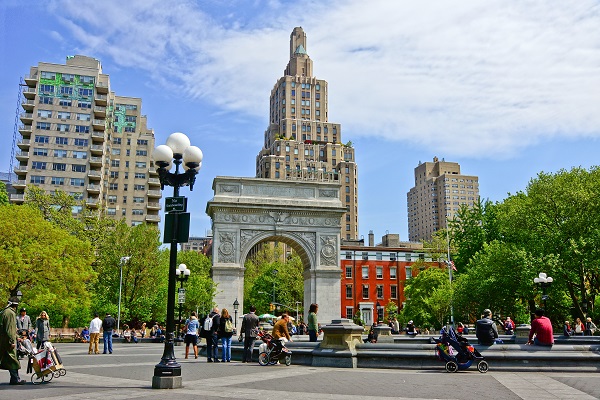 Autumn is in the air here in the Village! As the leaves start to change and the air becomes cooler and more crisp, what better way to enjoy than out and about in some Greenwich Village greenspace?  In addition to providing some bucolic backdrop, the parks in the Village are as historic as the buildings.  Below we have rounded up our favorite posts on these enticing esplanades.  So the next time you go to the park to escape the hustle and bustle of the city, be sure to keep in mind that enjoying one of our neighborhood parks and gardens is another way of enjoying all the Village has to offer!
Washington Square Park
From Parking Lot to Car Free Washington Square Park
An 89-Year Tradition Continues in Washington Square Park
Barefoot in Washington Square Park
Christopher Park
On This Day in 1837 — Christopher Park Is Born!
Making Christopher Park a National Park
Revitalizing a 'Gateway to the West Village'
Tompkins Square Park
The Tompkins Square Park Riots of 1988
Get your Fruit, Veggies, and Milk in Tompkins Square Park
Tompkins Square Park on Exhibit
Father Fagan Park
Abingdon Square
This Day in History: Abingdon Square Becomes a Public Park
Pier 40
Abe Lebewohl Park
Winston Churchill Square Garden
Sir Winston Churchill Square: 2013 Village Award Winner (and one of my favorite places!)
Jefferson Market Garden
Fireman's Memorial Garden
What's In a Name? The Fireman's Memorial Garden
General posts about Village parks and gardens
Take a Stroll Through the History of our Neighborhoods' Parks
Preservation Includes Community Gardens, and More
Mary, Mary, quite contrary, how does your garden grow?
Flowers and books for a summer day
When Greenwich Village was farmland
This Weekend, GVSHP is Going Green!