← Back
Village People, Halloween Edition: Shirley Jackson
Halloween is right around the corner, so for this installment of Village People, let's take a look at a Greenwich Village resident who knew a thing or two about fear and suspense – author Shirley Jackson. During her too-short life, Jackson was a master of the suspense and horror genre, enjoying success during her lifetime that has only grown in popularity and acclaim. Her ability to create stories thick with mood, mystery, and tension is still remarkable, especially when considering that she also adeptly maneuvered the expected responsibilities of a mid-20th-century wife.
From birth, Shirley Jackson bubbled with creativity and motivation. As a child, she often found herself in her mother's bad graces, as her fanciful nature conflicted with the more practical and respectable wishes her mother had for Shirley. After enrolling in college at the University of Rochester (still relatively rare for a girl in the 1930's), Shirley left after just two semesters to spend a year honing her writing skills. She wrote every day on a strict schedule, an impressive trait that would continue for the rest of her career. She eventually re-enrolled, this time at Syracuse University. Very quickly she published her first story, became fiction editor of the school's horror magazine, and co-founded a literary magazine with her future husband, Stanley Hyman. In 1940, after Shirley graduated, the two married and moved to Greenwich Village.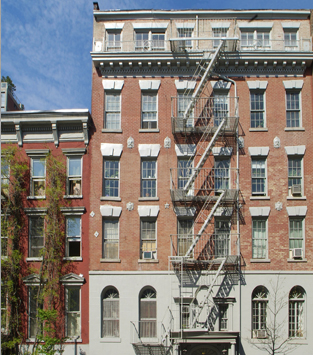 Although the neighborhood was showing signs of age, it was still a magnet for writers and other creative types. Their first Village apartment was at 215 West 13th Street. (By 1945, Anais Nin would cite this as her address in letters to Henry Miller.) Shirley and Stanley were not a wealthy couple in their first days of struggling to make waves in the literary world, and their Greenwich Village surroundings reflected that. But what the neighborhood lacked in luxury, it provided in culture, contacts, and inspiration. Shirley and Stanley immediately fell into the literary circles of the neighborhood – Shirley was published frequently in the New Yorker and the New Republic, and Stanley eventually won a staff position at the New Yorker.
Shirley and Stanley quickly started a family, and customs of the time dictated that the children and home became Shirley's main responsibilities. Between her "wifely duties" and a full writing schedule, she didn't have much time to get out and enjoy the Village nightlife. But Stanley did. His favorite haunt was Nick's Tavern – a famed jazz club where, since his days as a student at Columbia, Stanley would perch for hours enjoying cheap drinks and the genius of bandleaders including Duke Ellington, Louis Armstrong, and Count Basie. He credits the energy and quality of the jazz at Nick's with changing his perception of what cultural criticism in America could be.
Shirley and Stanley eventually moved to 36 Grove Street, paying $900 a year for a quaint home that apparently boasted three fireplaces. Although Shirley was the sole caretaker for the home and the family, a tidy life wasn't exactly her priority. The couple had a stereotypically hectic life as New York parents, and their bohemian surroundings meshed perfectly with their laissez-faire attitudes. They frequently hosted the Village creatives and intellectuals at house parties, and one partygoer remembered seeing a baby's crib piled so high with coats that it was impossible to tell whether the baby was inside there or not. By all accounts, Shirley was a joyful and attentive mother, but she let the city do its own fair share of parenting. Many times neighbors would return children to the house after they had wandered off through the neighborhood on their own. (Hey, Jane Jacobs says its our neighbors' watchful eyes that make a livable and safe city, right?) Among the Greenwich Village eccentrics, this style of housekeeping was the norm. But later on when the family would move to Vermont, Jackson's indifferent attitude would be a source of gossip. Life in Greenwich Village was (and still is!) truly unique compared to anywhere else in the world.
It was also in this Grove Street apartment that the couple struck up lasting friendships and professional relationships with luminaries like Ralph Ellison and Joseph Mitchell. Both Stanley and Shirley were mentors for Ellison, once even forcing him to sit down in the Grove Street living room to finish a short story over which he had been agonizing. Later, when inspiration struck Ellison for Invisible Man, it was Stanley he called to share both his excitement and his anxieties. The couple frequently read drafts of Ellison's work, and vice versa, and Hyman especially had a guiding hand in Ellison's process writing Invisible Man.
In 1945, Stanley won a position at Bennington College and the family moved to Vermont. Jackson continued to write with an impressive ambition, and was still frequently published in New York-based outlets. Her most famous short story, The Lottery, was published in the New Yorker in 1948. (You have to be a subscriber to read it in their archives, but you can listen to this reading of The Lottery on WNYC.) It took the literary world by storm, receiving more attention and response than any other story in the history of the publication. Jackson's 1959 novel The Haunting of Hill House was a finalist for the National Book Award and cemented her reputation as a preeminent American author of the 20th century.
Shirley Jackson died unexpectedly at the age of 48, in the middle of what would have likely been a continued successful and prolific career. As time goes on, her works have only received more critical attention, and Jackson herself has been heralded as a virtuoso for managing to successfully stride the realms of homemaker and literary master.
In the spirit of Halloween, light a candle or two and curl up with some of Jackson's work – I personally recommend The Haunting of Hill House. And if you're interested in more about Jackson, Hyman, and their lives, pick up Ruth Franklin's Shirley Jackson: A Rather Haunted Life, a biography released just one month ago and a very useful source to me in writing this post. Happy Haunting!