← Back
Happy Birthday Calvin Trillin!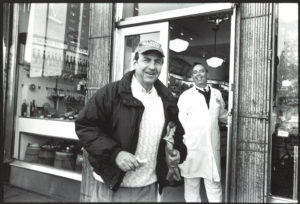 Happy (slightly late) birthday to Greenwich Village resident and long-time GVSHP supporter Calvin Trillin, born December 5, 1935. Mr. Trillin was a contributor to GVSHP's publication Greenwich Village Stories (available for purchase this holiday season!), and has been the host of several of our annual Village Awards Ceremony, as well as a featured speaker at GVSHP's benefit fundraising event "Much Ado About Noshing."
A frequent contributor to the New Yorker since 1963 and a prolific writer, Mr. Trillin is a quintessential Villager and, like many Villagers, arrived on our shores from a distant place; in his case, Kansas City, Missouri. This writer's favorite thing about Trillin's writing is that he often uses food to illuminate the culture of our time and place. If you've never experienced the joy of a Trillin article, allow me to introduce you to a few of my favorite articles by and about the great humorist, Calvin Trillin!
http://www.theparisreview.org/interviews/1552/calvin-trillin-the-art-of-humor-no-3-calvin-trillin
http://www.newyorker.com/magazine/2002/01/28/missing-links
http://www.newyorker.com/magazine/2002/04/15/dont-mention-it
http://www.thedailymeal.com/much-ado-about-noshing
http://www.newyorker.com/magazine/2013/12/02/mozzarella-story
http://www.newyorker.com/magazine/2015/11/02/in-defense-of-the-true-cue