← Back
David Rothenberg, Civil Rights and Social Justice Pioneer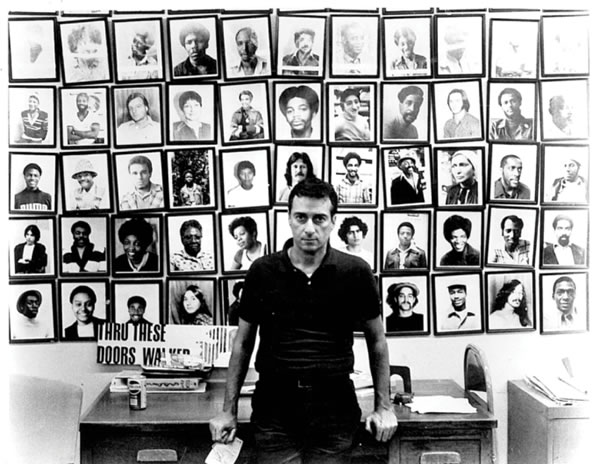 Civil rights and social justice crusader David Rothenberg, the founder of the Fortune Society and a 2015 Village Award winner, has now been added to the GVSHP Civil Rights and Social Justice Map.
David is a theater producer, early AIDS activist, LGBT-rights advocate, and trailblazing candidate for public office. But he is most well-known for his dedication to helping prisoners and the formerly incarcerated. In 1967, he produced Fortune and Men's Eyes at the Actor's Playhouse on Seventh Avenue South, a groundbreaking play about prisoners and the brutal and unjust treatment they often receive, which opened on February 23rd of that year at the Actor's Playhouse in Greenwich Village. This lead to his founding of the Fortune Society, a social-service agency dedicated to helping prisoners and former prisoners "thrive as positive, contributing members of society." More than fifty years later, the Fortune Society is one of the most respected and impactful non-profits in New York, and David was presented with a Village award in 2015 for founding this transformative organization which has improved the lives of countless individuals who might otherwise have been ignored or overlooked, and for blazing a path of activism and political engagement in Greenwich Village.
Additionally, David ran for the New York City Council in 1985, nearly becoming the first openly-gay person elected to public office in New York. He won 46% of the vote, a feat which various New Yorkers had attempted unsuccessfully to achieve since 1971, in spite of the fact that New York City had the largest LGBT community in the country. David has been a resident of the Village for over half a century, and still resides in his home at The Cambridge House, 175 W. 13th Street.
On Monday, September 18th GVSHP will stage a special program with David where he will discuss his life's work, its impact, and those who have impacted him. Click here for more information, and here to reserve a seat.
As the latest addition to our Civil Rights and Social Justice Map, we are honored to further recognize David's contribution to the landscape of activism that has defined our communities. The map contains more than one hundred entries in Greenwich Village, the East Village, and NoHo, where significant events took place or people lived who played key roles in the civil rights and social justice movements which permeate our neighborhoods. Entries go back as far as the 17th century, and include places and people like David still with us today – view them all.