← Back
Celebrating David Rothenberg and the Fortune Society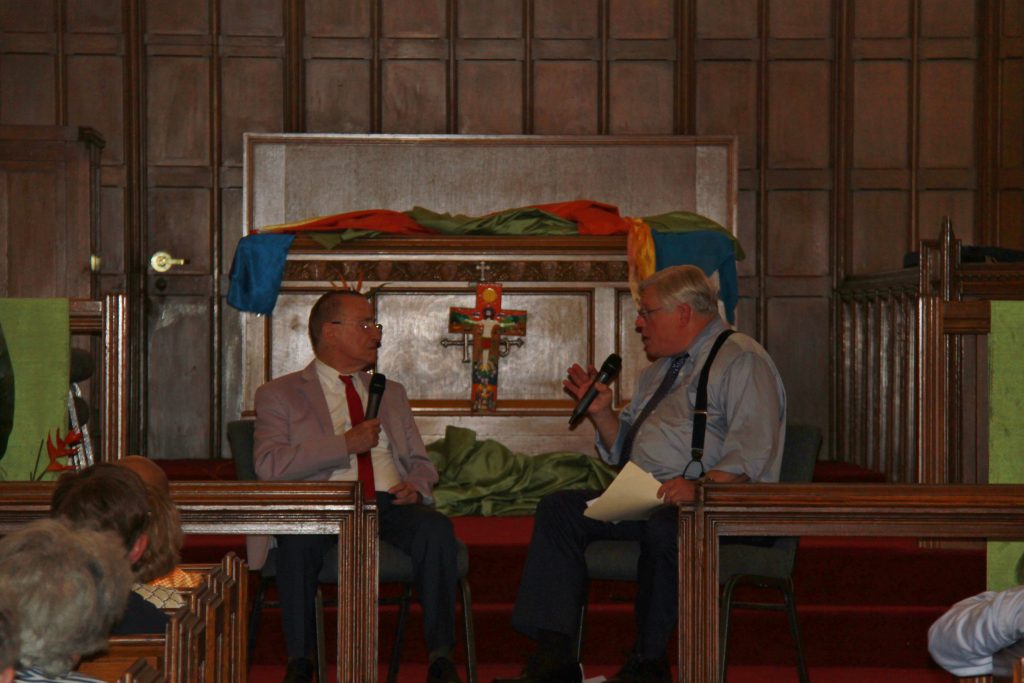 Last night, GVSHP and the Fortune Society hosted a celebration in honor of the 50th anniversary of the Fortune Society's founding by David Rothenberg, and marking the release of GVSHP's oral history with David and his addition to our Civil Rights and Social Justice Map. If you missed last night's celebration, or want to relive it, check out the video of the event or photos from it.
The event, which took place at the Church of the Village, featured a musical performance, a short video, talks by GVSHP Executive Director Andrew Berman and City Concilmember Corey Johnson, and culminated in a conversation and Q&A with Fortune Society founder David Rothenberg and former City Councilmember and State Senator Tom Duane. Over one hundred fifty people attended, and the very informative and successful event was followed by a reception with delicious desserts provided by Veselka.
The Fortune Society was founded in 1967 when Villager David Rothenberg, then a theatrical producer, staged the play Fortune and Men's Eyes at the Village's Actor's Playhouse, spurring discussion in the audience about the terrible circumstances often faced by incarcerated people. The Society's motto is Building People, Not Prisons, and as their website states,
We believe in the power of people to change. We help individuals with justice involvement rebuild their lives through innovative services and advocacy. Since 1967, we have helped thousands of formerly incarcerated people successfully reenter the community. Our holistic range of services has helped our clients transform and rebuild their lives after incarceration. Individuals with criminal justice involvement form one of the most disadvantaged populations in the nation. They experience a myriad of challenges and harmful stigmas that prevent them from successfully reentering society. These challenges include accessing education, employment, affordable housing, substance abuse treatment, healthcare, and family services. To address the complex and overlapping needs of our clients, The Fortune Society employs a holistic "one-stop shop" model of service provision, offering a comprehensive array of in-house social services to nearly 7,000 people with incarceration histories each year via three primary New York City-area locations: our service center in Long Island City, and both the Fortune Academy (a.k.a. "the Castle") and Castle Gardens in West Harlem. We also have a regular presence in four borough courthouses, on Rikers Island, and numerous New York State prisons. In honor of our founder's tireless efforts to promote the rights and fair treatment of people with histories of justice involvement, Fortune launched the David Rothenberg Center for Public Policy (DRCPP) in 2007. DRCPP resourced and advanced our policy development, advocacy, technical assistance, training, and community education efforts.
Below are some images from the event. Be sure to keep an eye out for more upcoming GVSHP programs, and check out all our oral histories here and the entire Civil Rights and Social Justice Map here.