← Back
New Historic Images Show Italian Immigrant Life in the South Village
The Center for Migration Studies of New York is a think tank and educational institute devoted to the study of international migration, the promotion of understanding between immigrants and receiving communities, and to public policies that safeguard the dignity and rights of migrants, refugees, and newcomers. They have a huge archive documenting the early 20th-century South Village Italian American community, and recently shared 16 images with us which are now in our Historic Image Archive. These images powerfully tell the story of the immigrant experience in the South Village, a neighborhood we have worked very hard over the years to honor, document, and preserve through landmark designation.
We thank Dr. Mary Brown from the Center for Migration Studies for sharing these images with us, and for her decades-long efforts to document the history of this neighborhood. Dr. Brown is a long time friend of GVSHP. She served on our South Village Advisory Board, which spearheaded the landmarking of the South Village historic districts, and wrote our report "The Italians of the South Village." This collection mainly focuses on Our Lady of Pompeii  Church during the period of great Italian immigration which lasted from the 1880s through the mid-1920s. During that period over 50,000 Italians settled in the South Village, a center of Italian immigrant life in New York on par with nearby Little Italy.
Much of the collection focuses on Our Lady of Pompeii Church and its congregants, such as the First Communion photo of these two boys taken a block away from the Church at Demaria studio located at 217-219 Bleecker Street, Mr. and Mrs. F. Rocca's wedding portrait inscribed to Father Demo, and Fathers Riccardo Lorenzoni, Antonio Demo, Carlo Delbecchi and Bartolomeo Marenghino (aka Marenchino), the pastoral staff at Our Lady of Pompeii.
Father Anthony Demo was a huge presence in the community, leading the congregation through its heyday for over 30 years. This photo of him includes a brief bio: Father Demo was born in Bassano del Grappa in 1870. He entered the Scalabrini Fathers community. His training took longer than usual because it was interrupted twice, in 1891-1892 and again in 1895 for service in the Italian military; in the latter tour of duty, he was a member of the Carabinieri, a branch of the army that serves as a national police force. Ordained July 20, 1896, he was assigned as a prefect in the Scalabrinians' seminary, then sent to the Scalabrinians' Sacred Heart Church in Boston. He was tapped for duty at Our Lady of Pompeii in 1897 when Pompeii's pastor, Francesco Zaboglio, suffered serious burns in a gas explosion in the church the congregation was then renting. His first accomplishment as pastor was to lead the congregation in renting 211 Bleecker Street, where it met until 1927. He also organized a parish day care center, then, when the city announced the congregation's church would be torn down to extend Sixth Avenue south of Bleecker, he led the congregation in building its present church, parochial school, and rectory. Accused of financial irregularities, he was called to the Scalabrini Fathers' headquarters in Rome to explain himself, then removed from his office. He was supposed to take a new position as a chaplain at Cabrini Hospital in Chicago but returned to Pompeii instead, where he died January 6, 1936. Father Demo Square, at the intersection of Sixth Avenue, Carmine, and Bleecker Streets, in front of Our Lady of Pompeii Church, was named after him in 1940.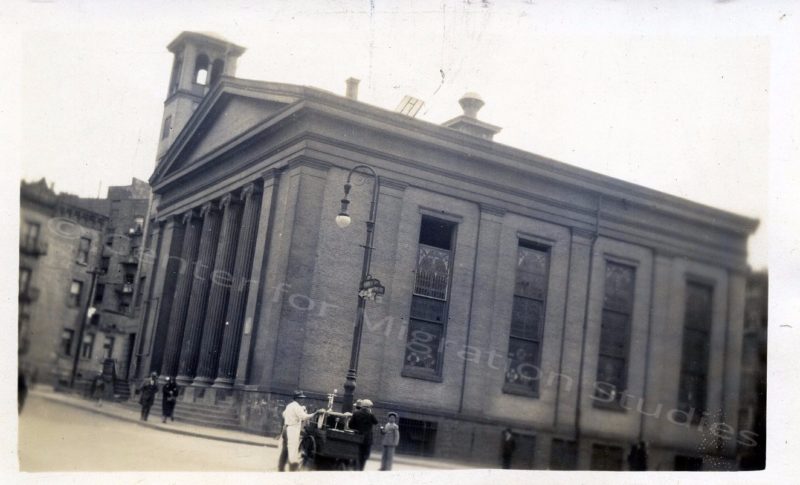 Craving more information about the Italians of the South Village? Check out our South Village oral history collection, watch our Save the South Village videos, or read about Italians of the South Village, Our Lady of Pompeii, and Father Demo.