← Back
GVSHP Oral History: Paula DeLuccia Poons
GVSHP is excited to share our oral history collection with the public, highlighting some of the people and stories that make Greenwich Village and the East Village such unique and vibrant neighborhoods. Each of these histories includes the experiences and insights of long-time residents, usually active in the arts, culture, preservation, business, or civic life.  Recently we added several new oral histories that can be found here, and the entire oral history collection can be found here.
Artist Paula DeLuccia Poons is the subject of our latest oral history. Paula is married to artist Larry Poons, and living for the last forty years at 827-831 Broadway, her life has intersected with some of the greatest figures in art and music since the 1960s.  In her oral history, Paula discusses her long journey to the heart of New York's art world, her battles to save her home from demolition, and the way she has seen the Village change over the years, with insights and perspective both deeply personal and unique. 
Paula was born in Paterson, New Jersey, in 1953. When she was six, her family moved to the suburbs of Paterson, where she entered Catholic school.  Paula had some good teachers and some bad; she was lectured by the nuns there about her curly hair, which was considered unruly. "Growing up, New York City was a million miles away," she said, aside from "an occasional school trip, either to a museum or to the World's Fair."
After she attended the Kansas City Art Institute, where she encountered a "good collection of abstract expressionist art, like, from females, like Grace Hartigan and Lee Krasner, and Elaine de Kooning, and they had a big Jules Olitski painting that I remember that I really liked. Big yellow painting."
Paula found herself in New York, thanks to an art school friend who she lived with at 16 Waverly Place along with several other artists and musicians. "Funky New York," Paula described the neighborhood at that time, recounting the cafes, the music scene, the tactic of cutting a hole in the door so that potential thieves would know that there weren't any electronics inside – only paintings.

"I was making art. Probably the same way I'm making art now, just making art. I really didn't think of art in terms of career. I mean, I just thought, you'll paint and something will happen. I mean, it wasn't like I was going out pursuing galleries."

Paula met Larry Poons at 827-831 Broadway in 1974, the year she moved to New York and the year Larry moved into the apartment. At the time, the two stores on the ground level were a bookstore and a blood bank.
It had been to William Rubin's space before Larry took it over, and William Rubin had been the director of the painting department at the Museum of Modern Art. And he had Richard Meier design the space…and it was like you were walking into, basically like a museum. I mean, it was quiet, it was like a different world… Elaine de Kooning lived on the third floor. Jules Olitski lived on the second floor; Paul Jenkins lived across the hall, and a woman named Royalene Ward lived upstairs in the penthouse… In the back, that's where the studios are…Larry had been working there from '74 to '89 when he dripped paint, and it went downstairs, and the landlord had a brass needlepoint shower that Cyndi Lauper was going to buy, and it suddenly had pink paint on it. And Larry went, 'Eh, I don't think I should do that anymore.' When he first moved in, he had dripped some paint, and I remember Elaine de Kooning bringing up a fluorescent light fixture and putting it there, saying, you know, 'You've got to replace this.' And then it reminded me––I came across a letter that Paul Jenkins had sent to Larry saying, 'I don't mind if you drip paint, I'll just put a canvas there and catch it.'
Paula also discusses the major changes to the neighborhood over the past 40 years, as well as the recent battle to preserve the 1866 buildings she lives in, slated for demolition until GVSHP was able to fight for and get their landmark designation. She addresses the realities of living in a rent-stabilized building, the state of disrepair, and the luck that she and her husband's notoriety afforded them when their building was sold. Paula and Larry continue to live at 827-831 Broadway, throwing parties for art show openings, celebrating friends' birthdays, fearing building demolition.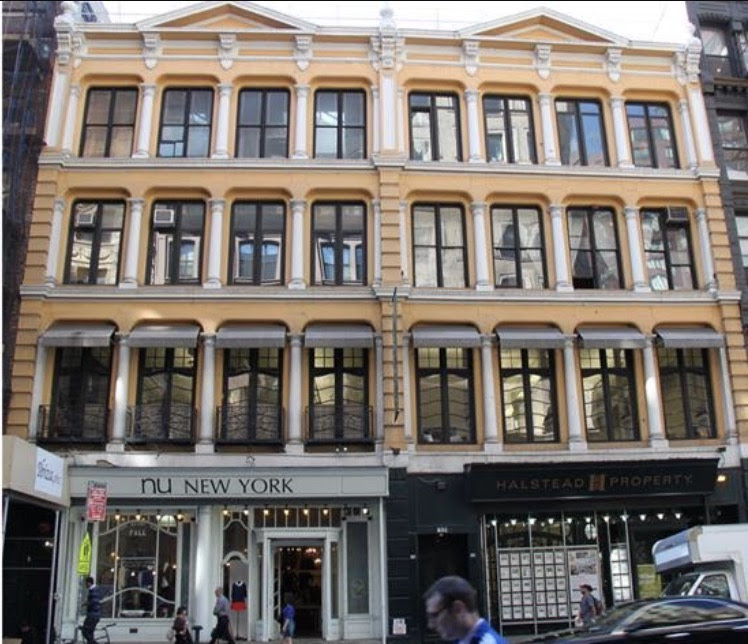 In 2017 GVSHP successfully fought to save the 1866 cast-iron loft buildings at 827-831 Broadway from the wrecking ball. When asked if it's her goal to stay in their apartment for as long as possible, Paula answered "As long as I live. Yes!"
Read or listen to Paula DeLuccia Poons's full oral history here.