← Back
A Stroll Down West 14th Street: The Residences
West 14th Street has a multilayered history preserved in its architecture which reflects the development of the surrounding area as well as New York City itself. West 14th Street is also a border street, separating Greenwich Village to the south from Chelsea to the north. Save Chelsea's President Laurence Frommer and I teamed up for a walking tour of this thoroughfare earlier this month entitled Planning and Preservation on West 14th Street, one of the MAS Janes Walk tours. Our tour only spanned from Sixth Avenue to Ninth Avenue, but nonetheless featured a variety of different building types, styles and periods. In this series, A Stroll Down West 14th Street, we will look at the three types of buildings we saw: residential, commercial/manufacturing, and religious. Today, we're showcasing the residential buildings.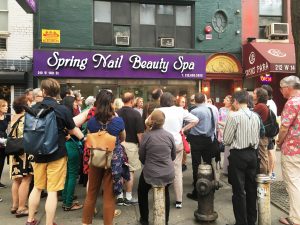 In the mid-nineteenth century, a number of single-family residences were constructed along West 14th Street, establishing the section between Union Square and Ninth Avenue as an emerging residential enclave for upper- and upper-middle-class New Yorkers. Greek Revival and Italianate row houses which housed some of the City's most prominent merchants are still intact and serve as a reminder of the street's initial development. A wonderful example of that is seen on the north side of West 14th Street between Seventh and Eighth Avenues in a stretch of row houses built between 1840 and 1860, sometimes known as the Andrew Norwood block. Nearly all survive to this day, with the exception of 209 West 14th Street which was built in 2015.
The most pristine of the group is the Andrew Norwood house at 241 West 14th Street. The Andrew Norwood House is an elegant urban residence designed in a transitional style which combines Greek Revival and Italianate features. Erected between 1845 and 1847, the house was originally part of a group of three houses which were built for Andrew S. Norwood, a prosperous New York City merchant. In 1845 Andrew Norwood purchased several lots on 14th and 15th Streets, between Seventh and Eighth Avenues. Today No. 241 West 14th Street is a New York City Landmark and listed on the State and National Registers of Historic Places.
During the 1860's the original residents of the row houses would move north as the area became more commercial and the row houses would morph into boarding houses, typically with commercial spaces on the ground floor. There are numerous examples of this type of metamorphosis of these row houses, including 212 West 14th Street. This Greek Revival rowhouse was built circa 1840's for a single family, but by 1880 it was a boarding house with one landlady, twenty-five boarders, and two servants, according to the Federal census of that year. In 1891 an alteration permit was filed for this building which included the removal of the front stoop, adjusting the first-floor level to be at sidewalk grade and a rear addition with fire stair.
This section of West 14th Street boasts another residential building type which was emerging at this time, the French Flat. At 200 West 14th Street is the Jeanne d'Arc, which was built between 1888 and 1889 and designed by James W. Cole for Henry Meinken. Following the Civil War, the middle class of New York City found themselves priced out of private home ownership due to both the large population growth at this time and soaring land costs. One option for these New Yorkers who did not wish to move into a boarding house was the French Flat which, as its name implies, was modeled on the French version of multi-family residence and differentiated from the New York City tenement. The Jeanne d'Arc features prominent elegant ornament designed to appeal to potential middle-class residents and a statue of Joan of Arc is placed above the entry on the West 14th Street elevation, furthering its allegiance to the European model.
Following the Civil War and into the early 20th century, 14th Street became home to many of the new immigrants coming to this country. They were primarily Irish, German, and Spanish who occupied this stretch of West 14th Street, and they sought the jobs provided by the industrial centers located on both the East River and the Hudson River. Many were housed in the row houses which were tenementized. Others were housed in purpose-built tenements such as the New Law tenement seen at 344 West 14th Street. 'New Law' refers to the 1901 law which increased light, air and plumbing requirements, among other things (click HERE to learn more). No. 344 was built between 1901 and 1904 and the 1910 Federal Census shows a veritable pot pourri of ethnicities including German, Italian, French, English, and American-born.
In our next post, we will explore the buildings on West 14th Street which catered to commerce and manufacturing. Stay tuned!