← Back
Discovering Yaroslava Surmach Mills, East Villager, Ukrainian, Artist
In the days leading up to the 2018 East Village St. Georges Ukrainian Festival, GVSHP took a trip to the Ukrainian Museum in New York City on East 6th Street to see, among other things, the unparalleled artwork of Ukrainian-American East Villager and Cooper Union graduate Yaroslava Surmach Mills (1925-2008). The retrospective of her work includes traditional pysanky (Ukrainian Easter eggs) and icons, paintings on glass, illustrations, and greeting cards. Her artwork swirls with detail, joy, community, action and bright colors. Let's explore!
Yaroslava's Family and Heritage
Yaroslava (which means Glory in Ukranian) was born in the East Village to Ukranian immigrants in 1925. Her father, Myron Surmach, immigrated in 1910 and met her mother, Anastasia Surmach, in New York. After they were married, Myron and Anastasia opened Surma Book & Music Company on East 7th Street. Surma was a mainstay in the East Village for books, greeting cards, honey, Ukrainian folk sheet music, and more. It was here that Yaroslava first sold her drawings as greeting cards. Surma was the oldest Ukrainian bookstore in the United States until its closing in 2016.
"The importance [that] Ukrainian heritage played in Yaroslava Surmach Mills' work cannot be overstated," says Maria Shust, the director of the Ukrainian Museum and our tour guide. "As someone who worked in mainstream publishing and in academia, counterbalanced with her exposure to traditional folk arts, Yaroslava became a conduit where traditional, contemporary, and graphic arts traversed interchangeably, shaping her uniquely stylistic approach that is evident in this exhibition."
Yaroslava is quoted talking about how her mother was the one who taught her traditional Ukrainian art in the Museum's exhibition review:
"She taught me to embroider on linen by counting threads, and she taught me to decorate Easter eggs. [In Ukraine,] she decorated the white-washed walls of their thatched-roofed house each spring. I remember how she could entertain me by magically forming flowers or people or houses on paper with her pencil."
Traveling to Ukraine
Yaroslava graduated from Cooper Union with a degree in art and began working as art editor for Humpty Dumpty's Magazine for Little Children. The Downtown art scene at that time was a center for Abstract Expressionism and the beginnings of the Pop Art movement. While Yaroslava certainly had access to that, she chose a different path. As political shifts in the Soviet Union took place in the 1950s, Yaroslava applied for and was granted one of the first American visas to visit Ukraine in 1956. She bravely went alone and drove through the countryside on a Vespa, experiencing the landscapes, rural communities, traditional art.
"I visited all the folk museums [in Ukraine] with special interest. It was in these museums that I first noticed another type of folk art – glass paintings. I learned that these small, colorful, naïve paintings were executed in reverse, on the underside of a piece of glass. The subjects were usually religious – the icon of the poorer peasant."
Yaroslava took this method as her own. In The Tale of Yaroslava and the Glasspaintings, Yaroslava wrote: "From some colorful pocket of my subconscious the little peasants began to spill out onto the glass and arrange themselves into the scenes of my childhood's imagination."
Bringing these methods, scenes, traditions, and motifs back to the East Village, Yaroslava mostly represented scenes from Ukraine but did turn her hand to the East Village. Her illustration of the East Village Ukrainian Festival and a map of the Ukrainian East Village are on display. She also continued to paint traditional scenes of life in Ukraine, representing lifecycles and regional dress, which are identifiable in the Museum's ground floor exhibition "Timeless Treasures: Recently Acquired Folk Costumes and Textiles."
Work and Successes
In 1968, Yaroslava's winter scene painting, the "Carolers," was published as a UNICEF holiday card. She did several version of the painting, all of which are on view at the museum. Each varies slightly in the color of the sky, the shape of the star center, and other details. Like all the scenes Yaroslava painted, there is a timeless humanity and positivity among the friends, families, community members, and nature depicted.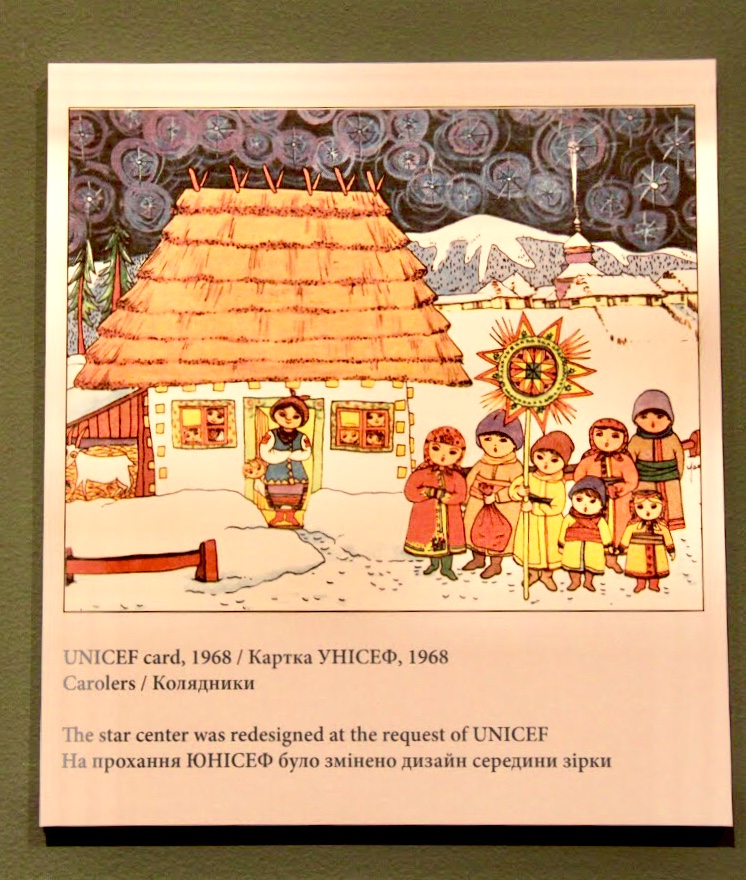 Yaroslava married Columbia University sociology professor and author C. Wright Mills in 1959; her first marriage, and his third. They moved to West Nyack, NY, where their son Nikolas was born in 1960. They lived there for the rest of their lives. During that time, Yaroslava began illustrating children's books, including Ivanko and the Dragon: An Old Ukrainian Folk Tale (1969); A Lion for a Sitter (1969), I Like You and Other Poems for Valentine's Day (1976), and The Mitten (1989). Yaroslava also taught illumination and calligraphy at Manhattanville College, and workshops on reverse glass painting and iconography.

Religious Art
Her largest scale works were windows and doors. She made the etched-glass entrance doors of the New York Senate Chamber lobby in the New York State Capitol in Albany. More significantly, she made the stained glass windows at St. Demetrius the Great Martyr Ukrainian Catholic Church in Toronto, which took 32 years to complete. Images of the windows are projected at the Museum in the part of the exhibition that displays her traditional Catholic icons, religious paintings, and the stained glass images.
Legacy, and Retrospective
"I often find it impossible to work on a painting without grinning," wrote Yaroslava. "I part with them reluctantly, but with hopes that they'll bring smiles and good feelings to their new owners."
When she died in 2008, Yaroslava left behind countless artworks as monuments to her skills and love of Ukrainian cultural art. Her son, his family, and the Nyack and East Village Ukrainian communities she called home remember Yaroslava with affection. Now, with the help of exhibit curator Hanya Krill-Pyziur, they have all come together to pay tribute to her art and life. At first, the museum had planned on displaying only Yaroslava's Easter Eggs, but the idea soon grew beyond that. The eggs have a special spot in an exhibition space downstairs, and the rest of her work is collected in another gallery. These works were collected "to reveal her role in connecting Ukrainian American communities across several generations, facilitated by the Surma store that her father founded," writes the Museum.
YAROSLAVA Surmach Mills: Retrospective
is on display through September 2, 2018.
About the Museum: The Ukrainian Museum acquires, preserves, and exhibits articles of artistic or historic significance to the rich cultural heritage of Ukrainian Americans; its collections include thousands of items of folk art, fine art, and archival material. At its founding in 1976 by the Ukrainian National Women's League of America, the Museum was hailed as one of the finest achievements of Americans of Ukrainian descent. Since then, and particularly since its move in 2005 to a new state-of-the-art building in Manhattan's vibrant East Village, it has become known as one of the most interesting and dynamic smaller museums in New York City. Each year, the Museum organizes several exhibitions, publishes bilingual (English/Ukrainian) catalogs, and presents a wide range of public and educational programs, including concerts, films, lectures, courses, workshops, and special events.