← Back
Remembering Romana Raffetto, South Village Pasta and Sauce Maven, Neighbor
We at GVSHP were deeply saddened to learn of the passing of Romana Raffetto of Raffetto's Fresh Pasta, located at 144 West Houston Street. She was a great friend to GVSHP over the years, supporting South Village preservation efforts and providing us with an oral history, along with her son Andrew. We remember and honor Romana, who left such a warm, delicious, and lasting mark on her neighborhood.
Romana and the Village
Romana was born on Aug. 29, 1932, in the small, northern town of Asolo, in Italy. She started cooking when she was 10 years old, after finishing school in the fourth grade and completing training as a seamstress. She got a job in England as governess for the children of a British diplomat who was posted in the United States in 1957; Romana moved with the family to New York. Soon after she met Gino Raffetto at a cafe in Greenwich Village. They married in 1960, and lived above Gino's father's store, Raffetto's.
In her GVSHP Oral History, Romana remembered:
"So the Greenwich Village, to me, is beautiful. That's what I feel. And now I don't walk too much, unfortunately. But I used to, when I used to take them to school. We used to go all the way up to Bleecker Street, all these stores. Or at that time, when they were little, 14th Street was better than now… We used to, on Sunday, dress up and take Washington Square Park and go to 8th Street…" (Romana Raffetto p.43)

Raffetto's Store
In this video, Romana's wonderful personality welcomes visitors to the store's website.
"If you are greeted by mouthwatering aromas of simmering sauce with hints of basil and garlic," food critic and longtime Villager Mimi Sheraton wrote in The New York Times in 1997, "know that Romana Raffetto is working on one of the sublime sauces she turns out here."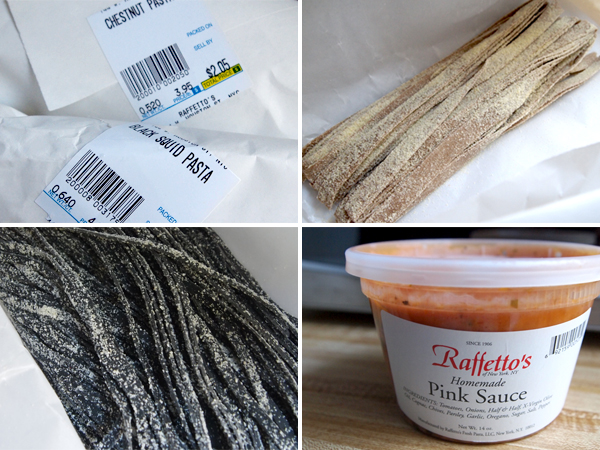 Romana's son Andrew, who also participated in the oral history with GVSHP, tells of the changes that Romana helped to institute with the business, as well as with the advent of refrigeration and the changing tastes and desires of their customers. Now, one can go to Raffetto's for pasta made with black squid ink, chestnut, buckwheat, chocolate, or saffron, in all shapes, sizes, and fillings.
"Back in the day, as far as the store goes, what's interesting is very few flavors. We made a meat and spinach ravioli, which is original to the Genoa area… And then they made spinach and egg noodles. Only two flavors. And what's interesting is that they were dry. Somewhere we have stationaries that say 'dry and fresh.' …And what's interesting with the demographics and such, if you think of the lack of refrigeration, a dry noodle—even to this day, your house upstate your pantry's full, the refrigerator's empty. It just stores better… And in finding some documents during a construction phase when we gutted the building and renovated the old tenement, we found sales ledgers where my grandfather was mailing pasta. Washington, Philadelphia, it's almost like the early mail order business, which is kind of fascinating. You think you have a modern plan for your business, and it was done, basically 100 years ago, because it was non-perishable." (Andrew Raffetto p.6-7)
Romana and Andrew Raffetto Remember the Village

Romana and Andrew both remember the Village as it was, and reflected on how it has changed as of today.
"The one thing I would comment about the present-day Village that's a little sad, I have an opportunity to come to work and experience it. And we own the building. We could always live here if we wanted. But I think the opportunity for people to experience it is just becoming more and more difficult with all the rents. And it's just not the same. When the rents of the stores are the same, then you don't have a little bakery or a little doughnut shop. It's all chain things," said Andrew.
Romana also told GVSHP:
"When I came up with the neighborhood, it was a lot of family, a lot of older people. Today it's changed. This street, it was all family… this block was practically all Italian. Sullivan Street, on the other side, was a lot Italians living there. But now it's just completely changed because this side's become a luxury building. The other side, now the Japanese built a big building. The fantastic theater left. We used to go there. Then there was also the funeral home. The building collapsed….It changed so much that now you go out the door, you don't know anybody. At one time, you used to say hi, and even there was a guy sitting outside with a chair. Sometimes I feel like doing it myself [laughs]. Nobody else does it…. And you greeted each other, and you gossiped with each other. It was more friendly. Now it is all strangers. All strangers."
Romana Raffetto died on May 25, 2018. She is survived by her children and grandchildren, and by her recipes, South Village community, and the vast network of neighbors, customers, and friends.

Read more!
Romana and Andrew Raffetto's oral history is online here.
Click here to access other South Village oral histories.
Read more about the history of the South Village here.
Help GVSHP support local businesses! Read about the GVSHP Business of the Month program here and nominate your favorite local business here. (Raffetto's was awarded a GVSHP Village Award in 2004).
The Raffetto's building, located at 144 West Houston Street, is included in the State and National Registers of Historic Places Designation Report.