← Back
A Bevy of New Historic Images from Landmarks Applications
Every month, GVSHP posts the upcoming applications for changes to landmarked properties in our neighborhoods that are significant enough to warrant a public hearing, known as certificates of appropriateness. Typically included in these applications are old photos of the properties which can serve to provide explanation or justification for proposed changes to landmarked structures. GVSHP has gathered these images from the applications and added them to our historic image archive, which has become quite the treasure trove. The most recent batch of landmarks applications had some fantastic new images we are happy to share.
Above is part of the application for a storefront alteration to 653-655 Broadway in the NoHo Historic District. This building is part of a group of three buildings along Broadway and one at Mercer built between 1866 and 1883. The structures were built as stores and feature elaborate marble facades in the Italianate style. During much of the 20th century, they were occupied by manufacturing lofts. While being converted to apartments in 1979, a fire occurred which caused massive damage, and the buildings were subsequently rebuilt. The image above and to the left is from Both sides of Broadway, from Bowling Green to Central Park, New York City by Rudolph M. De Leeuw, and was taken in 1910. Here we can see what the storefronts at these buildings used to look like. The center image is from the Museum of the City of New York and was taken shortly before the fire. The final image from Getty Images by Allen Tannenbaum is quite extraordinary, and shows what was left of buildings just after the fire. Below are the designation photos that were taken in 1999 and show the modern storefront seen today.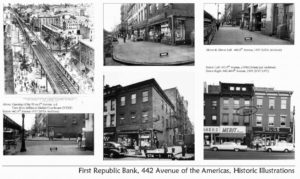 The 442 Sixth Avenue application has a wonderful rendering (above, top left) from the New York Historical Society of the opening of the Sixth Avenue El as viewed from the Jefferson Market Courthouse. An application for 2 Cornelia Street (below) also shows the Sixth Avenue El where it used to turn east at West 3rd Street. Taken in 1928 and part of the New York Public Library Digital Collection, at the foreground you can see construction for the future Sixth Avenue subway line in these images. At the left of both photos, you can see the Ecclesiastical Art Works, future site of the Waverly Theater and IFC Theater after that.
708 Broadway in the NoHo Historic District was built in 1896 and designed by the architecture firm of Cleverdon & Putzel. The limestone and terra cotta facade is in the Northern Renaissance style. The images from this application take the viewer through the decades.
Each month we will continue to add more images to our Historic Images from Landmarks Applications collection from our historic image archive, as they become available.
Click HERE to see more images from the GVSHP historic image archive. If you wish to search for a specific property, you can use the search by map feature.