← Back
More Photo Mysteries from our Newest Historic Photo Collection
We recently unveiled the new addition to our Historic Image Archive, Carole Teller's Changing New York, Part 4, which includes about two hundred fifty images of Greenwich Village, the East Village, NoHo, the Lower East Side, and everywhere from Times Square to the Financial District from the 1960s to the 1990s.  Between Carol's memory and our sleuthing, we were able to identify the exact locations of more than 90% of the images.  But some mysteries remain.  Carole's cousin emailed us to tell us the location of this previously unidentified photo of Stanley's Coffee Shop was 14 Avenue A, based upon a 1982 NY Times article about health violations.
We've still got about twenty pictures in the new collection of which we have been unable to identify the location. We need your help — do you know the location of any of these newly released unidentified photos? If you think you know any of the locations, please email us at info@gvshp.org.
There are three unidentified 1960s South Street Seaport images:
We've spent some time trying to identify the location of the photo of the elevated subway below. I originally guessed it was Brooklyn. What do you think?
This Uncle Junior lookalike is featured in an unidentified "Jewish Deli" photo below, location unknown. Here and here are some interior shots.
We have not been able to the following three Chinatown image locations below: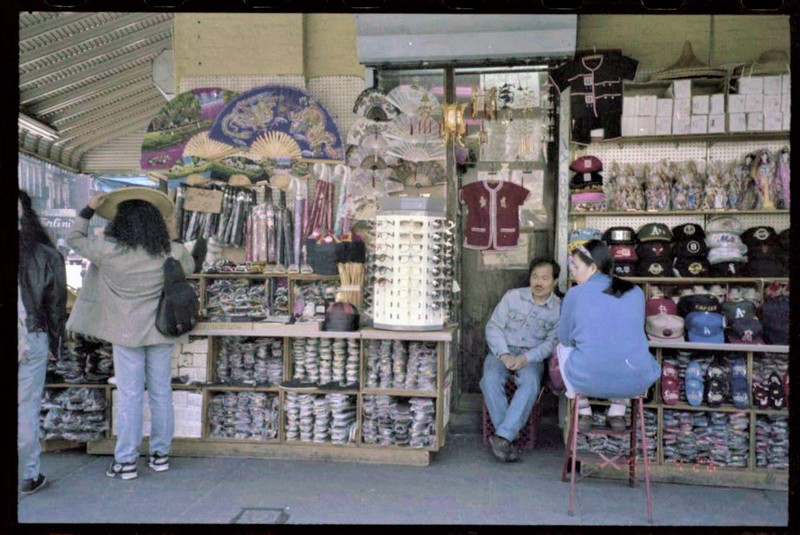 Read more about other GVSHP photo archive mysteries both solved and unsolved here, here, and here.