← Back
Villagers, (Pumpkin) Spice Up Your Life!
The fall equinox is this weekend, ushering in the start of autumn. As we all know, autumn has a flavor, and that flavor is pumpkin spice.  A mixture generally consisting of cinnamon, nutmeg, cloves, ginger, and allspice, in the 21st century it has made its way out of the pumpkin pie and into the coffee cup.  While the beverage has attained popularity thanks to a certain coffee conglomerate that insists on a presence everywhere, GVSHP and the Village try to avoid suckling at the corporate teat whenever possible.  Thus we're focusing on local and small businesses where you can grab spices and coffee to brew your own version of this seasonal beverage.
The Spices
Only in recent years has the PSL (street name for the pumpkin spice latte) started to include actual pumpkin, but historically it was only supposed to "evoke the spices used in pumpkin pie, not the taste of pumpkin itself." We believe in preserving the historic style of this beverage and therefore focus on the spices without unnecessary additions.  From our Business of the Month program, here are two spice shops to help you experience the legacy of pumpkin spice at the quality you deserve:
Abdul Patwary, who hails from Bangladesh, founded Dual Specialty Store almost 30 years ago.  When the nearby Indian restaurants he served started disappearing in the 1990s, he wisely adapted his unique shop to expand its inventory to serve a broader base of customers. They carry an ever-expanding array of spices and herbs, teas, grains, incense and healthcare products; some of the most popular items are the spices, garam masala being the first he listed. It's a blend of ground spices common to traditional cuisines of the Indian subcontinent — a mix of cumin, coriander, cardamom, pepper, cinnamon, cloves, nutmeg and more.  If you want to make it (or pumpkin spice) yourself, Dual sells all the spices needed to do so!
Sullivan Street Tea & Spice Company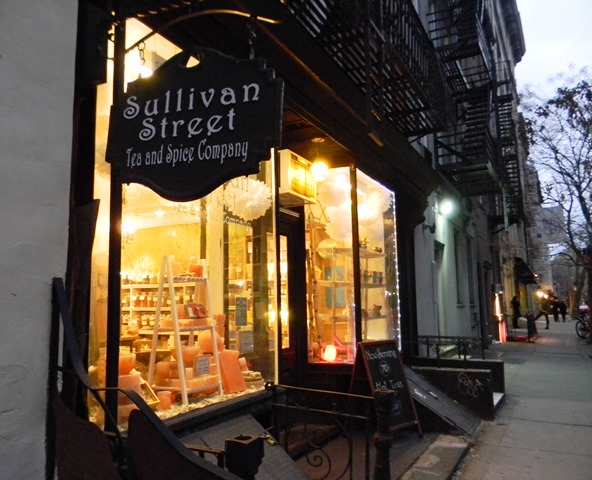 Opened in March 2011, Sullivan Street Tea & Spice Company attracts both locals and tourists – with some customers making regular pilgrimages from other boroughs – for its broad supply of high-quality and hard-to-find teas and spices. The packed shelves also contain herbs, honey, soap, candles and more. Dozens of brewed teas are available every day to take out in to-go cups as well.  Mark Greenberg was inspired to open the shop by demand for the teas sold at Grounded, the Jane Street coffeehouse that he and his sister, Jen Greenberg, have run since 2004. Both shops place an emphasis on organic, fair-trade products coming from trusted small producers. With Sullivan Street, Greenberg said he "wanted to do something positive and simple." He's also chosen to preserve much of the store interior that he inherited as the first tenant after Triangle: the historic storefront, tin ceiling, tiled floor, and a painted mural signed "Helen Meyer 2/65."
But don't just take our word for how much we appreciate Sullivan Street Tea & Spice; one enthusiastic customer also had many good things to say about this sweet, South Village shop:
"There is NOTHING like this in the neighborhood, in terms of both teas (mainly their own blends, beautiful, fragrant, flavorful) and their extraordinary selection of spices…as well as all sorts of other things to delight the senses…It is, besides, one of the most delightfully charming, cozy venues in the South Village. [Also] a great, good neighbor: it is a special pleasure to shop here, not least because of the friendliness and helpfulness of owner and staff."
The Coffee
While the spices impart the pumpkin spice flavor, it is, for many, the coffee that serves as the vehicle for bringing this fall treat to our taste buds.  For quality coffee, there is no better place to look than the Village! While there is a large selection of many wonderful coffee purveyors in our neighborhoods, two that have been keeping the Village well-caffeinated for generations are Porto Rico Importing Company and McNulty's Tea & Coffee Company.
Porto Rico Importing Company
Porto Rico has been owned and operated by the Longo family and serving coffees since 1907.  Long-time residents of the South Village on Bleecker Street, Porto Rico now also has locations on St. Mark's Place in the East Village, as well as a couple on the Lower East Side.   In 2007, GVSHP honored Porto Rico with a Village Award and, in 2015, we released an oral history with Peter Longo, the current owner and operator of the establishment.
McNulty's Tea & Coffee Company
McNulty's Tea & Coffee Company at 109 Christopher Street is a part of a long tradition of Village specialty shops that hint at a time before grocery stores, when shoppers would buy bread from the bakery, meat from the butcher, and fruits and vegetables from pushcarts or small produce markets. For over 115 years, McNulty's has been the Village's source for quality teas and coffees from around the world.  In 2011, GVSHP also honored McNulty's with a Village Award.