← Back
Woody Guthrie's New York Comes Alive
Folk music icon Woody Guthrie was a little man with beady eyes – as described by his second wife Marjorie, though she had imagined him to be taller, strapping, and more like a proper cowboy than he was. Perhaps it was because of his Dust Bowl Ballads, his first album, chronicling his travels from Dust Bowl Texas up to California with thousands of other migrants looking to escape the horrible conditions and find work. Perhaps it was his "hillbilly" music, which made him popular on WNYC not long after he hitchhiked from California to New York. Marjorie fell for him anyway and learned that Woody Guthrie was a lot of things. A Villager was one of them.

New to New York
Woody Guthrie wrote his famous "This Land is Your Land" in the first week after he arrived in New York on February 23, 1940. The next day, he wrote a song about how the uptown society women of the time were wearing very funny-looking hats. A few days after that he wrote the Dust Bowl Ballad based on the Grapes of Wrath, the Ballad of Tom Joad in a friend's house on East 4th Street just off the Bowery. Then, they went for drinks at McSorley's on East 7th Street to celebrate.
Woody lived all over the city, but spent most of his time in the Village, living on Sixth Avenue, Charles Street, and at 130 West 10th Street, also known as the Almanac House #2. This was named after the Almanac Singers, of which Woody and his friend Pete Seeger were part. This building still stands and is one of the true first homes of folk music in the Village. Each of Woody's homes was shared with his friends and family. He created warm sites of music and Hootenanny celebrations wherever he went.
In the larger spaces, like the Sixth Avenue loft where he lived with Pete Seeger and his friend the sculptor Harold Ambellan, and Harold's fiancee Elisabeth Higgins, Woody and Pete would advertise their jam sessions, and for "two bits" anyone could join the party and help them pay their rent. The musicians would also often hold fundraisers for unions and other efforts, remaining ever engaged in uplifting the voices of the downtrodden and hardworking around the country.
Musician's Life in the City
Woody's time as an employee of anyone other than himself never seemed to work. He enjoyed success on WNYC, until the station started telling him what kind of songs he should and should not play. He left rather than conform. His band the Almanac Singers almost got a good gig at the Rainbow Room, playing for the city's glitterati. However, management asked them to unrealistically play up the "hillbilly" image, and he refused, not wanting to improperly use and misrepresent those people in his hometowns.
He'd been in New York for years before he was able to finally put his name on a lease in the Village. His apartment at 74 Charles Street, which he called "El Rancho Del Sol," was the first, and it was there where he wooed and lived with his second wife, Marjorie, who was first a dancer and then a trainer with the Martha Graham company and who trained the likes of Merce Cunningham and Erick Hawkins.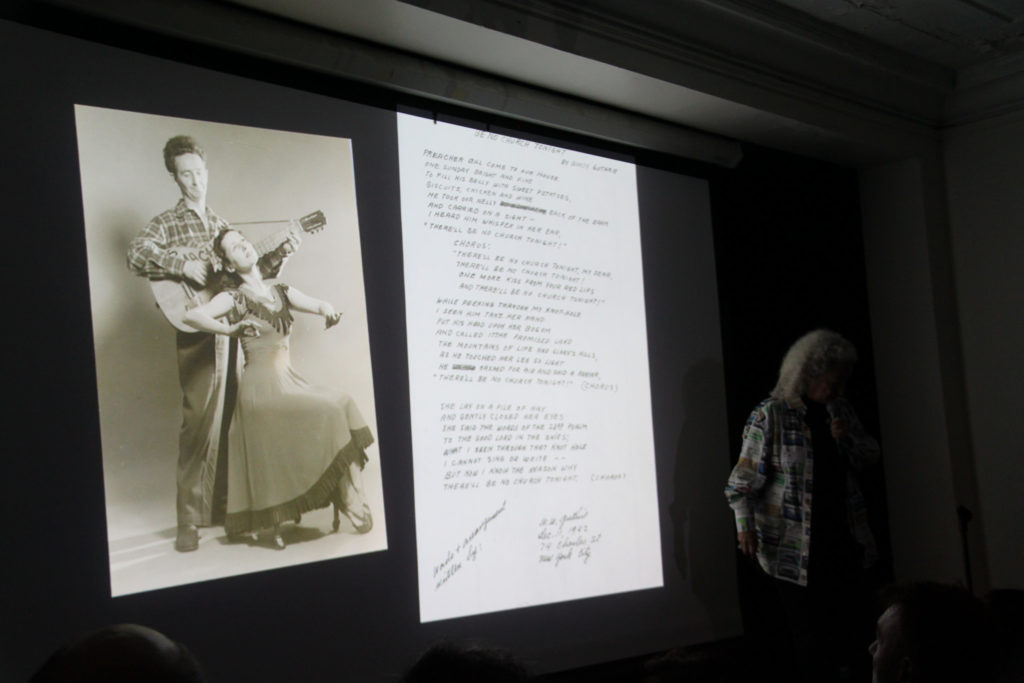 A plaque was installed at 74 Charles Street on the building in 2013 to honor Guthrie as part of the Historic Landmarks Preservation Center Medallion program, which has placed over fifty historic plaques throughout the five boroughs. Watch the 2013 Woody Guthrie Plaque dedication ceremony here. One of the speakers at the ceremony was Guthrie's close friend, composer David Amram, whom GVSHP has featured as part of our Oral History program.
Woody's Legacy
All this information was relayed to GVSHP staff and community members at a recent program, "My Name is New York: Ramblin' Around Woody Guthrie's Town," named after the book produced by Nora Guthrie and the Woody Guthrie Archives. Nora was born and grew up in Coney Island, where Woody and Marjorie moved when they started their family. The family lived there to be close to Marjorie's family, who helped take care of the kids, and this was when Woody began writing songs and making art for children. At the program, we listened to "Riding in my Car," a favorite from that time.
We also encountered a song that felt quite close to home, which was written about the Guthrie family's second apartment in Coney Island. The family witnessed discrimination and predatory landlord practices by none other than Fred Trump, about whom he wrote a song called "I Ain't Got No Home/Old Man Trump."  The song could have been written yesterday.
You can see all the photos from our program online here.
End of Life
Woody had served in World War II in the Merchant Marines, and through Veterans benefits programs the family was able to move to a small home in Queens. It was here where the family lived when Woody's Huntington's disease laid him up for the last fifteen years of his life. The family lived in Queens, but Woody's time was spent largely in local hospitals, especially at Brooklyn State Hospital. Even when he was bedridden, Woody was a light and a magnet for his friends, family, and young musicians. These folks would make their pilgrimages to see Woody.
At the program, we also listened to an interview with Bob Dylan, who talked about how he could play every one of Woody's songs. He would visit Woody in the hospital, bring him supplies, and play Woody his own songs. Woody wanted to hear his music – not anyone else's – at the end of his life, finding comfort in his works and that the younger generations of folk musicians were carrying those forward.
Think of Woody at Coney Island
Nora quoted someone who once told her "You can listen to Woody Guthrie songs and actually learn how to live."  Woody Guthrie Publications is a treasure trove of information about Woody and his work, and Nora, its director, has created artist collaborations, books like "My Name is New York," and many others which keep Woody's music and other legacies current and ongoing. 
When Woody died, his family took his ashes out to the end of the rock jetty at the end of 36th Street in Coney Island. The family still goes out there, to commune with Woody, and Nora encouraged everyone in the room, and everyone who might have been touched by Woody's words and music, to think of him when we're there. Woody lives on in his music, and in the ocean where he worked in the Merchant Marine, just there off the New York Island about whose characters, workers, subways, landscapes, and truths he so lovingly sang.
Click here to listen to Woody singing This Land was Made for You and Me