← Back
"An Intimate and Unconventional Space:" Caffe Cino
Caffe Cino at 31 Cornelia Street was a community, a haven, the birthplace of countless theatrical careers and movements, and the origin of off-off-Broadway theater. In November 2017, Caffe Cino was added to the National Register of Historic Places, which is a great symbolic honor for the Caffe, which opened in 1958 and closed its doors in 1968.
Joe Cino, Creating Space
Joe Cino was born November 16, 1931, in Buffalo, New York, and ran away from home to New York City when he was 16 with three of his friends. Despite feeling that he needed to leave, he always maintained a warm relationship with his family of origin. The family he created in New York was quite a different story. Cino dreamed of opening a coffee shop that would also be a gallery and performance space. He found his spot on Cornelia Street, in what had formerly been a locksmith's building. His Italian landlady recognized their shared Italian heritage, and would bring him and his friends soup even if he was behind on the rent.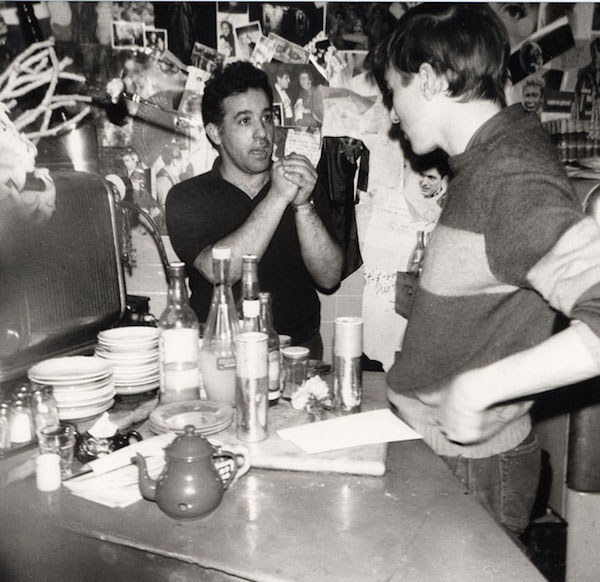 Caffe Cino opened with an espresso machine (he would use the hot water steamer to make scrambled eggs — "eggs Cino" were 95 cents), some pastries, windchimes hanging from the ceiling, and a few dedicated friends. Cino's community came together to create theater and an open space for LGBT writers, performers, and patrons at a time when gay theater was considered illicit and unacceptable. After a fire in the early years, the Caffe was rebuilt with a small stage – before that, the actors would perform in the space between tables.
"I never would have been a playwright without the Caffe Cino. I never certainly would have written about gay subjects that freely. That was the kind of empowerment that the place gave us. We were no longer victims."
William M. Hoffman, playwright, c. 2009
The Challenges of Coffee Shop Theater 
At this time gay bars were paying off the police to avoid raids on their clientele, and coffee shops were also under fire for hosting ticketed events without a Cabaret license. Cino dealt with both these challenges. Because his space was a coffee shop and a theater, Cino should have been able to obtain a cabaret license to make the sales of tickets for their shows legal. However, at the time one couldn't obtain a cabaret license without a liquor license, but Cino didn't want to serve alcohol. With this conundrum, the Caffe was technically breaking a law. The Caffe was under heightened scrutiny because it was known to be an LGBT hangout. Joe Cino paid off the police huge sums in order to keep the Caffe going.
In the meantime, the plays being put up at Cino were groundbreaking and allowed many actors and writers of the time to create theater outside of the bounds of commercial theater in New York. The play Dames at Sea, which gave Bernadette Peters her start, was picked up by off-Broadway producers who didn't recognize Joe Cino as the original creator. Friends and colleagues at Caffe Cino included Edward Albee, Diane Di Prima, Doric Wilson, Sam Shepherd, and many others who went on to great acclaim.
Cino's Struggles and Legacy
These struggles with the authorities were compounded by Cino's lack of recognition in the off-Broadway world. Joe Cino and Caffe Cino were really one and the same — their struggles and difficulties intertwined.  Joe Cino was 36 when he died as a result of suicide on April 2, 1967. His friends and community worked hard to keep the Caffe open. Despite winning an Obie award, police pressure and financial difficulties closed the Caffe in 1968.
Joe is still remembered as a warm, irreverent, generous, creative, and supportive dreamer. Joe ignored Andy Warhol, kept Bette Midler's early resume taped up behind the espresso machine, and was always there for his community. It is this energy and his passion for theatrical experimentation that earned Caffe Cino its recognition on the National Register of Historic Places. Its designation is for its significance and success in the performing arts and social history. Many of those who remember him this way are working to preserve his memory. They joined us at our program – you can see photos from the program here, and watch video here.
Village Preservation successfully fought to get the building which housed Caffe Cino landmarked in 2010 as part of the South Village extension of the Greenwich Village Historic District. In 2019, it was designated an individual landmark by New York City.