← Back
East Village Community Garden Dreaming with Building Blocks
On these chilly late-January days, a little virtual trip through some lush, breezy gardens might just help to lift the spirits. With our recent launch of East Village Building Blocks, not only can you explore every building between 14th Street and East Houston, 4th Avenue and the East River, but you can also delve into the community gardens and other green spaces within this area.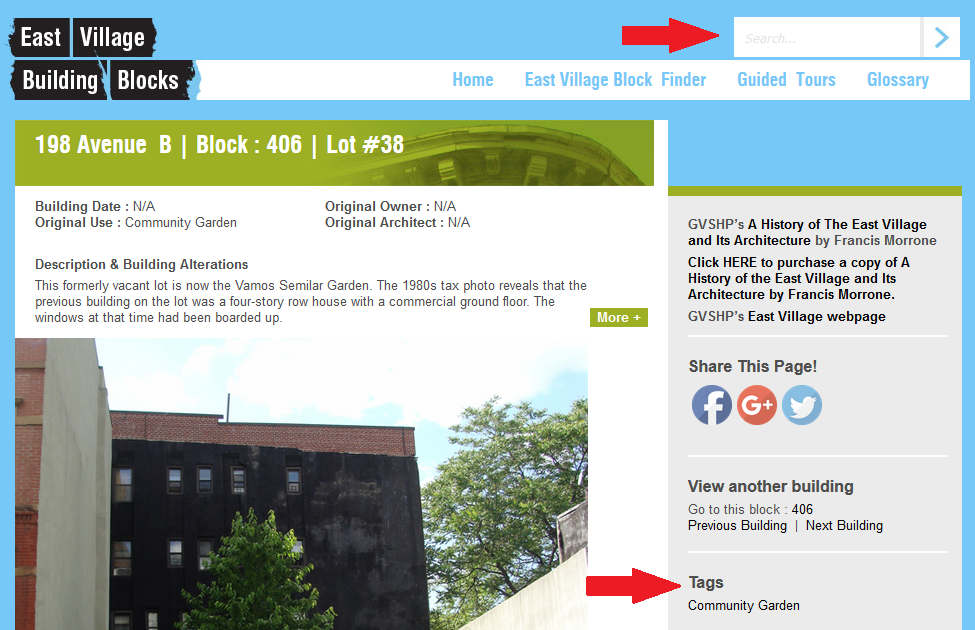 Using Building Blocks' search tool, or by clicking the tags under any item, you can create the beginnings of your own personal tour around the East Village, grouped by location, type, architect, style, and other key features. For our community garden adventure, we see that six pages (over 50 items) of results come up, revealing the diversity within this specific category and offering countless possibilities for tours. Let's look into a few of these magnificent spots.
First Street Garden, 48 East 1st Street
First we'll visit the First Street Garden between 1st and 2nd Avenues. It's perhaps not at all surprising that, as we look at these spaces, their accompanying historic tax photos, and their descriptions, we remember that there were once buildings occupying these green lots. Like some others, the First Street Garden is still technically a vacant lot (also a tag in Building Blocks), owned by the city and used by the community as a place to plant, paint, gather, and relax. According to the NYC Parks' website, gardens occupying vacant lots are protected under the GreenThumb Program but not considered parkland and, as such, they are cared for by a Gardening Group. Through a look on Google Street View (with Google Maps also clickable on the right side of the Building Blocks page) we can see the incredible murals of "women who have changed the world" on the wall of #46 next door, one of the many features that makes this and other community gardens such enchanting places.
6BC Botanical Garden, 624 East 6th Street
Next up is the glorious 6BC Botanical Garden, found on Lots 21 and 22 of Block 387. As the description explains, this is also a GreenThumb project, but (clearly) occupies the space of multiple former structures. The building  formerly on the west side of the garden was a six-story built in 1907 (likely very similar to the building next door), and the one on the east side a tenement built in 1898. The garden's website features some amazing images of these and the surrounding block. Today, the 6BC garden provides a stunning escape from the sidewalk with a calming pond, a treehouse, and a variety of blooms. Personally, from visiting this garden during our East Village Community Gardens walking tour in July 2018, I found this a particularly magical place, including the views of the adjacent Calvert Vaux & Radford building above the greenery.
El Sol Brillante, 530 East 12th Street
Finally, we'll wander to 522-530 East 12th Street, El Sol Brillante garden. This lot was originally home to a 19th century five-story tenement and a four-story back building. Across the street is another little garden, El Sol Brillante Jr., and just to the east of the garden is a playground known as Joseph C. Sauer Park. As we look at the 1980s tax photos (1, 2, and 3) for each of these locations, we see they were all building-free by that time, showing us the various transformations of these empty East Village lots. El Sol Brillante features gorgeous plants and flowers, a welcoming central fire pit, and its boldly decorative gate.
Reading through the information about each garden, it's quite hard to imagine these East Village lots with buildings in their place. Thankfully, whether on a stroll outside or in a Building Blocks tour from the great indoors, we can visit and learn about these happy little urban oases.
Explore East Village Building Blocks further here.  Click here to read more about our neighborhood's gardens.  Click here to see photos from our 2018 summertime East Village Community Gardens walking tour.