← Back
Welcome to March! Celebrate Irish Heritage and Women's History with Village Preservation Programs
Good news, all Off the Grid-ers: we've made it to March! In addition to marking the near-end of winter, March is the month for two important celebrations – Irish Heritage Month and Women's History Month. So central to the history of Greenwich Village, the East Village, and NoHo, these subjects are near and dear to Village Preservation. Today we take a look at some of our past programs that focused on these topics, all of which can be re-lived through our videos of past programs on YouTube!
Irish Heritage Month
Journey of Hope, The Irish in New York with Tara Ryder, Ph.D | March 14, 2018
On March 14th, 2018, Tara Ryder, Ph.D joined us for a fascinating lecture about the waves of Irish immigration to New York beginning in the 17th-18th century and the ways in which they shaped our city's history. One central idea throughout Ryder's talk is the Irish identity – its interweaving into American/New York culture as well as its continued uniqueness.
Ryder states, "the Irish didn't wait for New York, for the United States, to welcome them – they took it on their own terms," actively getting involved in its development by building much of the structures around us and, eventually, leading the way in city politics. Despite coming from absolute hardship and facing harsh prejudice upon arriving, she recounts their journey as a community striving to find their home here, with the Irish American identity now well accepted and celebrated.
McSorley's, My Dad, and Me | July 24, 2017
Though not specifically focused on Irish heritage, the footage from McSorley's, My Dad, and Me offers a closer look into one of the city's most legendary Irish landmarks. On July 24th, 2017, author Rafe Bartholomew led a book reading and discussion, joined by his father and longtime McSorley's bartender Geoffrey "Bart" Bartholomew and by the bar's historian Bill Wander.
Two intriguing things stand out in this video. First is the power of oral storytelling from generation to generation. Bart explains how the bar's stories have been passed down among employees since its beginning. At one point he shares that the artifacts on the walls continue to reveal new meanings and connections, even after 45 years of working there. And second is the tidbits about the bar's early history that give us an idea of life in the neighborhood. Then, while discussing breakthrough research findings, Bill tells that John McSorley had 11 children in his lifetime. Most of them, however, did not live to be adults. He describes the, "coal smoke, horse manure that gets powdered, unheated apartments," detailing the rough conditions countless families faced. Good reason to toast to the many who kept this 160-year-old neighborhood staple alive!
Women's History Month
Women Poets of the Village: Candlelight Reading at Cherry Lane Theatre | March 26, 2018
It would take ages to watch all of our past programs that celebrated Women's History in the Village. But one of the more recent and spectacular took place on March 26th, 2018 – a candlelight reading of poetry by some of the most renowned female poets, read by some of today's most accomplished women poets, writers, and actors.
On the stage of the Cherry Lane Theatre, ten women stood to recite groundbreaking and gorgeous poetry. One delightful reading was from Elaine Equi, who read two pieces by British 19th-20th century creator Mina Loy, "Gertrude Stein" and "Property of Pigeons." Both works elicited wonderful laughter from the audience. Later on, Diana Goetsch read two poems by Muriel Rukeyser, a 20th century New York-based poet who lived for a time at Westbeth. At once playful and immensely thoughtful, Goetsch's readings of "Despisals" and "St. Roach" were unforgettable.
How Gay Girls Owned the Village from the 1930s to the 1990s and How They Want (Some of) It Back | March 29, 2018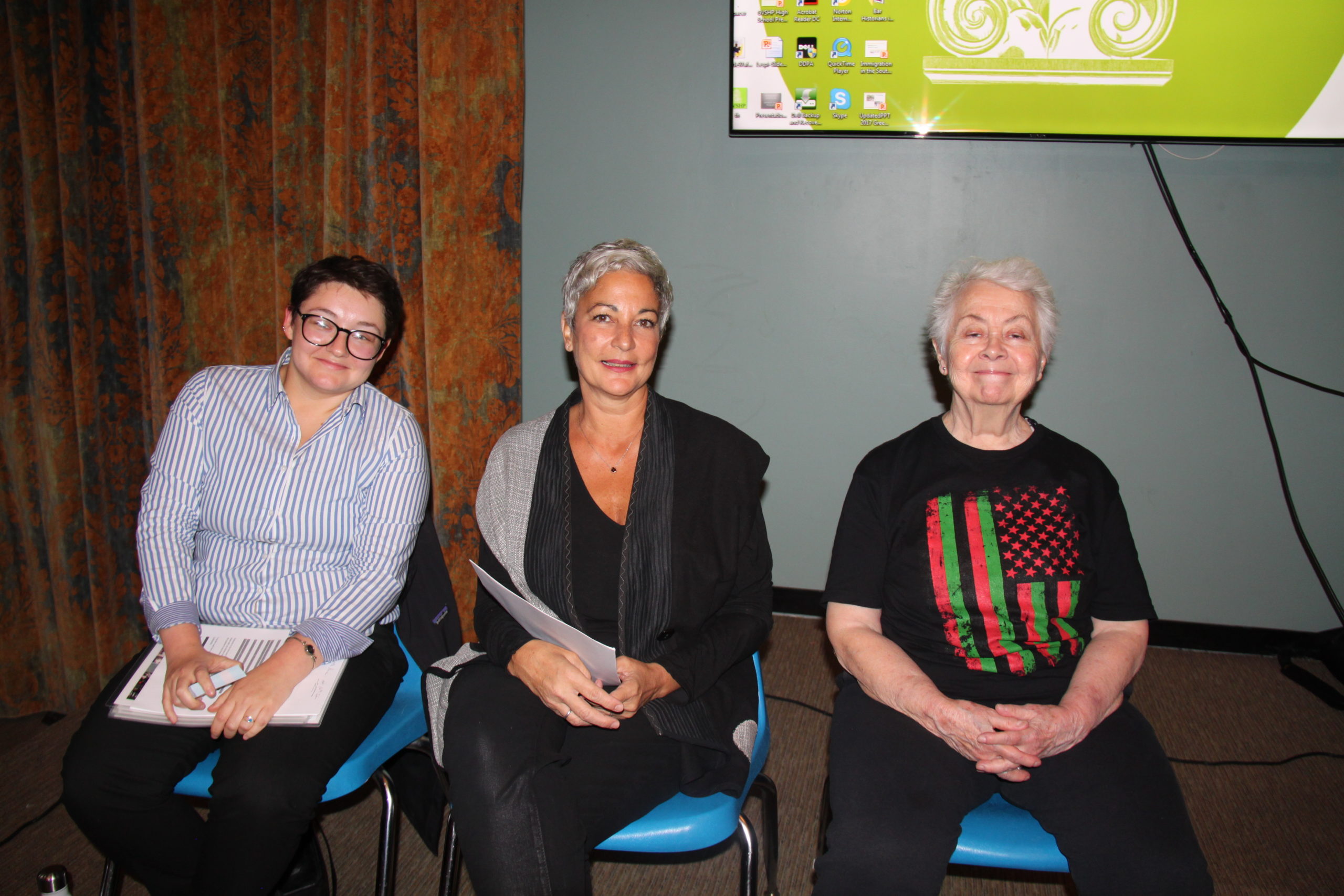 Just a few days later, on March 29th, Lisa E. Davis, Alana Integlia, and Wanda Acosta gathered at Jefferson Market Library for another Women's History Month program, presenting and discussing the history of lesbian culture in the Village. Each speaker shared wildly engaging stories of 1930s mafia payoffs, 1970s-80s trailblazing queer spaces, and the 1990s blossoming of "lesbian chic."
Davis' presentation began with a brief video produced by the New School, featuring photographs, footage, and music. followed by her own expert storytelling that brought this world of 1930s lesbian nightlife to life.  Integlia then shared her astounding and extensive research to uncover queer history that has been silenced and forgotten for decades, informing her projects, the Queer Visibility Collective and Dyke Bar Takeover. Finally, Acosta played the trailer for Sundays at Café Tabac, her and Karen B. Song's dazzling documentary of Village lesbian culture in the 1990s, followed by her own tales from that electric time.
These programs combined detailed histories with personal, colorful information, offering countless dimensions for celebrating Irish Heritage and Women's History Month.
Programs coming up: Women's History Month: The Witches of Downtown New York (waitlist only) and The NEW New York: 19th Century Immigration – Irish New York (also waitlist only).
Read more Off the Grid posts on Women's History Month and Irish Heritage.
Other past Village Preservation programs, like The Irish Bridget and Our Lady of Greenwich Village, sadly don't have recorded footage, but you can find their descriptions and links to photographs here.