← Back
Remembering the World Trade Center and the Aftermath of Its Destruction
For almost 30 years, the original World Trade Center dominated the New York City skyline. Its twin towers were the subject of countless photographs; visible throughout the five boroughs, they could be seen from 30 or so miles away in New Jersey or Long Island. Whether you were in the East Village, Greenwich Village, Jersey City, or the Rockaways, you could look up and see the World Trade Center and know exactly where you were.
As we remember both the Twin Towers and their destruction, we've put together a collection of World Trade Center photographs from our Historic Image Archive. In some, the Twin Towers were the focus of the photo; in others, they were juxtaposed with various objects or sites in the New York cityscape; in still others, they were inadvertently captured as an ever-present part of our background.
This picture of the newly built Twin Towers with the crumbling Greenwich Village piers was taken around 1974 by Jack Dowling. Click here to see more from the Jack Dowling Collection: Decay and Rebirth Along the Greenwich Village Waterfront in the 1970s
Here's another ca. 1974 Jack Dowling photograph of an abandoned vehicle on the Greenwich Village waterfront looking south towards the World Trade Center with the elevated Miller (West Side) Highway visible on the left.
From the Meredith Jacobson Marciano Collection: New York in the 1970s through 9-11, this 1978 photo juxtaposes the graffitied Washington Square Arch with the Twin Towers a mile and a half south of the park.
This picture was taken by Carole Teller facing southeast from St. Vincent's Hospital at 7th Avenue and 11th Street.
Another Jack Dowling Image ca. 1974, taken from the West Side Highway around 11th Street south towards the Twin Towers.
This image of photographer Meredith Marciano was taken in 1986 from the corner of Charles and West Streets.
This image was taken in the late 1990s by Meredith Marciano. No 1980s or 90s New York City photo collection, movie, or television show was complete without an image like this.
Meredith Marciano also documented the aftermath of 9/11- the widespread feelings of grief, anger, and hope. The photos below are from Union Square and Washington Square Park in the weeks after 9/11.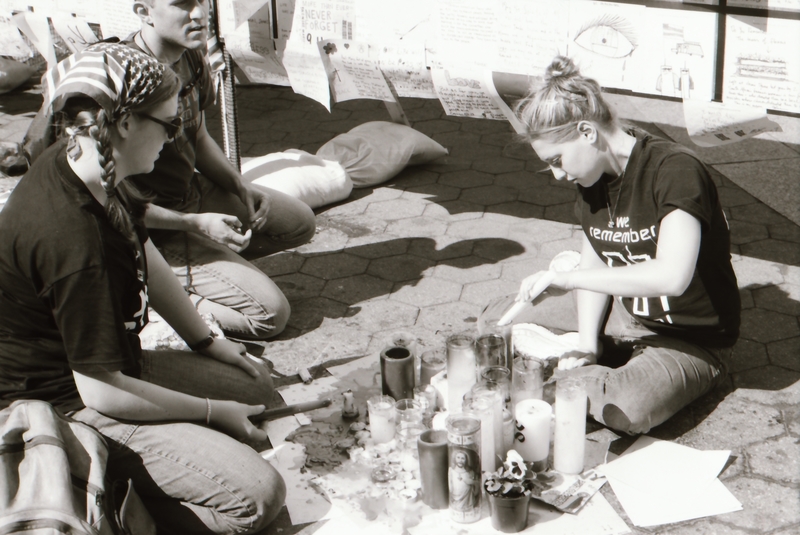 To explore more of our Historic Image Archive, click here. Prints of many of these images are available for sale, with the proceeds supportive Village Preservation's work.