This is one in a series of posts marking the 50th anniversary of the designation of the Greenwich Village Historic District. Click here to check out our year-long activities and celebrations.
The kooky, sparkling Auntie Mame — the central character of Patrick Dennis' beloved novel of the same name — burst into popular culture the same way she entered a party. Auntie Mame: An Irreverent Escapade, is the portrait of one of the most iconic female characters of twentieth-century literature, told from the perspective of Auntie Mame's 10-year-old nephew, the recently-orphaned Patrick. Greenwich Village is as much a part of the landscape of the story as the eponymous central figure, who part way through the book moves to "a big old mansion on Washington Square."  The Auntie Mame of literary, stage, and cinematic fame both reflected and was the product of an eccentric aunt and nephew pair which in fact lived much of their lives in Greenwich Village.
The book was a smashing success when it came out on January 21, 1955, selling two million copies, sticking to the New York Times bestseller list for over two years, and making its author, whose real name was Edward Everett Tanner III (May 18, 1921 – November 6, 1976), a millionaire. The story was reincarnated over and over again, as a stage play, a movie (which premiered at Radio City Music Hall on December 4th, 1958), a musical, and a musical movie. A long line of Auntie Mames have shaped our collective image of the unforgettably warm, stylish madcap character: Rosalind Russell, Greer Garson, Beatrice Lillie, Angela Lansbury, and Lucille Ball. Today, Auntie Mame continues to be a sharp and savvy commentary on sex, gender, feminism, and society, led by its norm-defying namesake through the Roaring Twenties, the Depression, and World War II.
From the moment he is dropped into the middle of a cocktail party at Auntie Mame's duplex at Beekman Place, Patrick's life is transformed by his new guardian, who is extraordinarily social, thinks 9am is the middle of the night, and conducts regular "Little Morning Chats" with her nephew. Patrick is fascinated by Auntie Mame and her lavish lifestyle, spending the duration of the book cherishing her as much as he ridicules her. Early in their meeting, Patrick writes:
Auntie Mame's days were spent in a perpetual whirl of shopping, entertaining, going to other people's parties, being fitted for the outlandish clothes of the day – and hers were even more so – going to the theater and to the little experimental plays that opened and shut like clams all over New York, being taken to dinner by a series of intellectual gentlemen, and traipsing through galleries of incomprehensible pictures and statues. But with all of her hectic, empty life, she still had plenty of time to devote to me. I was dragged along to most of the exhibitions, the shopping forays with her friend Vera, and to whatever functions Auntie Mame thought would be Suitable, Stimulating, or Enlightening for a child of ten. That covered a wide range.
Auntie Mame moves to Washington Square when her husband, the excessively generous Beau, buys her a mansion on the park for their first anniversary. Tragically, on the day of the couple's housewarming, Beau dies after being kicked in the head by a horse in Central Park, sending Auntie Mame into a spiral of grief until her friend Vera sends her to Europe for two years. Later, when Patrick goes away to college, he returns back to the house on Washington Square often, always with a car full of his friends. Auntie Mame relishes the company, teaching the group of Fred Astaire-obsessed boys how to mix drinks the way Astaire would, letting them sleep in her extra bedrooms, and welcoming them into her New York party scene.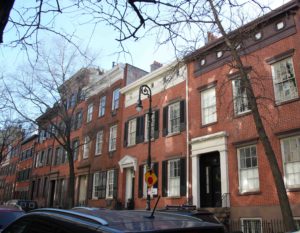 Though Tanner claimed that Auntie Mame was a fictional figure, his aunt, the real-life Greenwich Village eccentric Marion Tanner (March 6, 1891 — October 30, 1985) is generally acknowledged to be the real life inspiration, given the clear similarities to her life and relationship to her nephew (she herself also fervently insisted she was the real Auntie Mame until her death in 1985 at the Village Nursing Home on Hudson Street). She and her husband, the editor and writer Lingard Loud, moved to 72 Bank Street in the 1920s after getting married in the mid-1910s, and the home evolved into a meeting place for artists, bohemians, and other passers-by.
In some ways, though, the real Auntie Mame could have been Edward Tanner himself, a truly kooky character in his own right. Tanner was a highly accomplished writer of his time, using the pseudonym Virginia Rowans in addition to Patrick Dennis. Though Auntie Mame was his best-known work, Tanner was one of the most widely read authors in the United States in the mid-1950s and early 1960s and published sixteen novels in total. At one point, he even had three books on the New York Times bestseller list at the same time. Tanner is described by his biographer, Eric Myers, as brilliant, quirky, and charismatic, and "the first American writer to popularize High Camp."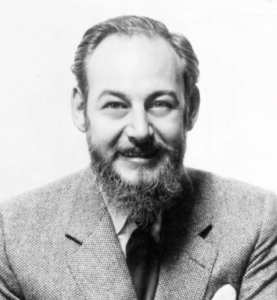 It seems only fitting that there be a debate about who "the real Auntie Mame" may be, considering the character has a consistently slippery identity, frequently shedding and adopting new passions and wardrobes. But whoever Auntie Mame is, she is undeniably of the Village, the only setting equipped to properly match a bohemian woman of this level of glamor, spirit and quirk. The so-called madwoman of Washington Square, chain-smoking, rich, big-hearted, and unforgettable, is a Greenwich Village treasure to be celebrated, satirized, and adored.
Sources:
Uncle Mame: The Life Of Patrick Dennis by Eric Myers
Auntie Mame: An Irreverent Escapade by Patrick Dennis, Introduction by Paul Rudnick
The Greenwich Village Bookshop Door: A Portal to Bohemia 1920-1925
"Lost classic Auntie Mame revived after 50-year gap" by Dalya Alberge
Patrick Dennis, Masterworks Broadway