← Back
Don't Miss Anything When You Subscribe to our YouTube Channel
It is impossible to attend every single one of our free public programs or rallies or the city hearings that are vital to providing input on policy decisions that impact our neighborhoods. Fortunately, many of our programs and such events are preserved for posterity on the Village Preservation YouTube channel. Subscribe today to receive a notice in your inbox every time we post a new video!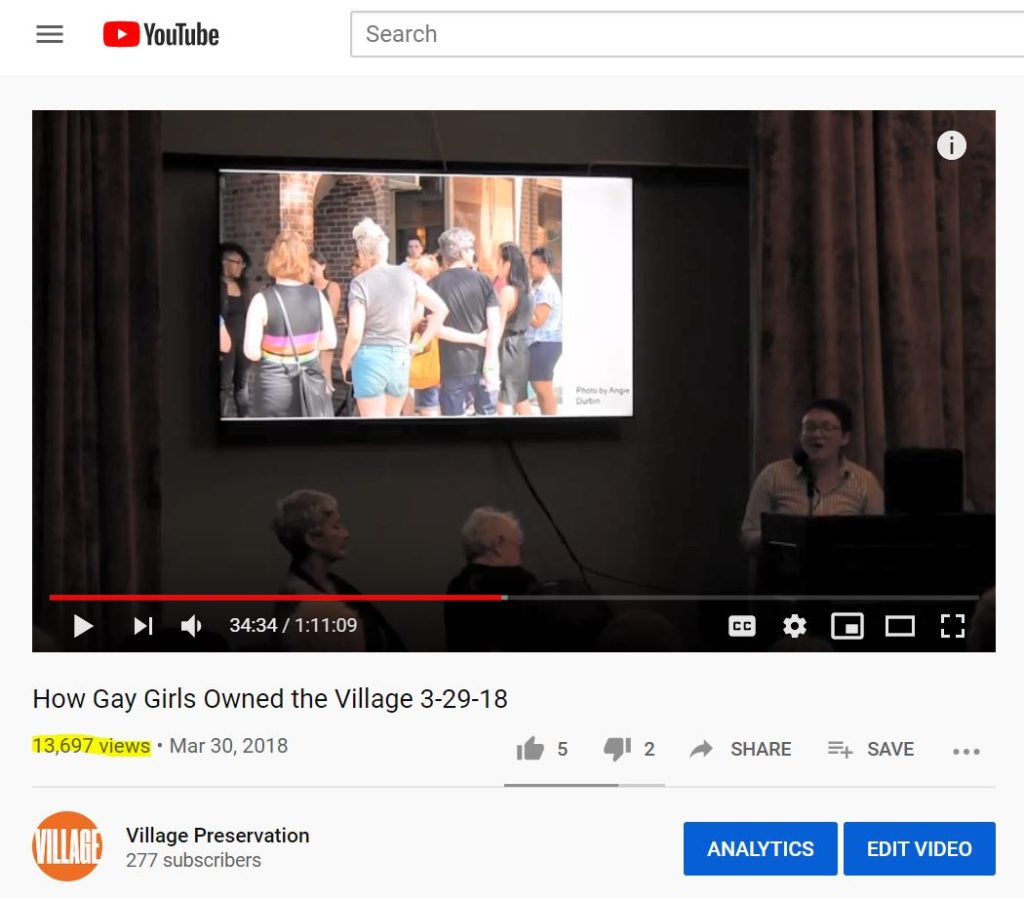 Sometimes the event is full and you could not make it because it was so popular and every seat was taken. Did you know that members get an email invitation first when our programs open up? Join here for that choice benefit.
If you haven't already subscribed to our YouTube channel you can do so by simply visiting here.
Village Preservation Public Programs
We offer educational programs for adults throughout the year in the form of walking tours, panel discussions, lectures, and exhibitions, virtually all of which are on our YouTube channel.
Our most popular video with almost 14,000 views is:
From the 30s to the 90s – and How They Want (Some of) It Back
Since the 1930s, lesbian culture has flourished in Greenwich Village. This three-part talk included Lisa E. Davis (Under the Mink; Undercover Girl: The Lesbian FBI Informant Who Helped Bring Down the Communist Party) who told the story of self-described "gay girls," welcomed at a number of bars and protected from police by mafia payoffs in the 1930s-50s; Alana Integlia of Queer Visibility Collective and Dyke Bar Takeover illuminated her work documenting queer spaces of the Village from the 1970s and 80s, creating space for self-identified womyn, transgender and non-binary people of all races; and Wanda Acosta, who showed excerpts of the film Sundays at Café Tabac, her and Karen B. Song's dazzling documentary of Village lesbian culture in the wake of the AIDS crisis in the 1990s. The essence of "lesbian chic," the film explores that generation's defiance and determination to preserve lesbian spaces in the Village. Watch it here.
Our second most popular video is a relatively recent one that has racked up over 5,000 views in less than one month:
This program shed light upon a little-known but powerful Manhattan mafia enclave that was instrumental in shaping the direction of organized crime for seven decades. Author Thomas Comiskey profiles a dozen Mafia dons, capos, and soldiers who came from or frequented the long-forgotten Italian neighborhood in the northern East Village. In this lecture, he described headline-grabbing murders, international heroin trafficking, counterfeiting, extortion, and loan-sharking in local social clubs, bars, and restaurants. Thomas F. Comiskey is an attorney who had a thirty-three-year career at the New York City Department of Investigation exposing criminal conduct in New York City's anti-poverty programs and public schools. He lived on East 14th Street and Avenue A from 1953 to 1990. He currently lives in Scarborough, New York.
Many of the Rallies, Demonstrations and Press Conferences Village Preservation has held over the years are also on our YouTube page. For example:
Village Preservation, along with the East Village Community Coalition and East Village merchants, rallied on St. Marks and Avenue A to protest the soon to be opened Starbucks that summer. We also drew attention to an important way to support the independent and local businesses in the area by -the establishment of an East Village Special District to prevent more corporate and big-box chains from moving in. That is a policy we have been fighting hard to be approved at the community board level. Click here to send an email to support restricting chain stores in the neighborhood, and watch the video of the rally here.
We've also recently introduced our "Small Businesses Thrive in Landmarked Areas" video series, which includes:
For over two decades, Chess Forum has been located in the heart of the "Chess District" of New York City and the world, in our very own South Village Historic District. Owner Imad Khachchan was an NYU PhD student in comparative religion in the 1990s when he was swept up into the world of chess. Enamored of the bohemian and cultural richness of the neighborhood, he felt that unique character was not complete without its chess scene. As Imad said, Bob Dylan was on MacDougal Street, Bobby Fisher was in Washington Square Park, and Chess Forum is still on Thompson Street. And they were our October 2016 Business of the Month. Check out this great video by Hollis Epstein here.
Our YouTube page also includes our very popular Save the South Village video series, undertaken when we were seeking landmark designation for the area (in 2016 we secured landmark designation of the third and final phase of our proposed South Village Historic District), which includes:
You can also see the videos liked by the Village Preservation channel on YouTube. For example: when our Executive Director Andrew Berman joined CBSN New York's Jessica Layton to talk about what's at stake regarding future growth in New York City and the proposed Union Square South Hotel Special Permit proposal that will do nothing to help address the pressures of Silicon Alley in our neighborhoods. Watch it here.
Subscribe to our channel by clicking below.