← Back
Business of the Month: Casa Restaurant, 72 Bedford Street
Your input is needed! Today we feature our latest Business of the Month — help us to select the next. Tell us which independent store you love in Greenwich Village, the East Village, or NoHo: click here to nominate your favorite. Want to help support small businesses? Share this post with friends.
On the corner of Commerce and Bedford, off the gridded streets in one of the West Village's most charming corners, a gem of a restaurant has beckoned foodies and Brazilian expats seeking a taste of home. Casa, which in fact means 'home' in Portuguese, has been warming the hearts and the bellies of hungry New York from near and far since 1998. Owned and operated by a local resident with a dream and a business plan that could not be denied, Casa Restaurant at 72 Bedford Street is our March Business of the Month.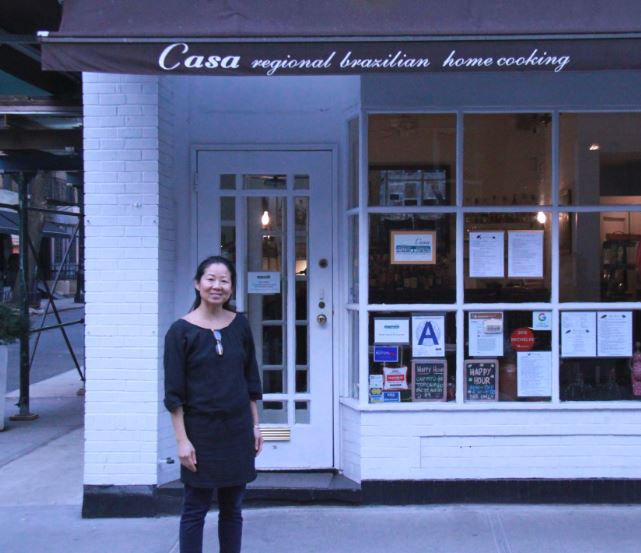 Brazil is a huge country. Its extensive coastline supplies its residents with delightful seafood dishes like bobo de camarao and moqueca de peixe from the northeastern state of Bahia. The south is the land of the gauchos, cattle ranchers, and barbecue, as well as "churrasco" pitmasters. But the Brazilian heritage, a mix of people indigenous to the land, descendants of African slaves, Portuguese colonizers, and immigrants from every corner of the world, is what makes this unique cuisine so tasty, and full of exotic flavors and ingredients.
But you definitely do not have to be from Brazil to enjoy Casa's cusine!  Owner Jupira Lee says those who frequent her classic and cozy corner spot are "Brazilian expats looking for home cooking tastes and memories that bring them back to their home and childhood, and foodies who love to experience delicious different cuisines of the world, which is what New York City is best at."  West Village locals regularly pop in for brunch or dinner dates, or just order the food delivered.
Casa's origin a story is a West Village locally-owned business classic.  Neighborhood resident Jupira Lee was biking around the Village looking for just the right place to open her dream restaurant featuring food from her native Brazil.  One day she saw a business card in the window and the empty storefront near her home on the picturesque corner of Bedford and Commerce Streets being shown by an agent of the landlord.  She watched from the nearby Shopsin's peeking in and out to see what was going on, and was actually shooed out of that famous soup place by proprietor Kenny himself.  She met the representative after they showed the place to other people and was asked to show a business plan for 1, 3 and 5 years, which she already had.  "A business plan is the hardest part of opening a business. Anyone can have dreams and ideas about how a place will look, but a plan makes it all more detailed and real," Jupira said.
It is real enough to have earned them a coveted glowing Michelin Guide review:
Somehow, this warm little Brazilian café has been hiding in plain sight for over two decades. The white room's clean décor, votive candles and jazz music keep it homey yet fashionable enough for the sophisticated downtown locals who regularly seem to populate it. Come here on a wintry night for a downright perfect bowl of canja di galinha, starring a rustic and flavor-packed chicken soup with string beans, leeks and rice. Alternatively, go for a bowl of tantalizingly spiced feijoada and find the accoutrements as delicious as the main dish itself—you can expect an array of creamy black beans, tangy orange segments, crunchy farofa (fried cassava), collard greens and diabolically hot preserved red peppers. Desserts are appealing and very well priced.
The menu has stayed the same since Jupira opened the place. They used to offer specials, but people who came to eat always knew what they wanted, maybe that dish they had ten years ago and made the same way.  They have included vegetarian and vegan versions of the Brazilian classics, replacing meat with smoked tempeh in the feijoada –– a black bean stew traditionally with smoked meat. For the vegan alternatives to the seafood dishes, they use an assortment of excellent vegetables, from purple cauliflower to asparagus and more.  They have also moved to grass-fed beef with no hormones, and only use wild-caught fish.
Ecological awareness, a unique creative vision, and business acumen with a local flavor runs in the family; Jupira's sister is the proprietor of the nearby eponymous Jussara Lee clothing store at 60 Bedford Street.
And Jupira is a real fan of the Village.  Of the neighborhood, she says "Are we really in crazy chaotic New York City? No, we are not. It is an escape from the concrete jungle that we live in. The air is fresher and the streets are greener, the four seasons are real. It is New York City history where bohemia lived and spread its words and movements and demands! There is Stonewall, Chumley's, Cherry Lane, the oldest theater in New York City! There were profound amazing writers. This is the neighborhood I would have hung out or lived even in the 1800's."
Jupira attributes her longevity and success "to always trying to do the right thing: treating ALL my customers with the same respect." And she strives to "offer the yummiest meal that is 100 percent true to the Brazilian community."  Jupira is proud and amazed when longtime customers who had a small child when she first opened now come in and bring their 20-something year old to eat with them.  Some people attribute their relationships blossoming to a date at Casa — perhaps the magical statues over the doorway did the trick, or the server or manager's special attentiveness and charm. You'll have to check them out when you visit.
So whether your a native or a wistful tourist looking for a taste of Brazil, are looking for brunch or dinner, or just want to try some incredible and authentic food in one of the most charming spots in New York City, Casa is a must for dining or drink. Owned and managed by creative, caring, eco-conscious local resident Jupira Lee, this discreet gem is our March 2020 Business of the Month.
What special small business would you like to see featured next? Just click here to nominate our next one. Thank you! #shoplocalnyc
And here is a handy map of all of our Businesses of the Month: