← Back
Cyrilly Abels: Friend and Agent of Katherine Anne Porter
Cyrilly Abels (1903-1975), the managing editor of Mademoiselle magazine and an agent for many of the most prominent writers of the twentieth century, was a longtime resident of 14-16 Fifth Avenue in the Greenwich Village Historic District, recently proposed for demolition. Abels lived here with her husband Jerome Weinstein at least as early as 1954 until her death in 1975. As there is currently no biography of Abels, she is known almost exclusively through her relationships with the writers she worked with, most notably Katherine Anne Porter, with whom she shared a long friendship. Author biographies and correspondence memorialize Abels' life, illuminating her profound influence on the literary scene of her era. In honor of Women's History Month, we piece together the story of Cyrilly Abels, a trailblazer in a primarily male profession who shaped the work of many of our most venerated American authors and redefined the role of the literary agent.
In 1945, the elegant and intellectual Abels took over as the managing editor of Mademoiselle, established as a fashion magazine for young women in the 1930s. Throughout her long tenure here, she helped transform the publication into a platform for emerging writers such as Eldridge Cleaver, Truman Capote, Carson McCullers, James Baldwin, Hortense Calisher, Eugene Ionesco, Flannery O'Connor, James Purdy, and Sylvia Plath. In the summer of 1953, Plath actually worked for Abels as a student guest editor at Mademoiselle, and later based the character Jay Cee in her landmark novel The Bell Jar on Abels. After supervising Plath, Abels published the author's poem "Parallax," which won an honorable mention in Mademoiselle's Dylan Thomas poetry contest in 1954. The two stayed in touch throughout Plath's life, going out to lunch whenever the writer visited the city.
After leaving Mademoiselle, Abels continued to work with and bring the spotlight to now-esteemed literary figures through her own private agency. Her clients included Warren Hinckle, Zelda Popkin, Christina Stead, Francis Steegmuller, T.S. Mathews, and Robert Scheer. According to Hinckle, it was Abels who truly transformed the role of the agent into both an editor and ombudsman, as was best exemplified by her close working and personal relationship with Katherine Anne Porter.
Abels and Porter became acquainted in 1950, when Abels began soliciting Porter's fiction and nonfiction writing for Mademoiselle. Though Porter was working on her novel, she always needed money to supplement the advances from her publishers, and writing for Abels was often a welcome, liberating divergence from her daily life. When Abels began her own independent career as a literary agent, Porter became her client, and the two women developed an intimate friendship that endured until Abels's death in 1975. According to Alexandra Subramanian's 2001 dissertation Katherine Anne Porter and Her Publishers, Porter had a longstanding distrust of agents, and only worked with people she could truly rely on personally as well as professionally. An agent was not enough for Porter; she wanted someone who could also be a friend and confidant. Nevertheless, the practical-minded Abels was deeply attuned to the politics of publishing, and made an effort not to let Porter's network of highly personal professional relationships interfere with her ability to take care of her client.
Abels influenced Porter profoundly as a reliable professional ally and a cherished friend. She helped Porter curate her wardrobe for public appearances. She offered logistical, emotional, and financial support. She respected and encouraged Porter's creative process. She empowered her client, and negotiated effectively on her behalf. But most uniquely, as Porter herself asserted, Abels had a "genius for friendship." She never treated Porter as an investment, pressured her for manuscripts, or disappointed Porter's expectations as so many others had. Abels' almost otherwordly capacity as an agent and friend elevated her rapport with Porter, and each woman was undeniably and irreversibly shaped by the other.
One of Porter's letters to Abels, dating to November 3, 1961, showcases the affectionate bond between them:
The last news I had of you was just ten days ago. I am thinking about you, and wondering, and hoping, and wishing I could do something. But this is not worrying, not fretting and gnawing, it really is what the old Quakers used to call with great purity of feeling for the meaning of words, a Concern, a very continuous awareness of you, for your situation, of what you wish for and are trying to do, and just a plain old fashioned sympathy and friendship for you.
Abels and Porter's devoted correspondence, spanning the topics of writing, gardening, and fashion, is available to researchers and interested individuals in Porter's and Abels' papers in the holdings of the University of Maryland Libraries. Porter's extensive correspondence with Abels will also soon be available on "Katherine Anne Porter: Correspondence from the Archives, 1912-1977," a project that will make publicly available digital surrogates of Porter's correspondence at the University of Maryland Libraries.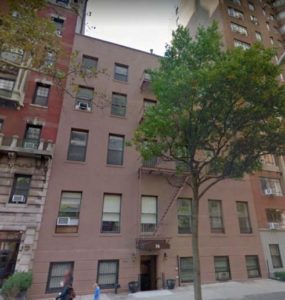 Amidst recent threats of demolition to Abels' longtime home of 14 Fifth Avenue, the Katherine Anne Porter Society has written a letter of support for Village Preservation's effort to protect this cultural and architectural landmark. Without a doubt, the story of Cyrilly Abels is a critical part of this history, and given the small, but growing, documentation on Abels, the potential loss of her home is all the more troubling. Her very important place in New York City history is inextricably linked to Greenwich Village, a longtime hub of writers and artists which defined her just as she defined the neighborhood, the city, and the literary scene at large.
To learn more about the history and current status of 14-16 Fifth Avenue, click here.