← Back
Oral History with the Queen of Cuisine, Mimi Sheraton
GVSHP shares our oral history collection with the public, highlighting some of the people and stories that make Greenwich Village, the East Village, and NoHo such unique and vibrant neighborhoods. Each includes the experiences and insights of leaders or long-time participants in the arts, culture, preservation, business, or civic life.
2020 marks the 75th year that the venerable food critic and food writer, Mimi Sheraton, has been a Village resident. She currently resides in a brownstone on one of our leafiest streets where she has lived for 55 years! And she would not have it any other way! (Read or listen to her oral history here.)
Born in 1926, Ms. Sheraton is a quintessential New Yorker. Her father, Joseph Solomon, was a wholesale fruit and produce commission merchant in Washington Market, an area now known as Tribeca. Food was always a big subject in her family. Her mother was a "very good and ambitious cook," according to Mimi. There was a lot of discussion of and criticism of food at the family table. They frequented restaurants in both Manhattan and Brooklyn, which allowed Mimi to become acquainted with many different cultures and tastes. It was to shape her future in so many ways.
She muses about her memories of The Village when she was growing up and visiting with her family:
"The Village then had, as I look back on it, a rather dreamy, sort of a peaceful, dreamy atmosphere. You know, the war was just over and everybody was drawing breath. And I think the Village was––it still was a little bit sleepy. Eighth Street was kind of quiet on Sunday morning, and Eleanor Roosevelt lived just in one of the big houses on the park, and several times when, if we went out for the Sunday paper, she would be out there getting a paper, and walking Fala. And e.e. cummings was around, he lived at Patchin Place, and you would see him and W.H. Auden. You could see those people.

Then there was a victory parade for the end of World War II, and part of the staging area was Washington Square. I think it was tanks. And I sat on the steps of 11 Fifth Avenue, that was the Brevoort Hotel. And there was a brownstone and the plaque that was on the brownstone is still on the side of the big building, the house where Mark Twain wrote something. And I sat on those steps, and I watched the staging area for the parade, the tanks and the people getting ready to march up Fifth Avenue, and I guess at other staging areas, people just filtered in and joined the parade. So that was the feeling of the Village."
Ms. Sheraton attended New York University, commuting into Manhattan to attend class and explore Greenwich Village. At age nineteen, she married and and moved to an apartment on East Ninth Street.
After finishing college, she worked writing copy for advertisements, and because she discovered an interest in writing about home furnishings, attained a certification as an interior decorator. She then worked as an editor at both Seventeen and House Beautiful, and began to pursue food and food writing as a hobby. She went on to write restaurant reviews for numerous publications, including the Village Voice, New York Magazine, and the New York Times, where, in 1975, she became the first woman restaurant critic. As a critic and restaurant reviewer, she maintained her anonymity by employing the use of disguises to avoid receiving any special treatment by chefs and wait staff.
Sheraton was involved in many special assignments as a freelancer, which included working as a consultant on the menu of the Four Seasons in 1959. In 1960, she was hired to produce a complete travel guide to sixty world cities in partnership with Scandinavian Airlines, and traveled extensively throughout Asia, the Middle East, Europe, and Russia. Her book, 1,000 Foods to Eat Before You Die, features foods she enjoyed on these and other trips.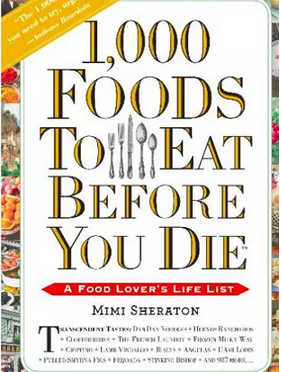 Sheraton was a James Beard award winner for her book The Whole World Loves Chicken Soup and a James Beard journalism awardee for her article on the Four Seasons' fortieth anniversary in Vanity Fair.
In our newest oral history, Sheraton describes her beloved neighborhood across the many decades, spanning from the era when war rations were still in place to the rise of specialty grocery stores; and from the emergence of American's interest in authentic cooking, starting in the mid-1970s, to the switch to an interest in going out to eat. She also describes many of her and her late husband's cherished neighborhood shops and restaurants, and reflects on changes in the neighborhood that have forced many of those places to close. Mimi Sheraton is a "Village Great" and we hope you will read or listen to her oral history here.