← Back
#SouthOfUnionSquare Tour — Pop Culture
Village Preservation just released an incredible new tool, our #SouthOfUnionSquare "Virtual Village" site, which is an interactive map highlighting the architecture and histories of the area South of Union Square. In researching the voluminous history of the area, which surprisingly still largely lacks landmark protections, we discovered certain themes that we have turned into tours on the map. There are some you would expect, such as the Architecture Tour and the Cast Iron Tour, but there are some that are more unexpected, including the Pop Culture Tour, which showcases the multiple sites in the neighborhood which bear significant connections to popular films, television, music, and entertainment.
We have already written about the incredible, ground-breaking music recording history at 55 Fifth Avenue which includes such seminal figures as Louis Armstrong, Billie Holiday, John Hammond, Garland Wilson, Fletcher Henderson, Bessie Smith, Ethel Waters, and Benny Goodman, to name a few. And of course, this building with its unbelievable history is included in the Pop Culture Tour. But did you know that RPM Studios operated from 1976 to 2004 at 12 East 12th Street?
Designed, built and operated by classically trained electronic composer turned studio owner Robert Mason, RPM was one of the first boutique studios in the city, operating in a large tree-filled upper floor double-wide loft with industrial-sized windows open to the sky.
The interior studio complex was where many recording artists created their first prominent albums, such as Talking Heads ("Fear of Music"), Suzanne Vega ("Luka" – Solitude Standing), Aimee Mann, ('Til Tuesday – "Voices Carry"), David Sanborn ("Change of Heart"), Spin Doctors ("Spin Doctors"), Cassandra Wilson ("Blue Night 'Til Dawn"), Moby ("Play"), Maxwell ("Urban Hang Suite"), Meshell Ndegeocello ("Peace Beyond Passion''), and Lauryn Hill ("The Miseducation of Lauryn Hill"). The list of musicians who recorded here reads like a Rolling Stone magazine index including but certainly not limited to Mick Jagger and the Rolling Stones, Billy Joel, David Bowie, Blues Traveler, Whitney Houston, Sting, and Natalie Merchant.
At the turn of the 21st century, recording studios in Manhattan started closing down due to surging real estate development, the appearance of newly democratizing recording technology, and the internet's disruption of the record industry. In 2004, RPM was acquired in full by Odds On Recording on the Las Vegas Strip. Much of RPM's unparalleled analog equipment collection and legendary vintage microphone collection is still in use there today. This is not the only significant recording studio on the tour, so if you have an interest in this history, you will definitely want to check the Pop Tour out.
There is a rich history related to movies in this area as well. Perhaps the most endearing is the filming of the birthday scene with Tom Hanks from the 1988 film 'Big' at the Adolph Asti Restaurant at 13 East 12th Street. This 75-year-old beloved Greenwich Village institution was world-famous as the place where waiters would break out into arias and many of the customers were stars of the theater and opera world.
The restaurant began in 1925, when Adolph Mariani, an immigrant from the Italian village of San Terenzo al Mare, opened a speakeasy on 12th Street and Sixth Ave. It was originally called Adolph's, but during World War II, the name was changed, and it was rechristened Asti, for the Italian town known for its sparkling wine. Mariani had trained to be a singer, and as a way to build business, he sometimes sang with a guitar on the street outside. The restaurant was a success, even weathering the Depression, though it eventually moved from its original speakeasy location to 13 East 12th Street.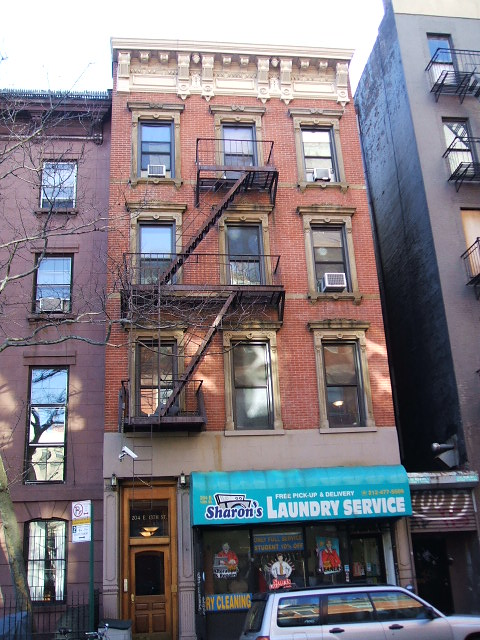 Though perhaps less endearing but certainly iconic, the movie Taxi Driver also has roots in the area. If the doorway of the building at 204 East 13th Street looks familiar, it may because it's where Harvey Keitel's pimp character in the film Taxi Driver stood for a series of increasingly tense stand-offs with Robert De Niro's Travis Bickle, ultimately ending with his being shot in cold blood.
Speaking of the Academy Award-winning actor, producer, and director Robert De Niro, Jr., his ties to the area go even deeper. His parents, artists Robert De Niro Sr. and Virginia Admiral, lived at 30 East 14th Street in 1943, the year Admiral gave birth to the actor.
This is just a sampling of this tour which includes 74 sites and a range of iconic pop history figures, everyone from James Brown to the Spin Doctors. To learn more, visit the Pop Culture Tour of our "Virtual Village" interactive map.
#SouthOfUnionSquare is an irreplaceable piece of New York, American, and world history, and an unprotected but essential slice of Greenwich Village and the East Village. We hope you'll enjoy, explore, and advocate for saving this amazing neighborhood.
To send a letter supporting landmark designation of these and other historic buildings south of Union Square, click here.