← Back
#SouthOfUnionSquare Tour — Musical Heritage and History
Music and the Village are synonymous, perhaps no place more so than where Greenwich Village and the East Village meet, south of Union Square. Today we're taking a wonderful journey through this area to look at several notable musicians, music venues, and recording studios that found a home here, from jazz to punk, blues to folk. With the help of our new South of Union Square map and its music tour, we can explore some incredible spots where the course of music history was changed in this endangered area for which we are seeking landmark protections, and listen to some of the great sounds that emerged from this creative cauldron while we're at it.
First, to get into the mood for reading this post, you can listen to our Spotify playlist featuring a selection of songs by some of the amazing artists connected to this neighborhood.
Starting from the east side of the map, we mark the home in the 1960s of the great jazz musician Randy Weston, 204 East 13th Street, where Weston lived during the peak of his career. In the mid-20th century, the East Village was a hub of jazz and blues music in the United States, with Charlie "Bird" Parker and Huddie "Leadbelly" Ledbetter among the many other greats who called the neighborhood home. Throughout his career, Weston incorporated African musical elements in his work, and played an important role in advancing the argument, now widely accepted, that the roots of jazz trace back to African music. Some of his most popular compositions include "Hi-Fly," "Little Niles," and "Blue Moses."
Weston was also a key political figure in global civil rights activism. As African countries fought for freedom from colonial exploitation in the mid-20th century, Weston saluted their struggles in his music. His album "Uhuru Afrika" (Swahili for "Freedom Africa"), which was released in 1960 and included lyrics written by Langston Hughes, was banned in South Africa by the country's apartheid regime.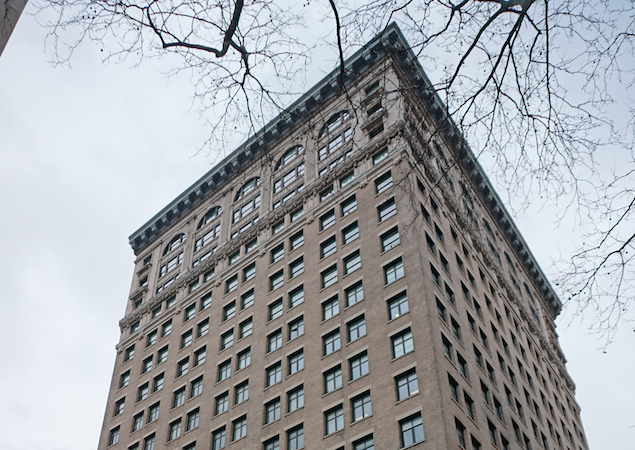 Next up we have one of New York's least well known but most historically significant recording studios. The renowned record-producer, civil rights activist, and Rock and Roll Hall of Fame-inductee John Hammond made his very first recordings at the Columbia Phonograph Recording Studios at 55 Fifth Avenue at 12th Street. Hammond would go on to play a significant role in launching the careers of Bob Dylan, Bruce Springsteen, Harry James, Count Basie, Big Joe Turner, Pete Seeger, Babatunde Olatunji, Aretha Franklin, Leonard Cohen, and Stevie Ray Vaughan, as well as in reviving the music of delta blues artist Robert Johnson.
At 55 Fifth Avenue, Hammond accomplished several historic firsts. His first recordings here were with jazz pianist Garland Wilson, and big band and swing pianist, arranger and composer Fletcher Henderson. Henderson is considered, along with Duke Ellington, one of the most influential arrangers and bandleaders in jazz history, and one of the progenitors of what would come to be called "swing." Henderson also recorded his "New King Porter Stomp" here.
Hammond discovered Billie Holiday singing at a Harlem speakeasy, and brought her down to the Columbia studios to cut her very first records here in 1933. He also established a close relationship with a young Benny Goodman, who recorded his first top ten hits, including "Ain't Cha Glad?," with Hammond at 55 Fifth Avenue in 1933.
While Goodman is often credited with integrating American music by working with African American musicians and vocalists, Goodman himself would credit Hammond, who made it his personal mission to advance the integration of the music industry. Hammond suggested and indeed pushed Goodman to record music with African American musicians, and arranged many of the first integrated recording sessions. After initial resistance from Goodman, Hammond got him, Holiday, and the great African American swing pianist Teddy Wilson to record together here in what was Goodman and Hammond's first integrated musical recording session (while Black and white musicians might at times play together at clubs, recording together was a taboo which Hammond participated in shattering).
And there's so much more to the story of the Columbia Recording studio here, including the great Bessie Smith and many others; click here to find out more.
49 East 10th Street
In the early 1930s, 49 East 10th Street was home to Lawrence Gellert, a prominent collector and promoter of field-recorded African-American blues and spirituals and protest songs from the American South.
Born in Budapest, Hungary on September 14, 1898, Gellert arrived in the United States at seven years old and grew up in New York City. In his early 20s, he lived in Tryon, North Carolina, where he edited a newspaper and developed an interest in African-American music. Following this, Gellert moved to 49 East 10th Street. Then, from 1933 until 1937, Gellert went on to travel through the American South, recording and collecting Black American folk songs which he would compile into two anthologies in the 1950s. Gellert was also a regular contributor to The Masses, a Greenwich Village-based leftist publication, from 1930 until 1947.
53 East 10th Street
53 East 10th Street is a 6-story neo-classical style loft building constructed in 1899 by Schickel & Ditmars for Samuel Sachs. Originally intended to house producers of goods and wares, by the spring of 1967 it had become the home of Apostolic Recording Studios, the first 12-track recording studio in the country.
Used by many of the foremost musicians of the period, the business was known for its easy-to-use technology and its musician-centered atmosphere.
In Barry Miles' book Zappa, he notes that Apostolic also had an in-house astrologer and was known to cancel sessions if the signs indicated ominous possibilities.
According to R Hoerer, Zappa's album Uncle Meat was a project entirely produced at Apostolic Studios, a standout work of music that opened new horizons for Zappa:
By late 1967, Apostolic Studios had installed a prototype Scully 12-track recorder, and the overdubbing opportunities it afforded, together with a variable-speed oscillator used to modify the machine's 30 ips tape speed, allowed for the creation of a completely new sound palette. —Chris Michie, "We Are The Mothers . . . And This Is What We Sound Like!", Mix, January 1, 2003
12 East 12th Street
RPM STUDIOS operated at 12 East 12th Street at 12 East 12th Street (aka 10-14 East 12th Street) from 1976 to 2004, during a golden age of music and recording in NYC. Designed, built and operated by classically trained electronic composer turned studio owner Robert Mason, RPM was one of the first boutique studios in the city, operating in a large tree-filled upper floor double-wide loft with industrial-sized windows open to the sky and overlooking across Union Square.
The interior studio complex was where many recording artists created their first prominent albums, such as Talking Heads ("Fear of Music"), Suzanne Vega ("Luka" – Solitude Standing), Aimee Mann, ('Til Tuesday – "Voices Carry"), David Sanborn ("Change of Heart"), Spin Doctors ("Spin Doctors"), Cassandra Wilson ("Blue Night 'Til Dawn"), Moby ("Play"), Maxwell ("Urban Hang Suite"), Meshell Ndegeocello ("Peace Beyond Passion''), and Lauryn Hill ("The Miseducation of Lauryn Hill").
There is so much more, from the Rolling Stones to Brian Eno, Tito Puente to Moby, and more, there is a tour dedicated just to this one spot, our RPM Studios Tour here.
827-831 Broadway
This 1866 loft building was the home of a dazzling array of artists over the years. Artists Larry and Paula Poons moved in in 1974. During the Poons' long residence at 831, they continued the tradition of using the space as a gathering place for artists, especially during the '70s and '80s.
Their long-time friend and Bob Dylan's former road manager, Bob Neuwirth, held tryouts in their loft for the Dylan 1975-76 Rolling Thunder Review tour.
In attendance that night was Patti Smith and T-Bone Burnett.
831 Broadway
According to Poons, pop star Cyndi Lauper was also a one-time resident of the building.
Listen to Paula Poons' Oral History here.
St. Denis Hotel
The St. Denis Hotel, located at 799 Broadway until 2019, was once one of the most elegant and desirable hotels in the country. In the twentieth century, the hotel was converted into a modern store and office building. In the 1920s a number of labor unions and leftist organizations moved in, including the Workers' Music School.
In late 2018, after plans were announced to demolish the historic building to make way for another tech-related development, Village Preservation staged a protest outside the building attended by hundreds of local residents.
Nevertheless, the city refused to act, and in 2019 the building was demolished, with the new office tower replacing it.
Help us prevent more such losses and demolitions. Click here to send a letter supporting landmark designation of extant historic buildings south of Union Square.