← Back
Ada Louise Huxtable and More Than A Century of Preservation, Architecture, and Liveable Cities
Ada Louise Huxtable (March 14, 1921 – January 7, 2013) loved architecture, New York and its neighborhoods, preservation, and the gifts to society that built environments shape. It is this love, and her incredible skill as a writer, that earned Huxtable her job at the New York Times as the first-ever architecture critic, her reputation, her devoted following, and a Pulitzer Prize. Today we are delving into Huxtable, her writings, and her legacies — and the lecture we hosted marking the 100th anniversary of her birth.
About Ada Louise Huxtable
Huxtable was born Ada Louise Landman on the Upper West Side, at a time when architectural criticisms was not a full time profession for anyone, especially women. Huxtable was a New Yorker through and through. Her first job was at the Museum of Modern Art's design department, where she also assisted in an exhibition at MoMA. In 1950, Huxtable won a Fulbright grant to pursue her interest in postwar Italian architecture, which was followed in 1958 by a Guggenheim grant to study structural developments in American architecture.
Huxtable published her first book in 1960 about the Italian engineer/architect Pier Luigi Nervi, and took off from there. Huxtable joined the staff of The New York Times in 1963, and is noted for establishing the field of architecture journalism — the Times created the position specifically for her. During the 19 years that Huxtable held that position, she furthered the causes of architecture and preservation by writing about it in ways that were accessible, engaging, opinionated, and inviting, thus raising public awareness of these issues. In 1981 she was awarded the MacArthur "Genius" Fellowship.
The cultural medallion celebrating Huxtable at 969 Park Avenue, installed by the Historic Landmarks Preservation Center, reads:
A pioneering critic who made architecture part of the public discourse, Ada Louise Huxtable was the first full-time architect critic on any American newspaper when named to that position at The New York Times in 1963. In 1970, she was awarded the first Pulitzer Prize for Distinguished Criticism. She left The New York Times in 1981 to become one of the first MacArthur Fellows, and from 1997 to 2012 she was the architecture critic of The Wall Street Journal. Known as the Dean of American architectural criticism, she was the author of eleven books. A magna cum laude graduate of Hunter College (1941); in 1942 she married industrial designer L.Garth Huxtable.
Anna Bergren Miller, writer of the 2013 article "Ada Louise Huxtable Remembered at Metropolitan Museum of Art Tribute," wrote:
As architecture critic of The New York Times in the 1960s and '70s, she carried enormous weight, securing or sinking many an architectural reputation, christening or thwarting many a project, and shaping the tastes and values of the public throughout the United States. She was the first woman named to the jury of experts for the distinguished Pritzker Architecture Prize, on which she served from 1987 to 2005. Her thunderous prose resonated loudly through the cavernous canyons of New York City: crisp, hard-hitting, but elegant, lucid prose that stirred admiration, contempt, and sometimes just plain awareness of buildings she thought significant. Architects, developers, and city officials practically quaked in anticipation of her verdicts. In 1968, early on in her journalistic career (though her name was already well known), a cartoon in The New Yorker depicted two construction workers poring over blueprints, one of them commenting, "Huxtable already doesn't like it." Frank Gehry, at her memorial, said much the same: "Even though I wished for her attention, I was scared of it. . . . She was tough, but her words were beautiful."
Huxtable died on January 7, 2013, and was honored and remembered by many. Her archives are held by the Getty Institute.
Legacies for Cities and Preservation
Ada Louise Huxtable's obituary in the New York Times spoke to her legacy:
At a time when architects were still in thrall to blank-slate urban renewal, Ms. Huxtable championed preservation — not because old buildings were quaint, or even necessarily historical landmarks, but because they contributed vitally to the cityscape. She was appalled at how profit dictated planning and led developers to squeeze the most floor area onto the least amount of land with the fewest public amenities.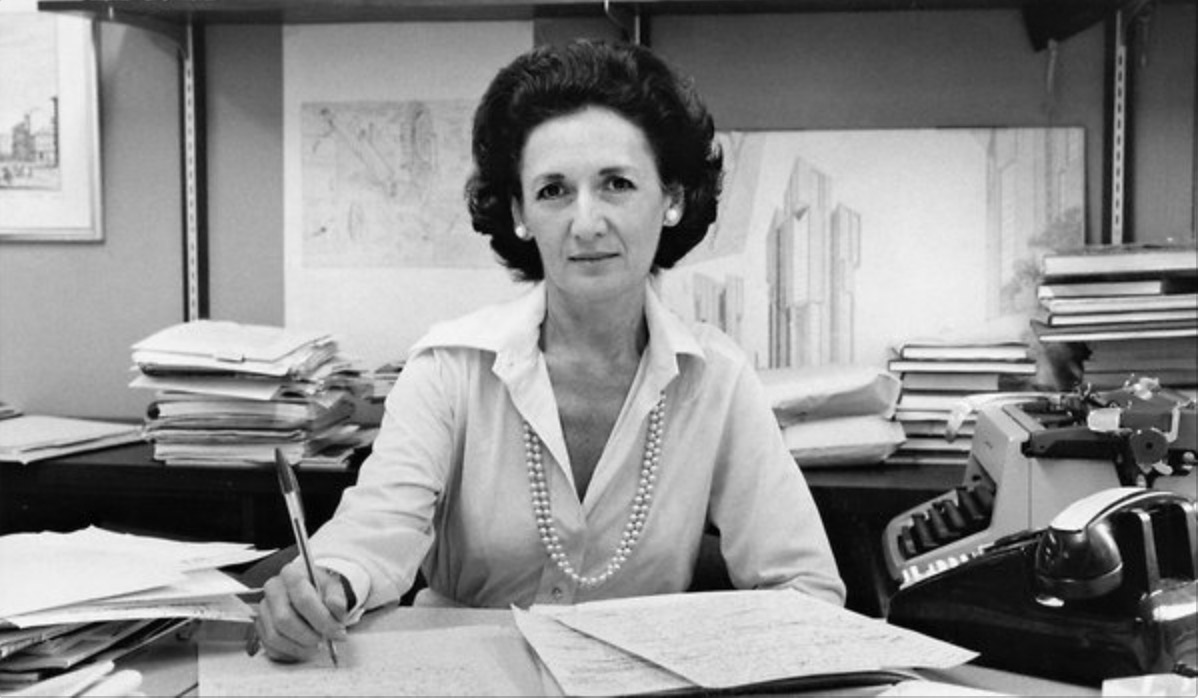 In 1965, Ms. Huxtable was one of the main driving forces behind the creation of the New York City Landmarks Preservation Commission. She once said, "What preservation is really all about is the retention and active relationship of the buildings of the past to the community's functioning present." A strong proponent for the preservation of Federal-era rowhouses, she left an indelible mark on the preservation world both in Greenwich Village and beyond.
A Centennial Celebration
Village Preservation was thrilled to partner with the Historic Districts Council, Friends of the Upper East Side, Landmark West! and the New York Preservation Archive Project to host a centennial lecture about Huxtable and her work in New York City and preservation more generally with speaker Lucie Levine of Archive on Parade.
Lucie went into great depth and read from many of Huxtable's writings which even now convey real passion for both Huxtable's craft as a writer and her topics: the buildings, the blocks, the styles of architecture, and her understandings of urbanism. To Huxtable, the city and the building were only as good as the people it welcomed, nurtured, and supported (aligning her with her contemporary, Jane Jacobs). Learn much more about Huxtable and her work by watching Lucie's talk here: