← Back
2021 Village Awardee: Hudson Park Library, 66 Leroy Street
Each year, Village Preservation honors the invaluable people, businesses, and organizations that make a special contribution to our neighborhoods at our Annual Meeting and Village Awards. This year, on June 16th, 2020 at 6 PM we will be celebrating seven outstanding awardees — RSVP here to participate virtually.
Tucked away on one of the most beautiful streets in Greenwich Village, Leroy Street, the Hudson Park Library has served the neighborhood since its opening on January 24, 1906. This was the 16th library branch to be constructed with funds donated by Andrew Carnegie. The sense of history is captured just by entering the front door of the building, designed by the renowned architectural firm of Carrere and Hastings. In 1920, the building was extended eastward, allowing patrons to enter the library from the newly-constructed Seventh Avenue South.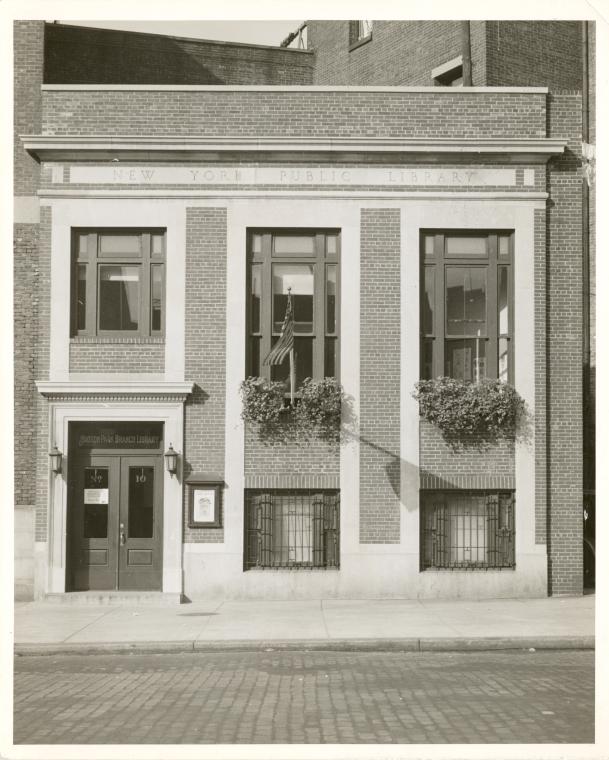 Graced with large windows overlooking James J. Walker Park and St. Luke's Place, this beloved public institution is a relaxing and nurturing place to work, read, play, attend community programming, or benefit from the expertise and care of an incredible staff.
Hudson Park Library also has an impressive community and literary history. The brilliant, eccentric poet Marianne Moore worked here as a library assistant from 1921 to 1925, and literary luminaries who lived in the neighborhood would frequent the branch.
Housed on the first floor are books for all age groups available for borrowing, as well as periodicals, books-on tape, and children's videos. An adjoining eight-sided room contains a collection of reference materials and a well-stocked file of newspaper clippings and photographs on life in the Village during the first half of the 20th century — we encourage everyone to peruse this amazing archive! On the walls and in a glass display case is a rotating exhibit by New York City artists and photographers. On the lower floor is an auditorium containing a stage and seating, which is used by community groups (including Village Preservation!) as well as for library programs.
The Hudson Park Library is a second home for countless residents of and visitors to the West Village, shaping generations of a community's love for reading, and providing a safe, kid-friendly space for those explorations. Miranda Murray, the library manager, said that so many people walk into the library just to say how much the library meant to them as a child, and how excited they are that their children now get to enjoy it.
Rosanna Polsinelli Cafaro writes, on the library's memories website:
"I went to the library often when the children's room was upstairs. I still remember the thrill of applying for my very first library card in 1964. I climbed up on the stool so I could reach the desk where I took an oath to take good care of the books I would be borrowing. I would take out the maximum number of books allowed. At first, I was in the Easy Reader section where the bookcases were lower. As I got older, I moved on to fiction, the taller bookshelves. I can still remember the room, the shelves, and the smell of the library."
Others remember the library as a comfort, a school field trip, and a place to make mischief, of course! As Virginia Lombardi wrote: "This may not be the type of story you're looking for, but here's my memory: They had a copier and I had a steady hand. That made us a perfect pair to create fake birth certificates. None of us had cars so no need for driver licenses. We used our doctored birth certificates to get into clubs & bars. My bad." If this isn't a Village story, we don't know what is!
Since the Pandemic, the Hudson Park Library has developed online family story-times, creative aging workshops, Spanish-language events, and more, and they are highlighting their digital collections and e-books. The Library is thankfully now open again to the public, with temperature checks at the door and the NYPL's robust "grab and go" services, so that patrons can select and pick up books easily and safely.
This cherished space has not only survived but grown to meet the changing needs of its community, and to face every challenge thrown at it, for over a century. For this and the vital services it continues to provide to so many, we are honored to be presenting the Hudson Park Branch Library of the NYPL with our 2021 Village Award.
Please join us in celebrating on Wednesday, June 16th! To learn about other 2021 Village Awardees and to register for the event, click HERE