← Back
The Village Awards Reaches a Milestone!
Village Preservation's Annual Village Awards, this year on June 16th, have come to be known fondly as "the Oscars of the Village." The very first Village Awards were held on June 10th, 1991 at Casa Italiana Zerilli Marino of NYU, at 24 West 12th Street, an historic landmark that was formerly the home of General Winfield Scott. We have come a long way in the last 30 years since that first awards ceremony, but the honorees were then, and always have been, such a wonderful array of the Village and Villagers at their very best.
Celebrating the Awardees of 1991!
The First Presbyterian Church
The First Presbyterian Church was honored that year for its 3 year restoration of the historic Gothic Revival complex. The church took the unusual step of planning an "in house" restoration by adding a building conservation expert to its staff in order to train church personnel in various conservation and construction techniques so that the restoration would be well maintained by staff going forward.
Jefferson Market Garden
1991 Village Awardee Jefferson Market Garden was created almost 40 years ago at the corner of Sixth and Greenwich Avenues through the hard work of Village residents, perservationists and volunteer gardeners, who transformed the site of the former Women's House of Detention into a verdant blooming oasis at the heart of our neighborhood.
Mercer Houston Dog Run
Also awarded that year was the Mercer Houston dog run. Our 4 legged friends are always in need of more space to run and play in the city and the dog run is dedicated to providing a safe clean place for dogs to get their needed exercise. Dog owners continue to maintain the run at their own expense and the run continues to serve the community.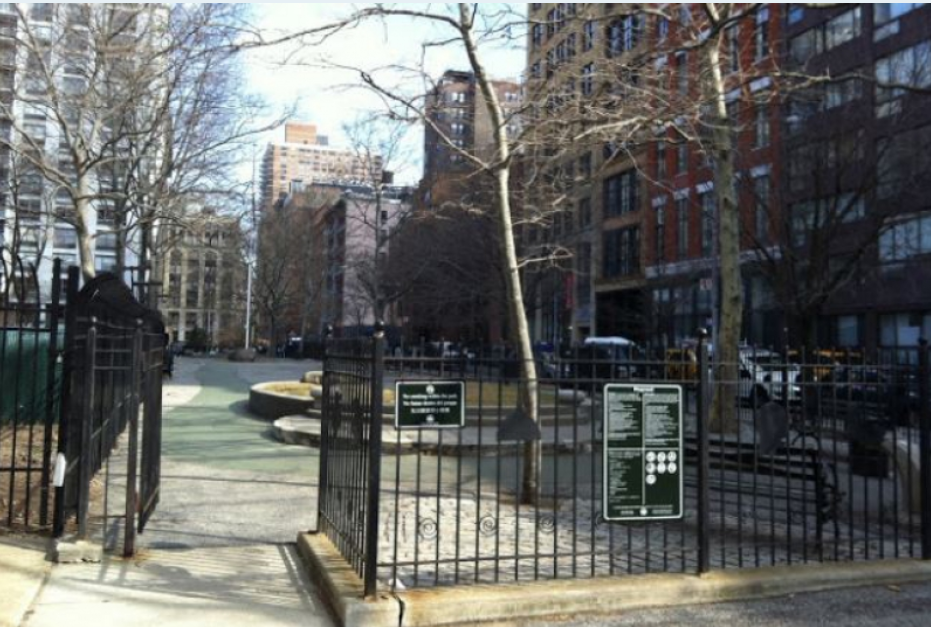 Three Lives & Company
Three Lives & Company has been described as a pocket of civility in the city: a cozy neighborhood bookstore that is also a center of New York's literary life. Happily, we can report that the bookstore is still alive and well; albeit having temporarily relocated down the block to 238 West 10th Street. Its wide-ranging stock, friendly atmosphere, and series of book author talks attract a clientele from beyond the boundaries of Greenwich Village.
Paul Egita
Paul Egita was honored that year. He moved to West 12th Street in 1941 and was a superintendent on West 12th Street of about 18 houses for almost 50 years. He was noted for providing a great service to his community by offering news of all sorts to residents. Paul sometimes served as a kind of member of the family to many elderly residents on the block who needed special assistance. He was celebrated for helping to create and maintain a wonderful sense of community on his block.
Florent Morellet and Restaurant Florent
Florent Morellet operated a much loved bistro, Restaurant Florent, at 69 Gansevoort Street which he opened in 1985. Mr. Florent and his vibrant restaurant were awarded a Village Award in 1991 for creating a civilized atmosphere, fostering a diverse group of patrons and a welcoming menu, but especially for the joie de vivre that was the hallmark of the place. It was commonplace for Mr. Florent to to post a weather report, a pollen report, as well as a notice for voter registration on his menu board daily. It is reported that during the 1988 presidential campaign, Mr. Florent registered an average of 8 new voters per day. That is quite some civic mindedness!
Village Awards Past and Present
In the thirty years since that first Village Awards, we've awarded and honored scores of great local businesses, institutions, places, and people of Greenwich Village, the East Village, and NoHo who help make them the wonderful neighborhoods that they are. Some other highlights have included The Public Theater, Merce Cunningham, Carmine Street Guitars, Friends of the Highline, and so many more. We're always thrilled to honor these great people, places, and institutions.
2021 Village Awards!
Please join us on June 16th for the most joyful night of the year, our 41st Annual Meeting and 31st Annual Awards. You'll not only get to hear about Village Preservation's year of organizational progress and accomplishment in the most trying of circumstances, but also see seven amazing honorees awarded this year for their outstanding contributions to Greenwich Village, the East Village, and NoHo. Celebrate inspiring community leaders, small businesses, and neighborhood institutions, and tip your (virtual) hat to those who help enrich the life of our communities. Register here!