← Back
Small Business, Big History: Tudor Rose Antiques
Tudor Rose Antiques has been part of the fabric of Greenwich Village since 1978. The shop specializes in antique sterling silver decorative items and fine jewelry, and is a great place to find a unique and highly personal gift or addition to your home. The store is located at 43 Greenwich Avenue between Perry Street and Charles Street in a beautiful brick building featuring patterned brickwork that dates to the 1930s, while parts of the building date to nearly a century earlier. As a great local independent business surrounded by rich history, it's also featured on our Small Business, Big History Map.
In the 18th century, Greenwich Avenue was known as Greenwich Lane or Road, and ran from Broadway in the east to the Hudson River along an irregular path. Like nearby Christopher Street, Greenwich Road was originally a boundary of Sir Peter Warren's estate. Other sections of the street east if Sixth Avenue and west of Eighth Avenue were either closed or renamed, while the central section became Greenwich Avenue in 1843.
Though this and neighboring buildings were originally built as houses in 1848, they were combined behind the new facade seen today, which dates to 1930. The geometric patterns in the brickwork and the industrial casement windows are typical of the era, while the somewhat Mediterranean overlay of details was meant to appeal to the Bohemian population increasingly flocking to the neighborhood at the time.
The combination of several old houses into one large structure with updated amenities, a more "contemporary look," and artistic connotations was commonplace in the area at the time, and pioneered by the nearby MacDougal Sullivan Gardens (more here and here) in 1921.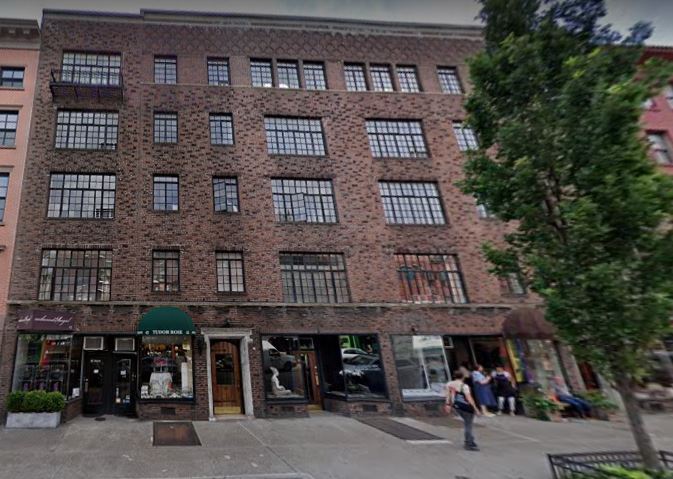 Author William Styron (Sophie's Choice) lived next door in No. 45 in 1951. In 1969, this and over 2,200 other surrounding structures were landmarked as part of the Greenwich Village Historic District.
Click here to access our Small Business, Big History map, which was developed to highlight the rich history of our neighborhoods, and features dozens of other great small businesses worthy of your support the rich history behind their locales.