← Back
Business of the Month: Raffetto's, 144 West Houston Street
Your input is needed! Today we feature our latest Business of the Month — help us to select the next. Tell us which independent store you love in Greenwich Village, the East Village, or NoHo: click here to nominate your favorite. Want to help support small businesses? Share this post with friends.
La vita è una combinazione di pasta e magia.
– Federico Fellini.
Life is a mixture of pasta and magic, said visionary director Federico Fellini, and we'd have to agree. It can be for you too, if you let our December Business of the Month — Raffetto's at 144 West Houston Street — cast a spell on you during this holiday season. This family-owned, operated, and lovingly argued over Greenwich Village mainstay has been selling top-quality fresh pasta and more to our neighborhoods and beyond for over a hundred years. That sort of contribution deserves recognition, and we're here to oblige. 
Founded by Marcello Raffetto, a genovese immigrant, in 1906, Raffetto's began as a local purveyor of a few basic pastas: meat, spinach, and cheese ravioli, and dried egg and spinach noodles, which were the best sellers before the proliferation of refrigeration. This repertoire would remain virtually unchanged for over fifty years. Along the way, however, Marcello made a momentous decision that, though it set him back $7,500, laid the foundation for his shop's longstanding success. In 1920, he bought the building. His foresight not only ensured the longevity of his store, it also provided a home right above the shop for four generations of Raffettos who would go on to join the family business.
The current line of Raffetos got involved in the store when Gino Raffetto took over the business from his ailing cousin shortly after WWII. By then, he had married Romana, a veneziana whom he met at the Peacock Caffé (formerly at 24 Greenwich Street).
Romana played an enormous role in the future of the business. Just for starters, she gave birth to Richard and Andrew, who, by the age of twelve, were already helping out at the store (Andrew recalls cutting classes to make tortellini!).
By then, Raffetto's had started to expand its product selection. In the 70s, it added more types of pasta, initially outsourced but subsequently made in-house. Then, starting in the 80s, as the demographics of the neighborhood changed away from longstanding Italian families that cooked their food from scratch, the store introduced a variety of prepared goods based on Romana's own recipes. In the 80s, came the sauces (including the justly lauded pesto!). In the 90s, full meals, which struck a balance between the traditional (lasagna) and the less so (chestnut fettuccine with roasted squash, toasted pine nuts, and sage butter), while still generally hewing to the northern Italian roots of the family.
These expansions could not have happened had the family not made another far-sighted decision–that of opening a 5,000 SF pasta factory just a few blocks west, on Leroy Street and the West Side Highway. Moving the pasta making off-site allowed the business, on the one hand, to devote the production portion of their 700 SF shop solely to food preparation, and, on the other, to expand their array of pasta-making machines (some in operation since 1917!) and better meet the increasing demand for Raffetto's product. Since of this expansion, the store's customers has grown even more, to include not just local Italian families and pasta lovers throughout the city, but also a range of wholesale clients: markets such as Garden of Eden, Fairway, and Zabar's, as well as an impressive list of restaurants that features La Boucherie, Arturo's, Suprema, Jane, Piccola Cucina, La Lanterna di Vittorio, and Caffe Dante, among many others.
Recently, a fourth generation member of the Raffetto's family–Andrew's daughter Sarah–has been spearheading several efforts to introduce the store to a new set of customers.
Influenced by her nonna Romana, who helped raised her as a little girl and became her roommate of ten years after she started college, Sarah is a passionate believer in hospitality, and while recognizing that word of mouth and Raffetto's reputation has made publicity unnecessary, still deems it important to welcome the unacquianted into the store and share its food and story with them. To that end, she started hosting dinner parties at Raffetto's, and building on that experience, partnered with a friend, Emily Fedner, to start a private events company. In their hands, Raffetto's becomes the Petite Pasta Joint for the night and offers a multi-course, three-hour, family-style private or ticketed dinner, where guests get to sample Raffetto's pasta and savour the hostesses' cooking.
Looking ahead, Sarah wants to also start doing happy hours as a way of encouraging new neighbors to come in and learn about the store's products and family history, which she rightfully regards as a one of Raffetto's many selling points. Her logic is compelling:
I was very grateful for the ten years that it was my father, my grandmother, and me all together at the store; and I think that when people come to see us and they visit the shop, and they see the generations and… it's so cheesy… the love between people [reflected] in this business (of) providing hospitality and delicious food… It's a very special place.
Sarah's emphasis on fostering relationships and community is a longstanding tradition at Raffetto's. The owners of some local restaurants, like Arturo's, have known the Raffettos and purchased their pasta for decades. Parisi Bakery, Alps Provisions, and SoHo Wines have also been supplying Raffetto's with bread, sausage, and wine for decades. Some families have been getting their pasta at Raffetto's for generations. It was actually the store's embeddedness in this broader network that clinched for Sarah her decision to join the family business: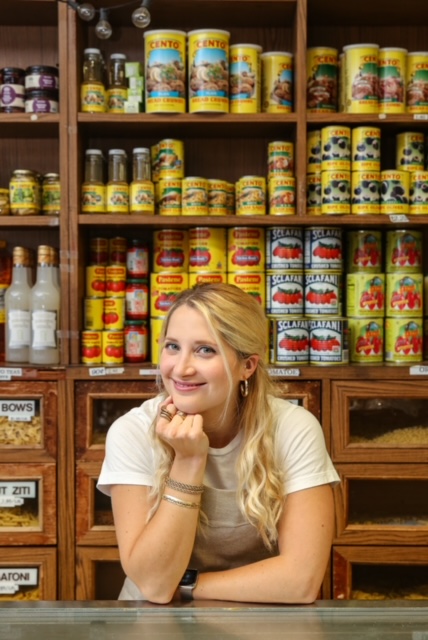 One of the reasons why I love New York and why I chose to keep this job and keep my life here is that I feel like I matter and Raffetto's matters… It's so nice to feel like you're a part of something and that you're part of this community who cares about your existence and what you do every day… and how it affects people, even if it means just feeding them ravioli. It matters a lot to people!
Sarah got evidence enough of Raffetto's importance to others during COVID, when people would leave Post-its on the storefront to express their concern and send their love. Pointing to such displays of kindness, Sarah explains how Raffetto's relationship to customers has shaped a business approach that has contributed to the business' success and longevity.
I really believe wholly in hospitality, not just from my family. Training and hiring people who deliver the best possible experience is so important to me, because it's not only done by us. With every person we hire, it's important they make [customers] feel like they're a part of something, the way I feel like I'm part of the community. That warmth and love that I get, I want to give.
For the love Raffetto's gives and has given the Village and the rest of the city through hospitality, pasta, and pesto for over a hundred years, we are thrilled to name it our December 2021 Business of the Month.
Stop by at 144 West Houston Street or visit their website.
What special small business would you like to see featured next? Just click here to nominate our next one. Thank you! #shoplocalnyc
Here is a map of all our Businesses of the Month: