← Back
Edward Hopper's Village: Early Sunday Morning on Bleecker Street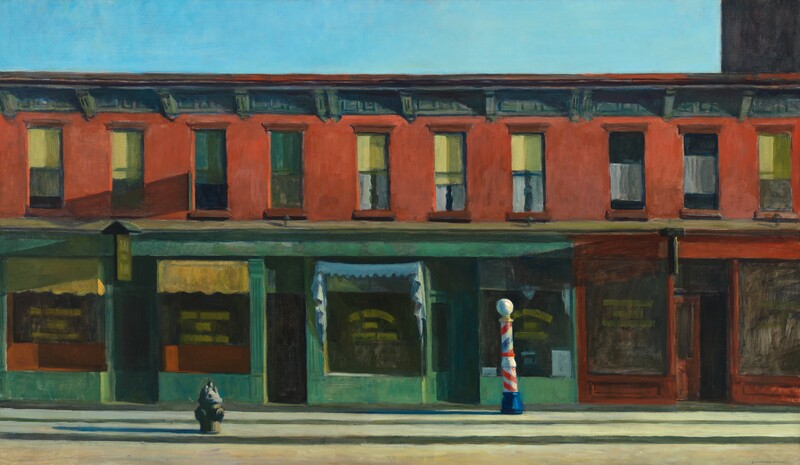 Greenwich Village and surrounding neighborhoods have played host to some of the most significant artists and art movements of the 20th century. One of the most well-known artists of the 20th century, Edward Hopper, lived and worked at 3 Washington Square North. His iconic painting Nighthawks, 1942, was likely based on a diner at 7th Avenue South and Greenwich Avenue featuring an amalgamation of features of diners throughout the Village. If not for the landmark protections put in place by the Greenwich Village Historic District in 1969 and the subsequent landmarking of the Greenwich Village Historic District Extension I in 2006, the Greenwich Village Historic District Extension II in 2010, and the South Village Historic District in 2013 – all of which Village Preservation contributed years of hard work, extensive research, and advocacy to landmarking – we would not have access to the streetscapes that inspired Hopper and generations of other artists.
Edward Hopper (July 22, 1882–May 15, 1967) was born in Nyack, New York to a middle-class family that encouraged his artistic abilities. He studied at the Correspondence School of Illustrating in New York City (1899–1900), and then at the New York School of Art (1900–1906). Hopper's work uniquely responds to the changing American landscape of the early 20th century, increasingly urban but somehow more socially disconnected, through scenes of cool isolation. The built environment of Greenwich Village in the early 20th century was a central feature of Hopper's mature work. In 1913, Hopper moved into a studio at 3 Washington Square North where he would live and work until his death in 1967. (NYU owns the studio but has preserved it for visitors and students.)
Many observers and critics are quick to call Hopper a "realist," which is not incorrect, but Hopper's paintings exist in the liminal space between real and imagined, representation and abstraction. Early Sunday Morning, 1930, which jumpstarted Hopper's career after its sale to the Whitney Museum of American Art in 1931, encapsulates the liminal space inhabited by Hopper's best works. The Whitney describes the painting as follows:
"Although he described this work as "almost a literal translation of Seventh Avenue," Hopper reduced the New York City street to bare essentials. The lettering in the window signs is illegible, architectural ornament is loosely sketched, and human presence is merely suggested by the various curtains differentiating discrete apartments. The long, early morning shadows in the painting would never appear on a north-south street such as Seventh Avenue. Yet these very contrasts of light and shadow, and the succession of verticals and horizontals, create the charged, almost theatrical, atmosphere of empty buildings on an unpopulated street at the beginning of the day."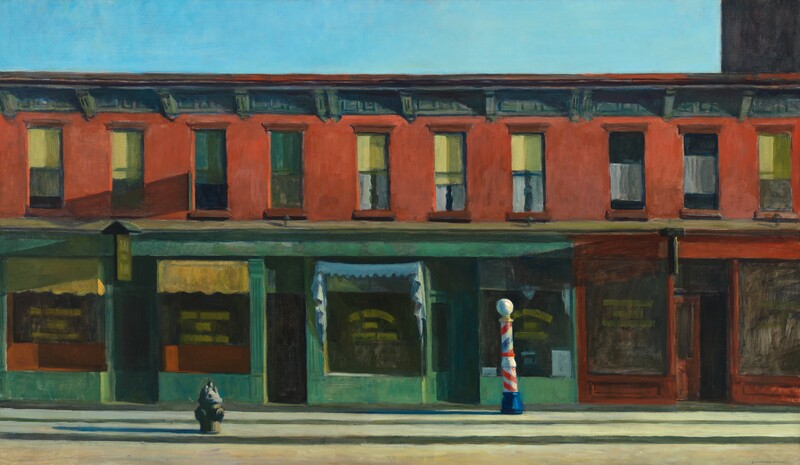 The tonal contrasts and steady repetition of horizontal and vertical masses coupled with the obfuscation of signage and ornament create the foundation of strong, abstract work, but the viewer is brought back to a reality that is somewhat familiar in the depiction of the buildings and shops but cannot be clearly understood. Even Hopper's assertion that the painting is a "literal translation of Seventh Avenue" is disorienting as the lighting and architecture of Seventh Avenue do not align with what is depicted in Early Sunday Morning.
As part of Village Preservation's ongoing campaign to preserve the architectural integrity of Greenwich Village, we submitted a Request for Evaluation on January 18, 2007 that shared new research about the stretch of buildings that may have inspired Hopper's Early Sunday Morning: 231-235 Bleecker Street/15 Carmine Street, based in part upon research and analysis done by Village Preservation trustee Linda Yowell. The most striking evidence for this assertion is a 1933 photograph by Percy Loomis Sperr of the block that has many of the same core features as the streetscape depicted in Early Sunday Morning such as:
(1) The barber pole in the sidewalk; historic photographs reveal that sidewalk-mounted barber poles varied greatly in design, but every detail of this barber pole matches the one in the painting.
(2) The scallop-edged, cloth-draped awning of the second storefront.
(3) The layout of the painted lettering in the store windows, with a curved upper line of type above straight lines below.
While Hopper's paintings are decidedly dreamlike in their disorienting familiarity, it is important to note that many scholars, such as Gail Levin who authored a 1998 biography of Edward Hopper called Hopper's Places, assert that research has shown that Hopper relied more on observing actual places than is readily apparent in the work. 
In 2010, the Landmarks Preservation Commission designated the Greenwich Village Historic District Extension II, which protects this important piece of art history from insensitive development and demolition. Village Preservation is still hard at work in our neighborhoods protecting our significant architectural and cultural heritage. Recently, we relaunched our campaign to landmark the area #SouthOfUnionSquare. Learn more about the neighborhood's impact on the history of American art in our blog series "South of Union Square, the Birthplace of American Modernism" that explores how the area south of Union Square shaped some of the most influential American artists of the 20th century. You can discover more locations in this neighborhood where painters and sculptors transformed the art world on our #SouthOfUnionSquare Map and Tours. Village Preservation has recently received a series of extraordinary letters from individuals across the world, expressing support for our campaign to landmark a historic district south of Union Square. To help landmark these incredible historic structures and other buildings in this area, click here.