← Back
Ice Cream Dreaming Through the Village
A wise man once said that only one food goes just as well with pie, coffee, or tears: ice cream. But you can't always take wise men at their word; so we decided to put this piece of ancient wisdom to the test. On a suitably hot, summer day, we embarked — armed with a slice of pie, a cup o' joe, and a chestful of pent up emotions — on a journey through several of our neighborhood's fine ice cream establishments. Before doing so, however, we took a detour through the history that brought ice cream to us.
It may have all started in Persia in around 550 BC. As far back as then, Persians made Sharbat, a mix of fruit syrup and snow chilled honey. Some believe that when the Arab muslims conquered Persia, they added milk and sugar to the mix, making something that sounds a lot like ice cream. As with many ancient foods, however, alternative possible points of origin abound. According to the Old Testament, King Solomon enjoyed an unspecified snow-cooled iced concoction (Proverbs 25:13). Ice cream? Frozen cocktail? Unclear. Roman Emperor Nero Claudius Caesar (AD 37-68), used to send runners to fetch snow from the mountains, not to put out the fire, but to make delicious, fruit-flavored icy treats, as Rome burned.
Our modern version of ice cream seems to have arisen concurrently in several European countries during the 16th century — England, where it had become a kingly favorite by the time of Charles I, and Italy, where it derived from a sherbert recipe brought by Marco Polo from his travels to the Far East — and then became widely available during the 17th century. In the United States, the earliest evidence of ice cream dates back to the mid-18th century. By the summer of 1790, a Chatham Street (now Park Row) merchant had recorded a $200 order of ice cream by the president of the United States, George Washington (that's $6,354 in 2022 dollars). By the mid-19th century, technological advances, such as mechanical refrigeration, packing machines, homogenizer, and delivery vehicles had helped ice cream making become an industry. And by the mid-20th century, Americans were already consuming 5 gallons of ice cream a year (these days, they consume 23 — don't mind if we do!). During the second half of the century, the prevalence of prepackaged ice cream led to a decline in the number of traditional ice cream shops. And yet, many persist; and we in Greenwich Village and the East Village are fortunate to have several excellent ones.
Sundaes and Cones
We began our mission at the renowned Sundaes and Cones at 95 East 10th Street (click link for building history and location), a longstanding traditional ice cream parlor that, after fifteen years in Bay Ridge, relocated to its current location South of Union Square in the East Village.
Their selection comprises a wide range of homemade flavors, including a few non-fat and no-sugar-added options, that rotate seasonally. It features traditional favorites, such as peppermint and hazelnut, as well as Asian-inspired and other unexpected finds. It was hard to choose.
We were tempted by the black sesame, the taro, the lavender, and the Thai tea. Ultimately, however, the golden, toasted bits of the coconut won us over — and made our coffee come alive — as did the fetching green and pink swirls of the red rose/green tea, the floral and vegetal notes of which, we were pleased to discover, harmonize just as well as its colors.
Alphabet Scoops
Our next stop was Alphabet Scoops at 543 E 11th Street, ice cream with a mission!
This shop, located in Alphabet City, offers the classics plus a few exciting additions, such as dulce de leche and salted caramel. It is, however, its dedication to service that sets it apart. Alphabet Scoops hires, trains, and mentors local teens.
Launched by pastors from the Father's Heart Church, the store employs between 10 and 20 teens every year, teaching them how to operate in a retail environment and, more generally, in the service industry. In addition, profits from the shop go toward other Father's Heart Ministries programs, which focus on hunger prevention, GED preparation, and ESL classes. As for the ice cream, we were torn between the Mexican chocolate and the ginger. We opted for the latter, figuring that it would add a little zing to our fudge pie. We were right. 
Mikey Likes It Ice Cream
We could not, of course, do an ice cream tour without stopping at our August 2019 Business of the Month, Mikey Likes it Ice Cream, at 199 Avenue A. The brainchild of lifelong East Villager Michael "Mikey" Cole, this shop has for almost ten years provided an ever-evolving selection of homemade ice cream in creative flavors made with locally sourced ingredients. The flavors arise from a process that is part eclectic experiment in taste and texture, and part conceptual inspiration. As a result, the menu descriptions read like the beginning of a story — a story that can only end in deliciousness. Mikey is a staunch supporter of the local community, purchasing ingredients from nearby merchants and collaborating with fellow business owners in the neighborhood. The store offers an after-school happy hour. An "A" on your report card has been known to get you a free scoop.
Our selection process once more proved challenging, but we ultimately went with Eat To Heal, a Dr. Senbi-inspired blueberry hibiscus vegan ice cream made with crushed pineapple and cayenne pepper — refreshing! — and, because we could not stop at one, we also had the Incredible Hulk: Spinach, kale, spirulina, green apple, mango, banana, bitter melon, and sea moss. The description includes a disclaimer that this ice cream may not make you stronger. But reader, we believe it did!
Mochii
Mochi is a sticky, springy, and delectable Japanese rice paste made with glutinous rice.
What would happen if you wrapped it around little morsels of homemade ice cream? We were about to find out at our next location, Mochii at 116 East 7th Street, a relative newcomer to the neighborhood where every day they make fresh mochi ice cream, as well as a wide range of other mochi related treats. If your visit inspires you, you can sign up for mochi making classes, and make a party out of it. The ice cream mochi is available in mango, strawberry, taro, lychee, caramel banana, green tea, black sesame, pistachio, red bean, and chocolate chip, as well as in kiwi, lemon citrus, and blueberry sorbets.
We suggest you try them all (not the least because the skewered explosion of color you will receive will make your Instagram friends green with envy). Had we not been on a mission, we would have. As it was, we went with blueberry and caramel banana, after extensive consultation with the friendly staff. We were not disappointed. 
Morgenstern's Finest Ice Cream
Our last stop was Morgenstern's Finest Ice Cream, a shop launched by pastry chef Nicholas Morgenstern on the Lower East Side in 2014 that quickly became a laboratory of ice cream innovation.
It recently opened a flagship store in the South Village at 88 West Houston Street that also offers burgers and fries. But let's focus. The menu boasts such an extensive inventory of unexpected flavors and toppings that it deserves its own blog.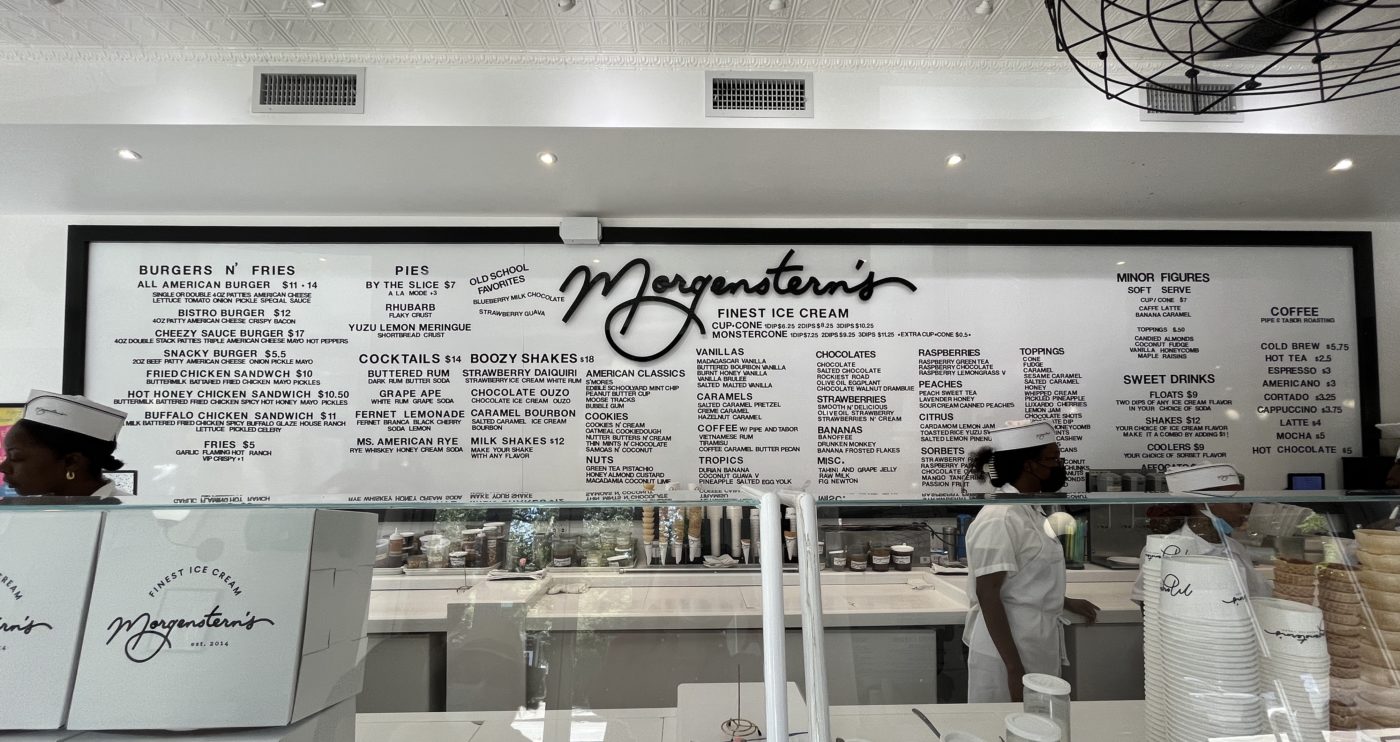 To facilitate your selection process, the flavors are organized under categories. Among American classics, for instance, you'll find peanut butter cup, s'mores, bubble gum, and edible schoolyard mint chip. And it gets more exotic from there. The other categories include vanillas, chocolates, cookies, caramels, coffees, strawberries, raspberries, bananas, peaches, tropics, nuts, citrus, and miscellaneous, and each of them features several flavors to choose from. After you've ordered one, you'll go home wondering about the rest. Say you're a vanilla kind of person; will it be Madagascar vanilla, buttered bourbon vanilla, crème brûlée, or salted malted vanilla? See what we mean? We arrived hoping to revisit a revelatory experience from a few years back that involved black walnut fernet branca ice cream. But sadly, that one seems to have gone to ice cream heaven. We consequently settled (and settled is a strong word) for the surprisingly refreshing burnt honey vanilla and the toasted rice yuzu swirl, which, perhaps because it evoked flavors from childhood, summoned tears. They trickled down, commingling with the ice cream, and tasted like sweet memories. 
The wiseman was right.
Want to explore the history of other gastronomic staples and their many exemplary purveyors in our neighborhoods? Click here for beer, here for croissants, and here for bagels, and to find out more about how to support local small businesses, see our Businesses of the Month, explore new local small businesses, and learn about how small business and local history intersect, click here.