← Back
Julys Past From Our Historic Image Archive
Our Historic Image Archive provides a snapshot of our neighborhood's past. From summers on the piers to drag shows at the Pyramid Club and an important archeological dig, you can almost feel the summer heat emanating from some of these photos.
Sheridan Square Dig
In July and August of 1982, Regina Kellerman, Executive Director of Village Preservation (then known as the Greenwich Village Trust for Historic Preservation) organized and led an archaeological dig of Sheridan Square.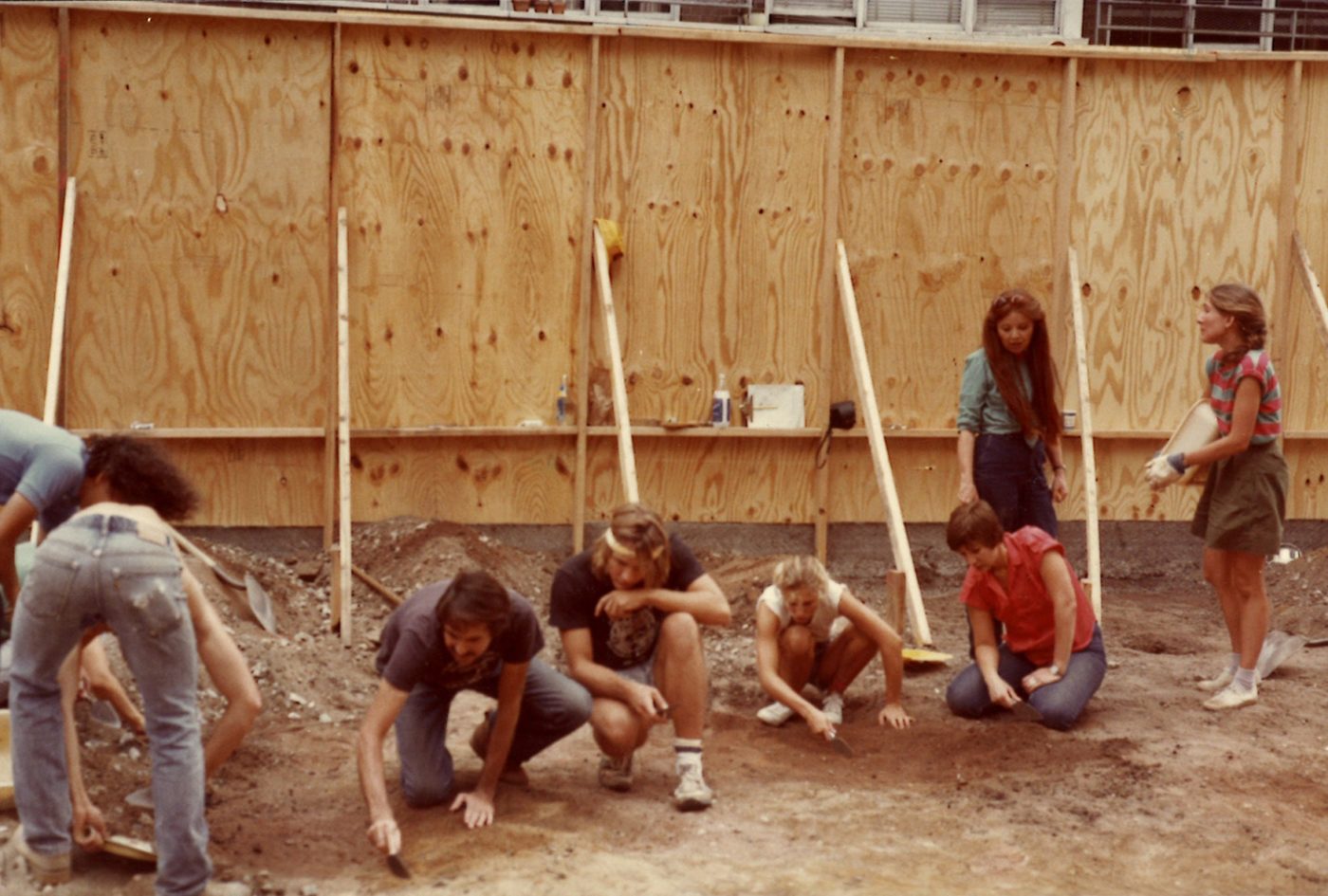 For most of the twentieth century, Sheridan Square served as nothing more than a traffic-safety island. It wasn't until 1982 that the area went from a paved triangle to today's lovely viewing garden. The genesis of this project came in July of that year when a group of Sheridan Square neighbors, the Sheridan Square Triangle Association, convinced the Parks Department to turn this plot of land into a garden. Village Preservation's then-Executive Director, Regina Kellerman, heard about these plans and thought it would be the perfect spot to conduct an archaeological dig, since the 4,200 square foot triangle hadn't been used since it was paved over in the early twentieth century, and hadn't really been touched at all prior to that. Professional archaeologists contributed their time, and Dr. Anne Marie Cantwell, a professor at Rutgers, agreed to direct the site excavation and involve her students. Mostly it was Native American artifacts that were being searched for, many of which were uncovered. Click here to see more photos of the dig.
Drag Shows at the Pyramid Club
The Pyramid Club, located at 101 Avenue A, was a launching point for pioneering drag superstars like Lady Bunny and RuPaul. The club gave birth to the iconic drag festival Wigstock, and reigned supreme as the mecca of drag from its opening in 1979 through the 1980s and 90s. Jillian Jonas was the house photographer at the legendary boy bar on St. Mark's Place in the mid-1990's, but also extensively documented many of the same drag performers at the Pyramid Club, Wigstock, and the Gay Pride Festival. Her collections donated to us include some amazing images from the Pyramid Club at two July 1994 shows.
The Piers
The photo collection of longtime Greenwich Village resident Robert Fisch includes photos primarily of the Greenwich Village of his youth in the 1980s and his coming of age in the LGBT community.
Click here to see more summer photos from the Historic Image Archive.