← Back
Business of the Month: Le Fanion, 299 West 4th Street
Your input is needed! Today we feature our latest Business of the Month — help us to select the next. Tell us which independent store you love in Greenwich Village, the East Village, or NoHo: click here to nominate your favorite. Want to help support small businesses? Share this post with friends.
It has often been said that New York City belongs to the big, the fast, the flashy and frenetic. So it's particularly satisfying when slow and steady wins the race in our ever-whirring city. Like Aesop's fabled tortoise, our November Business of the Month, Le Fanion at 299 West 4th Street, has hewed to the placid and constant vision of its owners for over 30 years, unperturbed by the churn of the surrounding retail landscape. Today, the store remains, as it ever was, a purveyor of antique and artisanal furniture, earthenware, artwork, and artifacts from the south of France, and it remains one of the more unique and charming shops in the neighborhood and in the city.
The story of Le Fanion begins with a hitch-hike across the country during the early 1980s. The hitchhiker in question was Claude-Noëlle Toly, a native of a town near Avignon who, having finished a degree in political science, embarked on this adventure as a way to forestall her entry into the workforce. During the trip, she fell in love with the vastness, variety, and generosity that she encountered. New York itself was a shock: loud, dirty, busy, and expensive. But when she returned home, she couldn't stop thinking back longingly to the city's eclectic energy and old run down buildings. "It was," Claude-Noëlle recalls, "as if the summer fling had turned into a serious affair, and I could not stay away from my love." So she returned to New York, rationalizing this subsequent move as a way to work on her English. It was then that she discovered Greenwich Village, while working as a waitress at Chez Brigitte (located at 77 Greenwich Avenue from 1958 to 2008). After a few months, she returned to France, but it didn't take her long to realize that New York was where she felt at home, and where she wanted to be.
During one of her spells in the city, Claude-Noëlle struck up a friendship with William Nuckel, a business school graduate and inveterate francophile. While she was working at a French bank, William made an intriguing proposition: why not start with him some sort of importing business that would give them both an excuse to spend time in France? That sounded a lot better to Claude-Noëlle than her job and, after some deliberation, they settled on importing antique furniture. They started selling their merchandise at the Javits Center antique show. Brisk sales convinced them that their idea had potential, but that they would also need a permanent space for it to work long-term. One day, Claude-Noëlle happened across a vacant storefront with a for-rent sign while walking through her neighborhood. Shortly thereafter, in April 1987, Le Fanion was born, named after the French word for pennant, a flag used to mark one's territory; in this case, Claude-Noëlle and Williams' corner of the Village.
Initially, the store sold just antique furniture from the south of France, much as the couple had at the trade shows. But since the two now had a store and needed to decorate it, they also started bringing in antique pottery from the same region — a kind of pottery known as terre vernissée (glazed earthenware).
Claude-Noëlle didn't have any expertise in antiques beyond that accrued growing up amidst 13th and 14th century houses and 18th century furniture. But she knew what she liked and trusted her own taste. Seeing that customers responded to the antiques, even at their considerable prices, the partners decided to also carry works by contemporary artisans who followed in the same tradition. Old or new, this pottery shared the bright, colorful palette that has historically typified artwork and craftwork hailing from the sunbathed, vivid-hued southern regions of France.
Before long, Claude-Noëlle and William started picking up idiosyncratic items that caught their eye during their travels: paintings, pitchforks, chandeliers, and much else.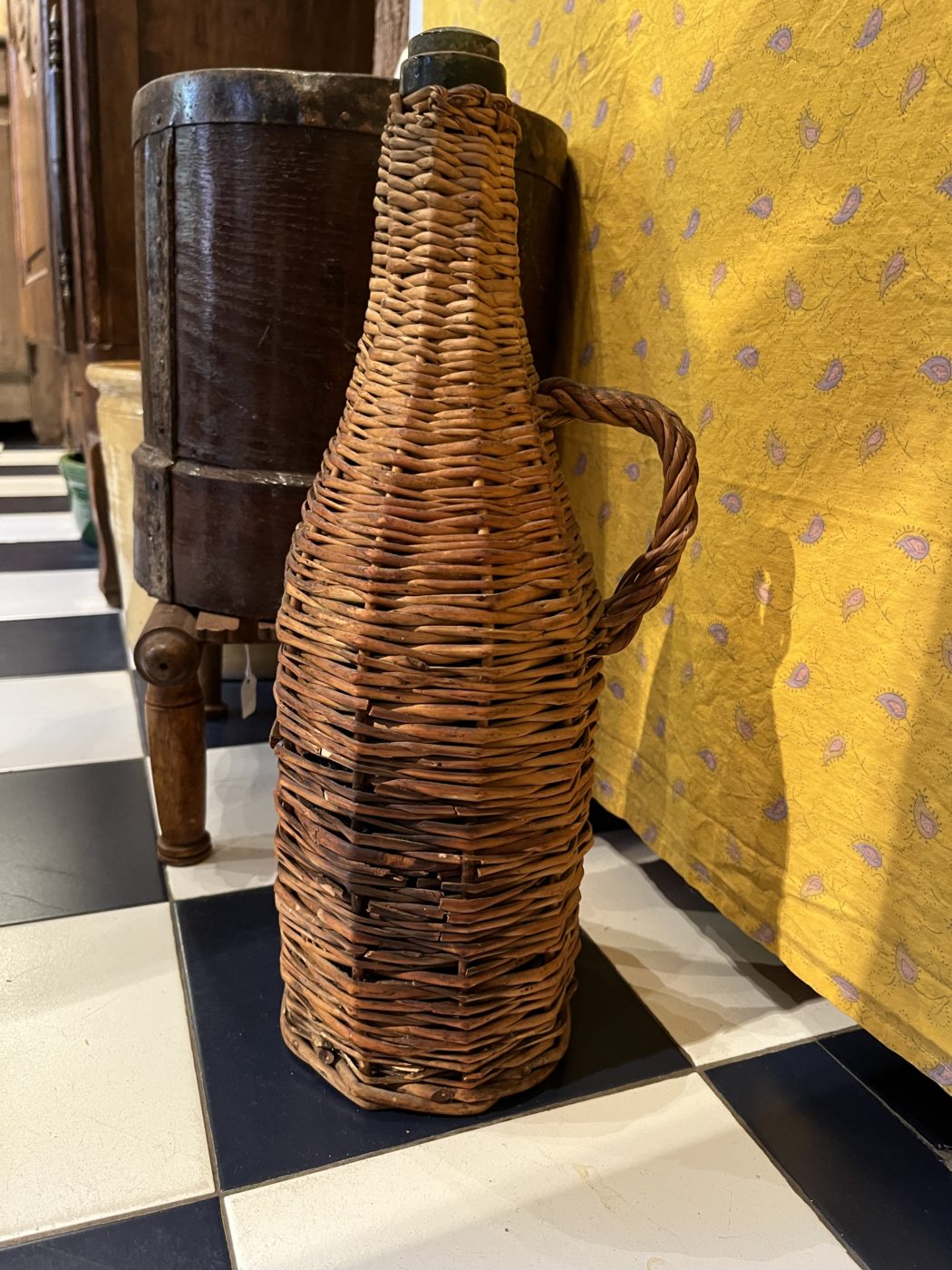 Generally, Claude-Noëlle's eye gravitates towards rustic work that evinces traces of craftsmanship. But she declares herself always open to surprises, and exceptions to her tendencies are only a coup de coeur away. She merely insists on uniqueness, professionalism, and congeniality, dealing only with small artisans whose work is unavailable elsewhere in the city, and who are pleasant to deal with and can fulfill the orders. Following these criteria and their own taste, Claude-Noëlle and William have managed to successfully lead Le Fanion for over three decades.
Several additional factors have contributed to their 35 years of success. First, Claude-Noëlle and William were fortunate to find a place with a landlord who appreciates what they do, and who having his offices nearby, values having a low-key, reliable business as a tenant. Claude-Noëlle regretted, early on, not being among the prominent antique stores on Bleecker Street, where decorators used to shop. At the time, she felt like the poor relative on the wrong side of the tracks. Now, she feels lucky. Had they been on Bleecker, Le Fanion might no longer exist.
Second, the business has benefited from having little competition. It's not easy to do what Le Fanion does. The store has, over the years, built a network of craftsmen and artists across the southern French countryside, to which Claude-Noëlle, being from there, has had privileged access. Beyond this, the operation requires hands-on work. Even now, Claude-Noëlle spends three months out of the year abroad buying for the store, and just about every day involves bubble wrapping. And that's before having to deal with the vicissitudes of transporting the merchandise. Claude-Noëlle compares the experience to that of having a child who never grows up. And apparently, not many are up for that experience.
Third, Claude-Noëlle and William have never required more of their business than what they demanded from it at the outset: the ability to live in New York and spend time in France. This has entailed forgoing extravagant lifestyles that the business cannot support in favor of the time and flexibility that it can.
Finally, just as with their goals, Claude-Noëlle and William have been steadfast in their commitment to the store's focus, never doing things because they were trendy. "French-country" has, over the years, come and gone several times at major retailers. But those stores have never stuck with it. Le Fanion did. "We've always done that," Claude-Noëlle explains; "That is what we do. Whether you like it or not, that's it!" And apparently, enough people do.
Le Fanion's customers have been a diverse bunch, comprising locals and tourists, longtime regulars and passers-by. Certain developments have hurt business, such as the closing of St. Vincent's hospital and the proliferation of absentee ownership in the neighborhood. Others have helped, such as growing interest from younger customers and Asian tourists (Le Fanion is also big, it was recently explained to Claude-Noëlle, in social media. "We are?!" she responded, surprised). But then, Claude-Noëlle has long known that interest in Le Fanion comes from where she least expects it. Once, she put on display outside the store at a deep discount an entire shipment of pottery that she had glued back together after it had suffered damage in transit. As an onlooker grumbled about the shoddy merchandise that the store was now hawking in the neighborhood, a town car pulled over, a woman and her assistants got out, and she purchased the entire collection. It was Paloma Picasso. She intended to smash the pots, infuse the shards with her new perfume, and give them out as samples. Because terre vernissée catches the eye even in fragments.
In the meantime, Claude-Noëlle and Wiliam have continued to do what they have always done: split their time between France and New York, and bring to our city, amidst the noise, dirt, and hecticness that once shocked Claude-Noëlle, colorful evocations of the Mediterranean sun. For the vision, taste, and steadiness of purpose of its owners, we are thrilled to name Le Fanion our November 2022 Business of the Month.
What special small business would you like to see featured next? Just click here to nominate our next one. Thank you! #shoplocalnyc
Here is a map of all our Businesses of the Month: