← Back
Martha Graham: Dancer of the Century
Focus on your breath. It all begins there. Notice its natural rhythm and let that movement expand into a full-body contraction and release. This will form the basis of a stylized movement vocabulary that will allow you to explore the dynamic tension between the need to vent your passion and the desire for control. Now all you have to do is marry this style to a global theatrical vision rooted in mythical narratives that will lend your exploration an epic scope, and you'll have in your hands the basic ingredients for an artistic revolution. At least you would if Martha Graham (May 11, 1894 – April 1, 1991) had not gotten there almost a hundred years ago. The founding mother of modern dance and one of the most important dancers and choreographers of the 20th century, Graham had an incalculable impact on the contemporary artistic landscape — much of it from our neighborhoods. We still look back in wonderment upon her seven-decade career as a performer, teacher, and creator.
Graham's first encounter with concert dance came as a 14 year old, when she attended a performance by Ruth St. Dennis, another influential pioneer, whose choreography and staging drew extensively from Asian sources. Just a few years later, Graham began her training at the Denishawn School of Dancing and Related Arts, a dance academy that had just been launched by St. Dennis and her husband Ted Shawn. She stayed there until 1923, when she struck out on her own and quickly started streamlining in her work the ornate quality of the movement style she practiced at Denishawn. In 1926, she founded her dance company, the oldest in America, and her dance school. By 1929, her choreographies already displayed many of the elements that came to characterize her style: rhythmic sequences of contraction and release, sharp, choppy, disjointed movements, groups of dancers operating as a unit, and a thematic preoccupation with emotional struggle.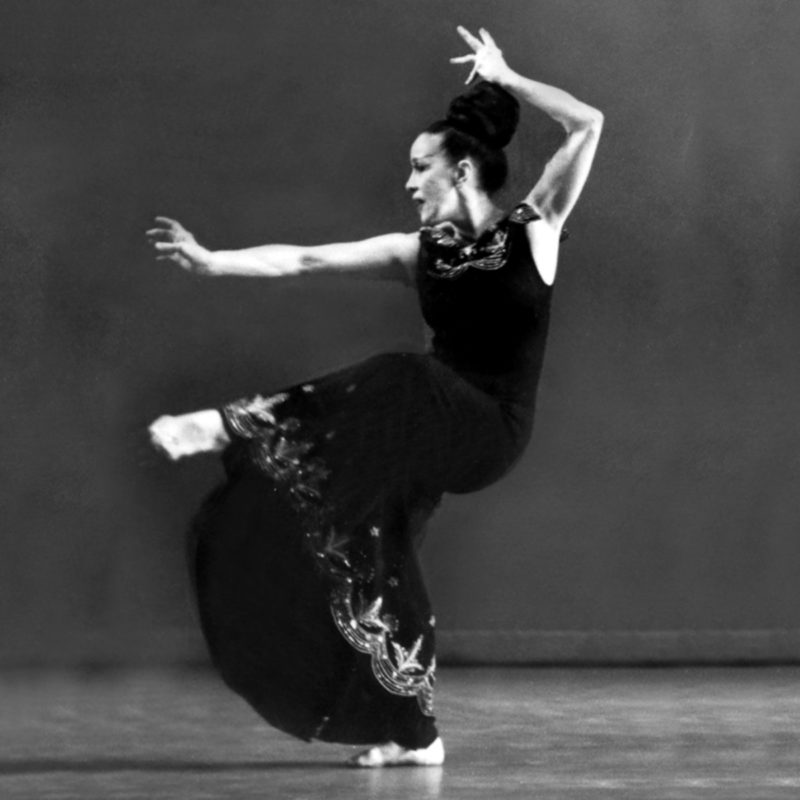 Graham's work would continue to evolve over the course of the six decades that followed. The stripped down aesthetic of her earliest groundbreaking work gave way to more elaborate scenic design, some of it, famously, by frequent collaborator Isamu Noguchi — another local. Graham involved herself in all aspects of her productions, occasionally designing all the costumes, and working closely with composers and set designers to ensure that their contributions would support her vision. Notable collaborations over the course of her career included Aaron Copland, Samuel Barber, William Schuman, Louis Horst, Alexander Calder, fashion designers Halston, Donna Karan, and Calvin Klein, and major ballet stars for whom she created parts, including Rudolf Nureyev, Mickhail Baryshnikov, and Margot Fonteyn. In developing her dances, Graham drew inspiration from sources as varied as Greek mythology, Native American ceremonies, the American frontier, and modern painting, as well as from major tragic literary characters and historical figures, such as Medea, Clytemnestra, and Joan of Arc, whom she portrayed in some of her most famous performances. By the end of her long career, she had created 181 dances and had received almost as many accolades, including the French Legion of Honor, Japan's Imperial order of the Precious Crown, and, in the U.S., the Presidential Medal of Freedom with Distinction, the first ever awarded to a dancer and choreographer.
Graham's outsized legacy stems not only from her performances and from the dances she created, but also from her teaching and from the success of the technique she developed. She taught her method herself for seven decades. But it has also been taught for years, throughout the world by Graham dancers. In addition, the Graham technique has exerted tremendous indirect influence on the world of dance by shaping the work of numerous important choreographers who danced for Graham early in their career. These include Erick Hawkins, Merce Cunningham, Paul Taylor, Anna Sokolow, and Lila York, among others. Otherwise, Graham's legacy is most directly kept alive by the Martha Graham Dance Company, which has spent part of its nearly 100 year existence in the Village. For the past decade, the company, along with the Graham School, has been based out of Westbeth, at 55 Bethune Street. Earlier in its history, it was located at 66 Fifth Avenue. During the early decades of the 20th century, this part of the neighborhood, South of Union Square, was a hotbed of social activism. This political climate informed several of Graham's most noteworthy dances during the 1930s and 1940s, like Panorama and Chronicle. In 2015, we, along with the New School, placed a historic plaque at 66 Fifth Avenue in her honor, to draw attention to the tremendous contributions of one of the greatest trailblazers to have ever passed through our neighborhood.