← Back
SoHo's Cast Iron Landmarks: 1969 and Today
Edward LaGrassa was an architecture student in 1969 when he photographed hundreds of cast iron buildings and structures, largely in SoHo and Tribeca, but also in Harlem and Upper Manhattan. He took the pictures for a school project, and luckily, the negatives were scanned and donated to Village Preservation, becoming the stunning "Edward LaGrassa's Cast Iron Architecture of SoHo, Tribeca, and Beyond" collection within our historic image archive.
SoHo has a wealth of cast iron loft buildings dating back to the mid-to-late 19th century. During this time, molded cast iron became cheaper to use for facades than materials such as stone or brick. There are about 250 cast-iron buildings in New York City, the majority of which are in SoHo. Much of the area was landmarked as the SoHo Cast Iron Historic District on August 14, 1973, while additional areas east, west, and southeast of the original district were landmarked via extensions of the historic district on May 11, 2010. Today we look at some of the still extant sites captured in our historic image archive by Edward Lagrassa in 1969:
Little Singer Building, 561 Broadway
Designed by architect Ernest Flagg and built in 1903, this building was erected to house the Singer Sewing Machine Company's offices and factory. A few years later, the much larger, 41-story Singer Tower was built in 1908 at Broadway and Liberty Street, making 561 Broadway the "Little" Singer Building. The larger Singer Building, which was the tallest building in the world from 1908 to 1909, in 1968 became the tallest building to ever be demolished (up to that time) to make way for the current One Liberty Plaza. While the bigger Singer Building lasted a mere sixty years, its "Little" SoHo cousin survives today, and still bears the diminutive moniker.
According to the Soho Broadway BID: "The Little Singer has recessed windows and wrought iron balconies, unlike surrounding buildings. If you look closely, you will notice that the balconies on each floor vary slightly in design, even though at first glance they look uniform. The Prince Street façade still bears a sign that reads "Singer Manufacturing Company. In 1979 the building was converted to a coop, with 20 offices and 15 JLWQ units. The building was restored in 2008 by Bone Levine Architects, who recreated the original glass-and-ironwork sidewalk canopy that had disappeared from the Broadway façade after many years of neglect."
Read more about the Little Singer Building here.
The E.V. Haughwout Building, 490 Broadway
Designated an individual landmark by the NYC Landmarks Preservation Commission on November 25, 1965, this building was designed by John Gaynor in 1857 with cast iron components from Daniel Badger's Architectural Iron Works. This building is considered one of if not the most notable of the many cast-iron buildings in the District.
According to the designation report, "Eder V. Haughwout was a merchant in cut-glass, silverware, clocks and chandeliers, and this marvelous cast-iron palace provided a luxurious setting for their display and sale."
Haughwout attracted many wealthy clients, including Mary Todd Lincoln, who had new official White House china painted here. The building is also well known as the location of the world's first successful passenger elevator, which was installed on March 23, 1857 by Elisha Graves Otis. The elevator has since been removed.
343 Canal Street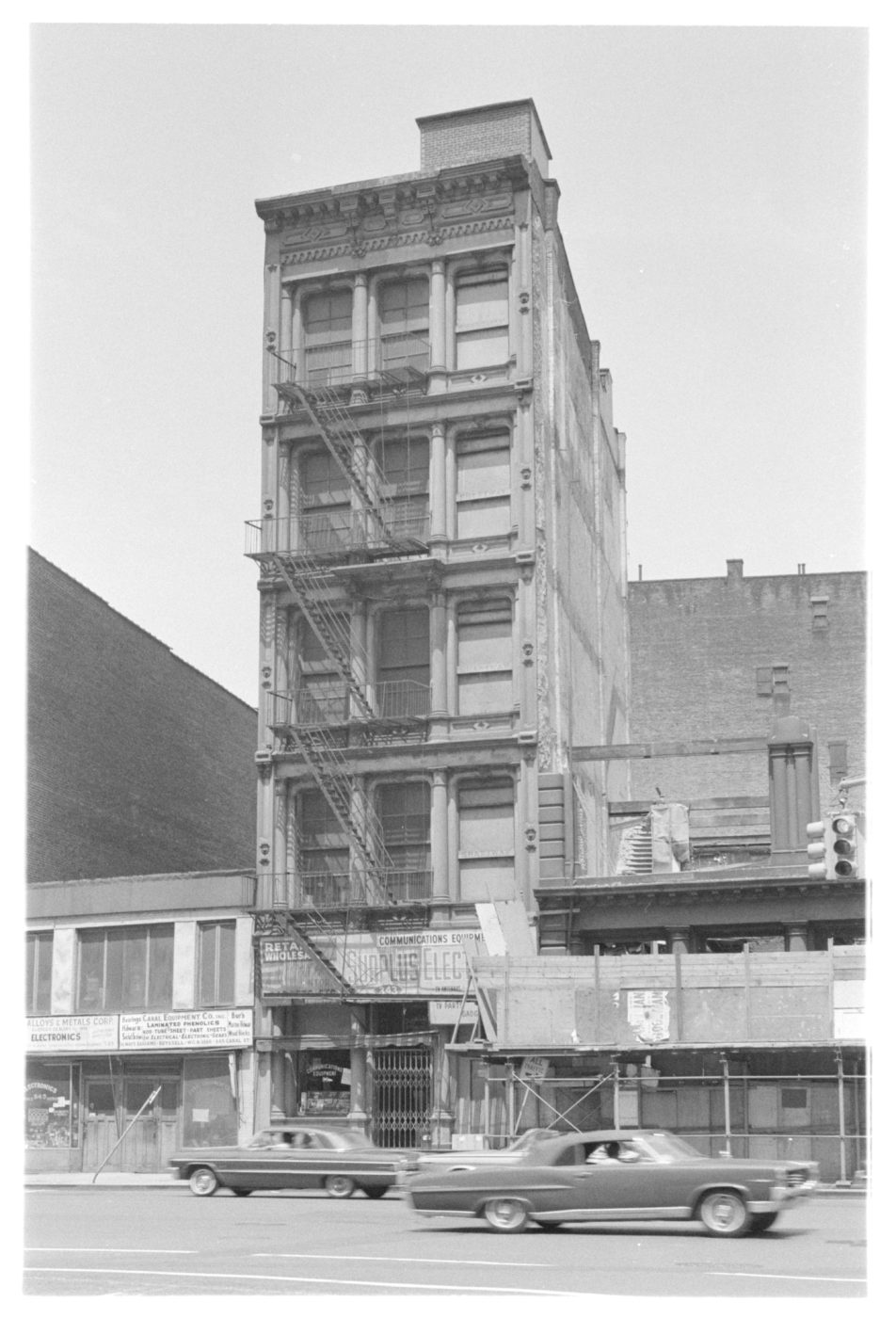 343 Canal Street is significantly smaller with a less famous history than some of its aforementioned neighbors, but is no less important to the neighborhood. While many of the district's buildings (especially on side streets) are on double or triple-sized lots, this narrow building was built on just one lot. And thanks to the historic district designation, it will stay that way. According to the designation report, "No. 343 is an Isaac F. Duckworth design that was built in 1868 for P.R. Francis. Although the architect superbly combined various neo-Grec and French Renaissance elements, the composition of the cast iron is far less complex than other designs by Duckworth within the Historic District."
Read more about the history of the Edward LaGrassa collection here. See the entire collection here.