← Back
The Antique Business District South of Union Square: Seidenberg Antiques, 36 East 12th Street
The area South of Union Square was once the antique center of the country. During the second half of the 20th century, dozens of freight trucks would converge in the neighborhood every weekday to replenish the inventory of antiques stores, even as dealers and decorators would descend on those stores ready to deplete them. The center of gravity of antiques dealing has since dispersed, and more than a few of the businesses that once formed the district have moved away or ceased operations, displaced by high rents or brought to an end by the retirement of proprietors without relatives interested in taking over.
We are fortunate, however, to still have South of Union Square a significant concentration of establishments where we can admire beautiful objects from another time and, if we like, take them home with us and make them part of our lives. One of the most extraordinary among them is Seidenberg Antiques at 36 East 12th Street (Broadway/University Place), a third generation business that since 1940 has dealt in 18th, 19th, and early 20th century decorative arts, with the expertise and charm of merchants from the old school.
David Seidenberg fled Nazi Germany late, in 1940, at the age of 28, and settled in Washington Heights, at the time a German-Jewish enclave. The rest of his family stayed behind. Family lore has it that David's father, who had brought his family to Frankfurt from Poland when David was still a child, had wealth and dealt in arts and silver. Whatever the case, David arrived in this country with the wherewithal to launch a small antiques store on the Lower East Side, at the time a bustling center of immigrant business and life. He would purchase pieces at estate auctions all over town, focusing on ceramics, silver, and artwork from the 18th and 19th centuries (the inclusion of 20th century works would come later), and sell them to dealers from his storefront. He would also sell on consignment through Madison Avenue dealers, whose inventory-purchasing power was limited by their far higher rents.
David had or developed a good enough eye that his business became a success, drawing notable customers like the King of Morocco and Eleanor Roosevelt. Success, however, came at a cost. It had been David's philosophy to use profits from every sale to cover personal expenses and then to purchase more inventory. Because David led a modest lifestyle, his business philosophy ineluctably led to inventory growth. So much so that, after a few decades, he ran out of space for displaying his wares, and he had to move.
The South of Union Square district had several advantages as a new location for Seidenberg Antiques. The concentration of antiques businesses in the district attracted dealers and other customers to the area; and rents were, though more expensive than on the Lower East Side, still cheaper than in midtown or uptown. In 1972, David moved his business to 836 Broadway, between 12th and 13th street. His son Jack helped him move. David had encouraged Jack to go to law school, because, as Jack explains the thinking, "a Jewish boy needs a profession." Jack, however, wanted to go into the businesses. He was always drawn by the beauty of the merchandise and by the story behind the artifacts and their aesthetics. He lasted two years as a lawyer before joining his father at Seidenberg Antiques. Jack would eventually take over from his father in the 1980s and continue his business approach. This led to further success and to further accumulation of inventory. So in 1999, when his lease expired, Jack felt it necessary to move to an even larger space, so that he could better showcase his wares. He found one just around the corner.
Seidenberg Antiques now boasts 5,000 square feet chock full of inventory, or "mistakes" — David's old playful term for all unsold merchandise (although if such arresting works count as misses, one marvels at the thought of what treasures lie among the hits). As Jack will tell you, however, carrying inventory is the price of being a dealer. The merchandise display observes no apparent pattern of organization. The store seems instead arranged according to the principle of leaving no available cranny empty. It is designed for customers to get lost exploring the merchandise and to treat themselves to the surprises that await at every corner.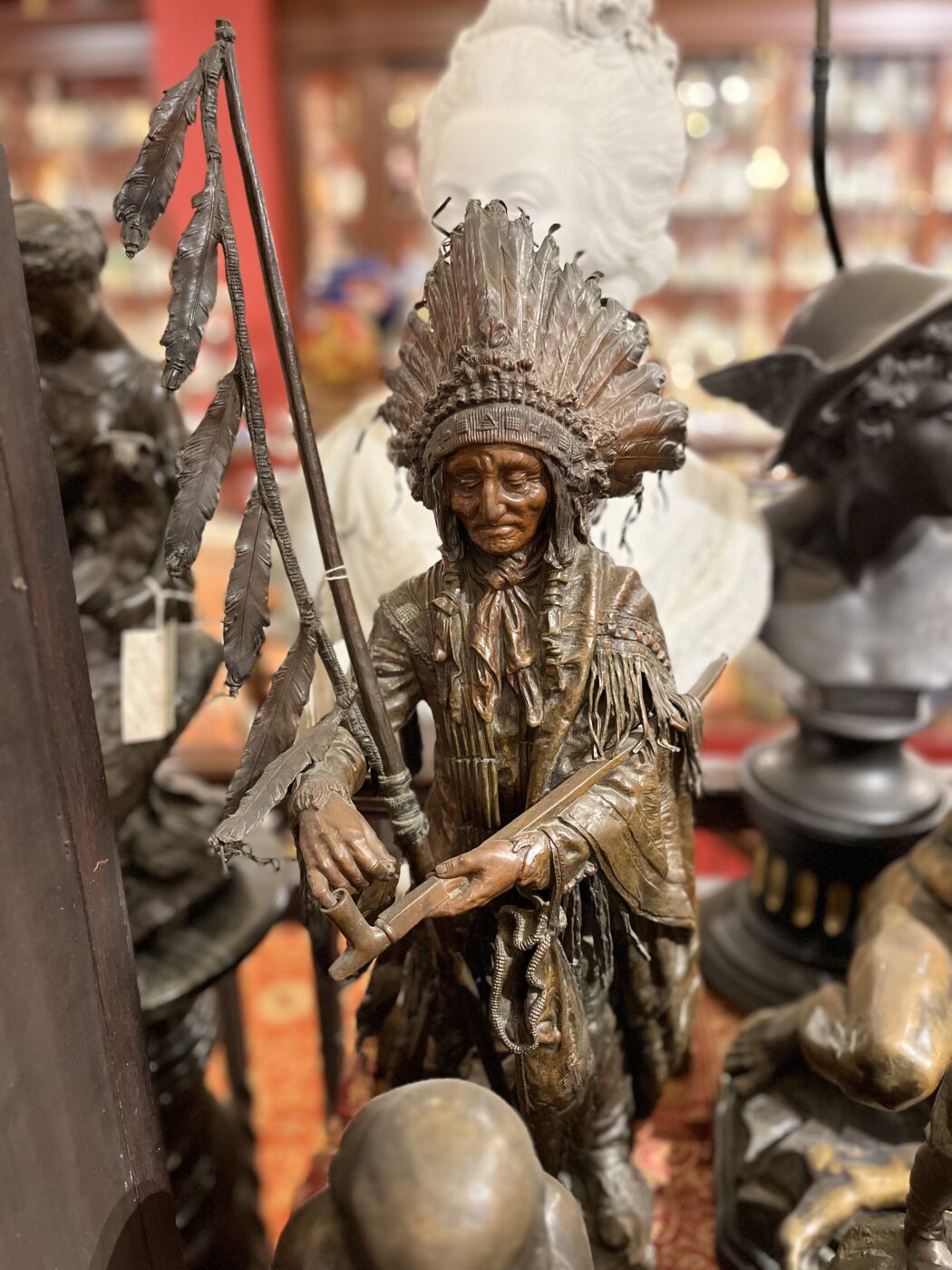 These discoveries constitute both a source and an expression of the Seidenberg's passion and taste for antiques over the course of generations — generations that now include Jack's son, David. On the one hand, by learning about art objects of previous centuries and about the genealogy of their styles, the Seidenbergs have developed a greater appreciation for these items. On the other hand, this gradually cultivated discernment has served as the guide for their acquisitions and has ultimately constituted the foundation of their business. As David puts it:
Trends come and go. You read about trends and you try to get ahead of them, which is hard to do; but you're always relying on your taste, trying to keep a wide lens of what you should look at, and always trying to learn different things. You're buying what you think is beautiful and you hope that by conveying your love of that piece someone will come to understand it as well.
For decades, the Seidenberg Antique's business model has worked. The store's extensive selection and personal service has made it one of the premiere dealers in antique ornamental objects in the world. The world, however, has changed around them and rendered that model progressively obsolete. The possibility of e-commerce has obliterated distance, vastly increasing the reach of sellers and buyers. The Seidenbergs increasingly buy at estate auctions throughout the world and deal with buyers and dealers from across the globe. Walk-in traffic, however, has dwindled, as more and more customers dispense with exploratory in-person visits in favor focused online searches conducted from their desk.
The Seidenbergs, led by David, have tried to adapt to the changing circumstances, creating a beautiful website and YouTube channel that display a portion of their merchandise. This has boosted remote sales. But there are limits to how well a business premised on a different model can perform without overhauling its operations. One cannot practicably showcase thousands of unique art objects on a website. Moreover, the fewer the walk-in customers, the less the justification for a 5,000 square foot space and the rent that it entails. Aware of these limitations, the Seidenbergs are preparing to pivot should that prove necessary, confident that, whatever form their business takes in the end, there will always be a market for knowledge, taste, and reputation. For now, Seidenberg Antiques continues to grace our neighborhood, to offer Jack and David the opportunity to share with visitors their passion for antiques and works of art, and to offer visitors the opportunity to admire the store's remarkable inventory and to experience the art of antiques dealing.
This area South of Union Square's status as the center of the antique industry is but one of many facets of this neighborhood's unique and interrelated role as a center of art, commerce, booksellers, fashion, photography, piano-making, publishing, civil rights, remarkable architecture, and so much more. You can explore all these and more facets of the area's rich history on our South of Union Square Map+Tours.