Huge Flaws Identified in City Analysis of Greenwich Village & East Village for Hotel Special Permit Proposal; Critical Hearings Tomorrow and Next Wednesday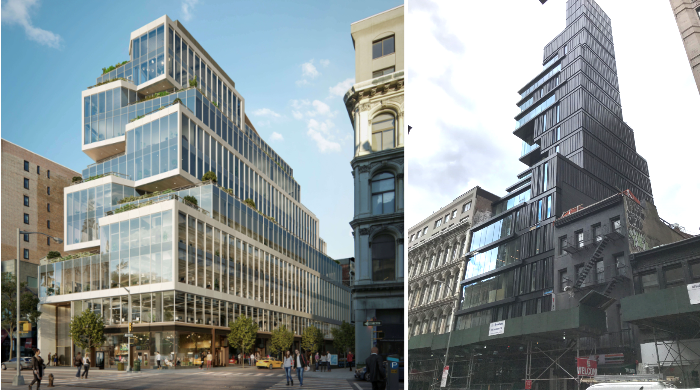 Village Preservation has just released a review of the city's Environmental Assessment Statement (EAS) for its proposed Hotel Special Permit requirement for Greenwich Village and the East Village south of Union Square, and found the analysis rife with disturbing errors and inaccuracies, most especially in its analysis of the historic resources in the area. The EAS projects demolition of several low-rise early 19th century buildings currently housing residential units to make way for significantly larger office towers. It claims that these buildings are of no historic significance, even though they were once the homes of some of the greatest American artists of the last century and a half, and originally built by direct descendants of Peter Stuyvesant. Read the letter here.
This is only one of many serious flaws in the city's analysis; buildings are misidentified, 17-story apartment buildings are labeled as having 'no residential uses,' and prior analyses made by the City of the area are directly contradicted. Perhaps most disturbingly, the report claims there are virtually no historically significant buildings in the entire affected area, whereas we have identified nearly two hundred which the City completely overlooks. This includes buildings by some of our city's greatest architects, homes of great artists and writers, sites connected to the womens' suffrage, African American Civil Rights, and LGBT rights movements, and much more – read it all here.
While purported to address development concerns in the area following the recent upzoning for the 14th Street Tech Hub, this measure is clearly motivated solely by the Mayor's quid pro quo for campaign donors and supporters who support this measure. Worse, it will do nothing to address development problems facing Greenwich Village and the East Village, as the city's own analysis says that hotel development will merely be replaced by office building development, and low-rise, historic, and residential buildings will still be lost. This also does nothing to fulfill Councilmember Carlina Rivera's pledge when she ran for office that she would only vote for the 14th Street Tech Hub if comprehensive neighborhood protections were included. Read our op-ed in today's AMNY here.
TO HELP:
Attend these meetings —
Land Use Committee Meeting of Community Board #2
(covers the area WEST of Fourth Avenue)
TOMORROW — Wednesday, November 13th at 6:30 pm
NYU Silver Building, 32 Waverly Place (Wash. Sq. E.) rm. 408Land Use Committee
Meeting of Community Board #3
(covers the area EAST of Fourth Avenue)
Wednesday, November 20th at 6:30 pm
Sirovich Senior Center & Volunteers of America
331 East 12th Street (1st/2nd Avenues)
While both meetings are open to the public, we strongly recommend that you attend the meeting of your community board (depending upon which side of Fourth Avenue you live). We need to send a message that this Hotel Special Permit plan is no help whatsoever, and more needs to be done to protect these areas, including landmarking.
November 20, 2019