This Monday, Nov. 14: Join Our Press Conference and Protest over Demolition of 200-Year-Old Landmark at 14 Gay Street
Village Preservation was shocked and disturbed to discover that the City has given the order to demolish a nearly 200-year-old landmarked house at 14 Gay Street, following what we have been told is dangerous, unpermitted work on the site that compromised its structural integrity. The house at 14 Gay Street was built around 1827. In the 1930s, writer Ruth McKenney lived there and wrote of her time there in The New Yorker short stories My Sister Eileen, which was turned into a book, play, radio and television series, and two films, and became the basis for the musical Wonderful Town, which has in turn been produced many times for the stage, film, and TV. The iconic building, immortalized in photographs by Berenice Abbott, survived riots, fires, and 200 years of wear and tear — but under a new owner and the watch of the NYC Department of Buildings and Landmarks Preservation Commission, it is being torn down to avoid imminent danger to neighboring structures and passersby.
While not all the facts are known here, and we are not questioning the need to take immediate action to protect public safety, something is very wrong with this situation. This is the 10th landmarked early 19th-century house in Greenwich Village the City has ordered demolished based upon work or conditions that have compromised its safety or integrity. Public records show this fragile house has had violations for years. Clearly the city agencies in charge of monitoring and protecting historic buildings are not doing enough.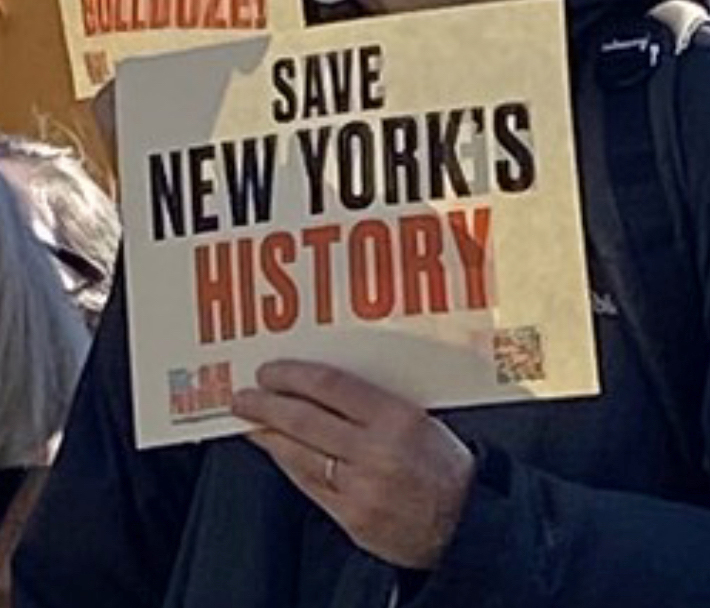 Please join us, elected officials, and neighbors for a press conference and demonstration on Monday, November 14 at 4:30 PM in front of the house, to demand accountability and call for reform in the city's system for monitoring and protecting historic structures.
November 11, 2022