APPROVED on 07/20/2010

Greenwich Village Historic District
Between Sixth & Seventh Avenues
City & Country School
Application:
Eight Greek Revival style rowhouses built in the 1840s, and altered in the twentieth century. Application is to create window openings, and construct rooftop and rear yard additions.
This application is closed. Application approved July 20th, 2010.

Status as of July 20th, 2010: LATEST NEWS
The applicant presented a revised proposal to the Landmarks Preservation Commission on July 20th, 2010. The revised application moved the multi-purpose room that was originally proposed for the top floor to a lower level and placed the classrooms on the very top. By doing this, the applicant trimmed 10′ off the overall height of the rooftop addition, which was also redesigned. The "floating stage" that was originally proposed to hoover above No. 150 West 13th Street was also eliminated in the revised proposal.
All other aspects of the proposal remained the same as originally proposed, except for the rearrangement of materials and windows on the rear stairwell and the addition of an elevator bulkhead towards the rear of the roof of the 13th Street buildings.
This revised proposal was unanimously approved by the Commission. Photos are below: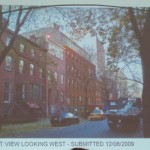 Status as of July 19th, 2010:
A revised version of this application is scheduled to be shown to the Commission on July 20th, 2010.
Status as of December 8th, 2009:
At the December 8th public hearing, the applicant (City & Country school) presented a Master Plan to the Landmarks Preservation Commission, which included proposed changes to the window openings as well as rear yard and rooftop additions. After seeing the proposal, the Commission asked that the applicant revise the massing and design of the proposed rooftop addition and return at a later date for a public meeting.
The proposal presented on December 8th may be viewed here.