← Back
47 West 8th's Run-In with the Landmarks Law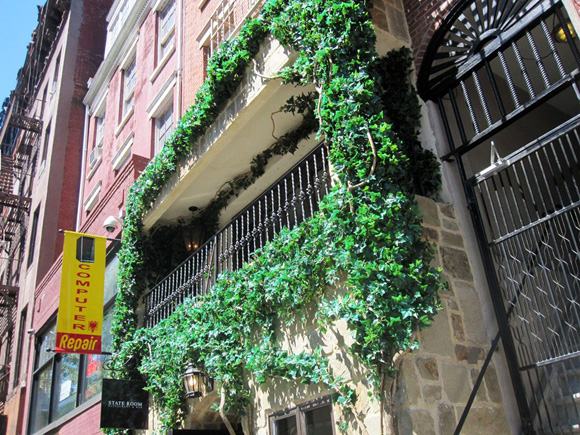 Do you remember the fake ivy saga involving the storefront of 47 West 8th Street in the Greenwich Village Historic District? It first came to our attention in early 2010 when we noticed the property had violated the Landmarks Law by not filing for a Certificate of Appropriateness (C of A) application before it made changes to the building.
The Landmarks Preservation Commission (LPC) finally issued a violation for the illegal work. When the property owner applied for a C of A to legalize the changes, the building came before the LPC at their October 19, 2011 public hearing. GVSHP was there to provide testimony in opposition to the application. We were surprised that the LPC commissioners only recommended minor changes to a pseudo-Mediterranean grotto design that was out of character with the historic district.
In a letter to the LPC, GVSHP addressed these concerns. We were happy to see that at the January 24, 2012 LPC public meeting, the commissioners denied the proposal outright (you can view it here). The applicant then tried again with a new proposal, but the bland design came up short and it was sent back to the drawing board. Finally, last month, a traditional brick storefront was proposed for the site, which was ultimately approved (see it here).
To read more about this property's run-in with the law, check out our initial Off the Grid post from May 2011 and a second one written almost a year ago about the fake ivy's removal. Also be sure to check out our Landmarks Applications Webpage where you can see what landmarked properties are coming up for public review in our neighborhoods and how you can get involved in the process!
Don't have time to make it to the meetings? We also include information on how you can submit written testimony to Community Board 2 and 3 addressing your concerns about changes to a landmark near you.