← Back
1980s Tax Photos: Then & Now
For today's post in our Then & Now series, we thought we'd feature a few locations in our neighborhoods as they looked in the 1980s. Similar to last week's post on using historic maps, the City of New York's 1980s tax photos are an invaluable resource in helping us understand our built past.
As with the 1940s tax photos (taken between 1939 and 1941), the 1980s photos (taken between 1983 and 1988) document each and every lot across the five boroughs of New York City. To access the 1940s photos you need to visit the Municipal Archives at 31 Chambers Street. Lucky for us, however, the 1980s tax photos are available on their website as part of their Department of Finance collection.
Check out some featured buildings in our neighborhood below, and also find out how you can track down buildings that mean something to you. Who knows, you might even come across the storefront of a beloved but long-gone neighborhood business. Let's do some time travel:
The corner of Seventh Avenue South and West 10th Street in the 1980s, and what it looks like today. Do you think a lot of people walk by this building thinking it's much older than it is?
And then there's this building in the Meatpacking District in the 1980s that once sat on a block now completely transformed by the Standard Hotel.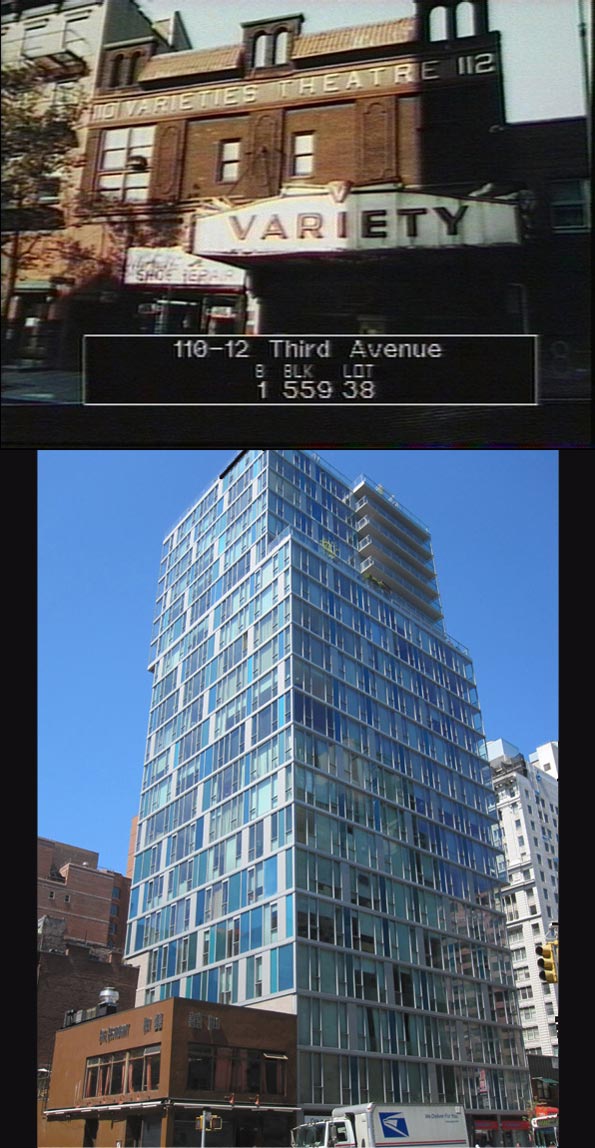 Similarly, the small Varieties Theatre on Third Avenue between East 13th and 14th Streets was sadly replaced by this soaring glass behemoth (a few other small-scale buildings were also demolished). Village Preservation successfully advocated for downzoning in the East Village that would prohibit this kind of out-of-scale building today in most of the rest of the neighborhood.
If a building has a modern facade, it could be a new building or it could be an old building with a facelift. The 1980s tax photo reveals that the building at 96 Avenue C was formerly a mid-19th century rowhouse (though it looks like it was in the process of having its great old details removed).
And, finally, the tax photos can also be a great resource to help us catch a glimpse of old buildings that are no longer there. At 212 East 3rd Street, a five-story Old Law tenement was still standing in the 1980s tax photo. Demolition permits are not available for the building, so having this tax photo at least clues us in that the building was still standing 30 years ago. The site eventually became the Kenkeleba Sculpture Garden, a sculpture park featuring works from the Kenkeleba Gallery at 212 East 2nd Street (the back of that building is visible in the below photo).
Excited to get started on your own look back at 1980s New York? You can see photos from all boroughs here by accessing the appropriate link on the left-hand sidebar.
Each photo has a unique number starting with "dof_" so that's usually the best way to search. The numbers correspond to the property's borough, block, and lot numbers. For example, Jefferson Market Library is in Manhattan (number code = 1) and on block 606 and lot 1 so you would enter dof_1_00606_0001 to find it. Sometimes a building photo may not be available, but you never know what you'll dig up!