← Back
Business of the Month: Music Inn, 169 West 4th Street
Your input is needed! Today we feature our latest Business of the Month — help us to select the next. Tell us which independent store you love in Greenwich Village, the East Village, or NoHo: click here to nominate your favorite. Want to help support small businesses? Share this post with friends.
Greenwich Village has been called the cultural heart of America, thanks in large part to the many and varied contributions it has made to music and the arts over the years, and the many locales here which are epicenters for art and music lovers and makers. And while some of those spots may be in the past or even the distant past, some remain and thrive well into the present. Since 1958 one such landmark that embodies that tradition of creativity and where you can fulfill all your musical needs and interests is Music Inn, at 169 West 4th Street. They are also our October 2020 Business of the Month.
Opened more than six decades ago, Music Inn is one of New York's oldest continually-operating music stores. Gathering a vast collection of instruments and records, they are known worldwide as a place where different cultures find common ground through the medium of music.
According to the Greenwich Village Historic Designation Report, 169 West 4th Street, the building in which they are located, was built in 1904-05 by architects Michael and Mitchell Bernstein, among the most prolific designers of tenements in New York. The Bernsteins were the children of Jewish immigrants from Eastern Europe.
Music Inn was opened in 1958 as a record shop by Jerry Halpern. Halpern's grandmother was a farmer in Poland who was killed by the Nazis when she stood up to them.
Current proprietor Jeff Slatnick first walked into the shop when he heard they carried sitar strings. He then first started there as a part-time employee, working on Saturdays before the year-end holidays in the mid-1960's. After a jaunt to California to study sitar with Ali Akbar Khan among others, he returned to New York to live on St Marks Place, where he played gigs at the Electric Circus, sometimes opening for Sly and the Family Stone.
This was hardly Jeff's only brush with fame. There's the time Muhammed Ali put his arm around him and told him that he was a hippie too. Or the time he was invited over to Chuck Berry's place in St Louis and escaped through a window when the police raided it. That story continued over a decade later when he saw Chuck Berry in the Village and the music great remembered him and said he always wondered how that hippie escaped that night. Or how George Harrison stopped him on the street when he saw him with his sitar and they discussed music.
Such stories emanate from Jeff like notes from a piano. He can often be found at his shop, along with the other regular denizens out front on the chairs in front of the narrow shop, all of which are part of what brings people for all over to visit the Music Inn on West 4th Street. Maybe he has a cup of coffee from his favorite place nearby, Patisserie Claude just a few doors west.
Chuck Nitty is one longtime team member at Music Inn, who is also a boxing writer. He first came to the Village in the 1970s as a child with his mother, to see that other Village institution, the Halloween Parade. He recalls first seeing the Music Inn's instruments and window, but not going in despite his mother's encouragement. Fast forward some years, and he finds himself playing basketball at the famous West 4th street courts, matched up against an older, aggressive player with a style akin to a "Killer Santa Claus" or a "shorter Bill Laimbeer" (a notoriously rough physical player). That was none other than Jeff Slatnick, who he has been friends with and worked with ever since.
Music Inn moved from only carrying records to carrying guitars as well, and eventually became a dealer for Fender and other big names. Jerry was open to Jeff's global sensibilities, and started to expand into more world music instruments. Music Inn was probably the first place in America you could buy a djembe drum back in the day, for example.
The shop has three main areas of instruments — wind, percussion and string — and they carry over 1000 kinds in the tightly packed shop with a basement level. If you can name it, they most likely have it. They also sell strings, accessories, and drum heads for a wide variety of instruments. Fortunately, I carried my sterilized trumpet mouthpiece with me and was able to try out the sound of a pocket trumpet in the window, one of the used and new pieces they carry or can get for you. And with years of knowledge and experience, they can repair just about anything, and us usually have an idea of the culture, ritual, or tradition that the instruments is used for, tend to them with great respect.
How has the Music Inn succeeded over all these decades? Jeff does not hesitate to answer that it is because he is "not about just the money." Jeff expressed a humble sense of good fortune that he has been able to meet thousands of people and do business in a creative manner. And they have been fortunate to have a supportive landlord that appreciates their unique presence and singular contribution to the neighborhood.
Parents who visited years ago now bring their own children by. This includes Paul Simon and his son picking up an old wind up record player, Yoko Ono and Sean Lennon, and regular local Greenwich Village residents imparting an appreciation for music and independent small business across the generations by shopping at Music Inn.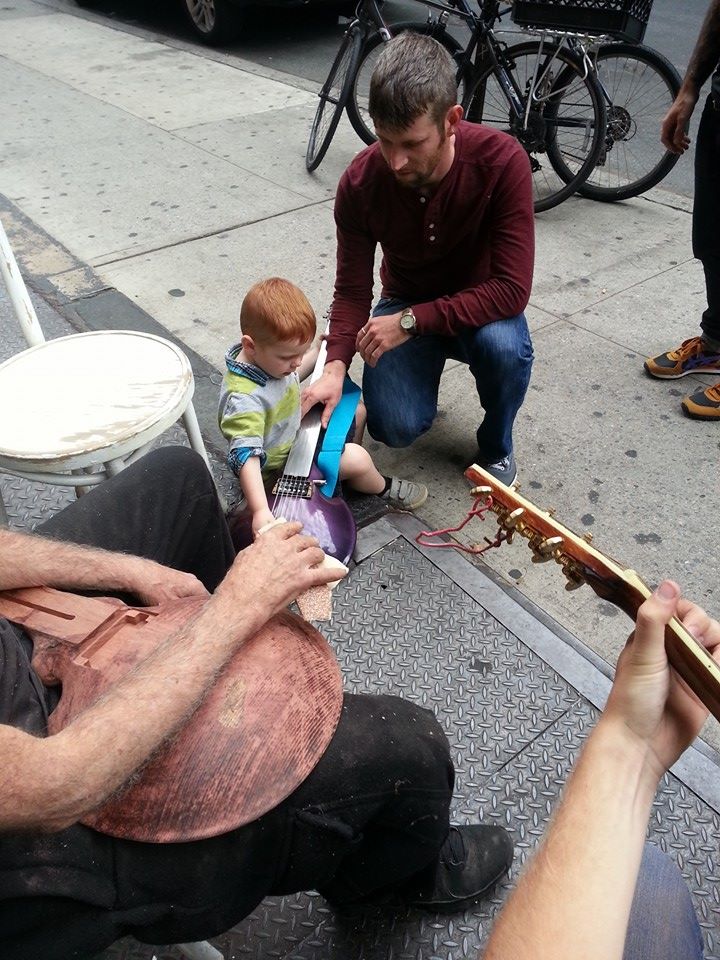 These days Jeff is often busy in the work space downstairs applying his knowledge and genius to making custom instruments. The S.D. Limulus Electric Zarode, guitar and basses, and cosmic-sounding sitars are all built by him and available for your purchase.
Which is not to say that nothing has changed there. Before the pandemic, every Thursday night at 8pm they would host an underground open mic, attracting musicians, comedians, performance artists, and more. They hope to be able to return to that again one day.
Speaking of the pandemic, perhaps it compelled you to take up a musical instrument again, or try one for the first time. In either case, they have all you need. So visit them for a record, some guitar strings, a cymbal to play along with friends, a sitar, or even a gourd for your Ghanian Balaphone. You can do it all at Music Inn, our October 2020 Business of the Month.
What special small business would you like to see featured next? Just click here to nominate our next one. Thank you! #shoplocalnyc
And here is a handy map of all of our Businesses of the Month: