← Back
Tenants in the Crosshairs: the SoHo/NoHo Rezoning Plan Victims the Mayor Wants You to Forget, Part 2
This is the second part in a series about low- and moderate-income affordable housing tenants in the rezoning area put at risk of displacement by de Blasio's rezoning. If you would like us to profile your story, please contact us: info@gvshp.org
The parts of SoHo, NoHo, and Chinatown that Mayor de Blasio wants to rezone have well over six hundred affordable, rent regulated residential units that largely house moderate- and low-income residents, many of whom have lived there for decades. The current zoning offers limited incentive for landlords to push such tenants out of their homes, because it rarely allows larger construction than existing buildings and only permits a limited range of uses in new construction. That has not stopped landlords over the years from trying. But under Mayor de Blasio's rezoning plan, residents rightfully anticipate a huge increase in harassment efforts, because they will be the sole impediment to larger scale development of a much wider range of lucrative uses — from luxury condos and big box chain stores to boutique offices and NYU dorms.
What follows is a representative story provided by a current resident of the harassment they experienced from their landlord over the years, as well as an explanation of how and why such incidents are likely to worsen significantly if the rezoning is approved. At their request, we have altered the resident's name and specifying details to protect their identity (any member of the press or city official seeking to explore this case further or confirm the person's identity should contact us, and we would be happy to connect them under the condition that the tenant's confidentiality be maintained, so as not to further endanger him or fellow residents of his building).
Sharon, a choreographer, moved into her husband's SoHo loft in 2002. Her husband Victor, an illustrator with a small business in the neighborhood, had been living there since the late 90s. The couple added walls to the barebones, former manufacturing space in order to separate their work space from the living areas. Although successful in their respective creative professional endeavors, Sharon and Victor's income oscillated year-to-year between a handsome sum and a negative income. For this reason, they counted themselves lucky to be able, as certified artists, to live and work in a studio regulated under the Loft Laws. Shortly after Sharon moved in, however, she discovered that their landlord had been charging them twice what the loft regulations allowed. Following a lawyer's advice, the couple agreed to keep paying the inflated rent so long as the landlord met his legal obligation to get the certificate of occupancy that would allow their unit to become rent stabilized pursuant to state law.
This settlement, however, offered only temporary respite from the disputes surrounding their home. In the early 2010s, a developer bought the building with the intention of renovating it for luxury residential use. To simplify the renovation work, he asked Sharon and Victor to leave their loft for several months. The couple, however, knew from experience with recent work done in the building that no structural work was necessary, and certainly none that required their relocation. They also knew that they were under no legal obligation to acquiesce to the developer's request. So, loath as they were to exile themselves from their workspaces, they rejected their landlord's request. The very day after they communicated their decision, they found "asbestos abatement" and "caution/danger" plastered all over their building.
Although the couple had indicated to the developer at an earlier meeting that the lack of subfloors created a need to insulate the unit before construction began, the abatement team began work on the units immediately above and below theirs. A few days into process, a worker smashed a 3' x 3' hole into their floor and climbed into their living room in a hazmat suit, sledgehammer in hand. The construction noise was so loud that he couldn't hear Sharon screaming at him to stop.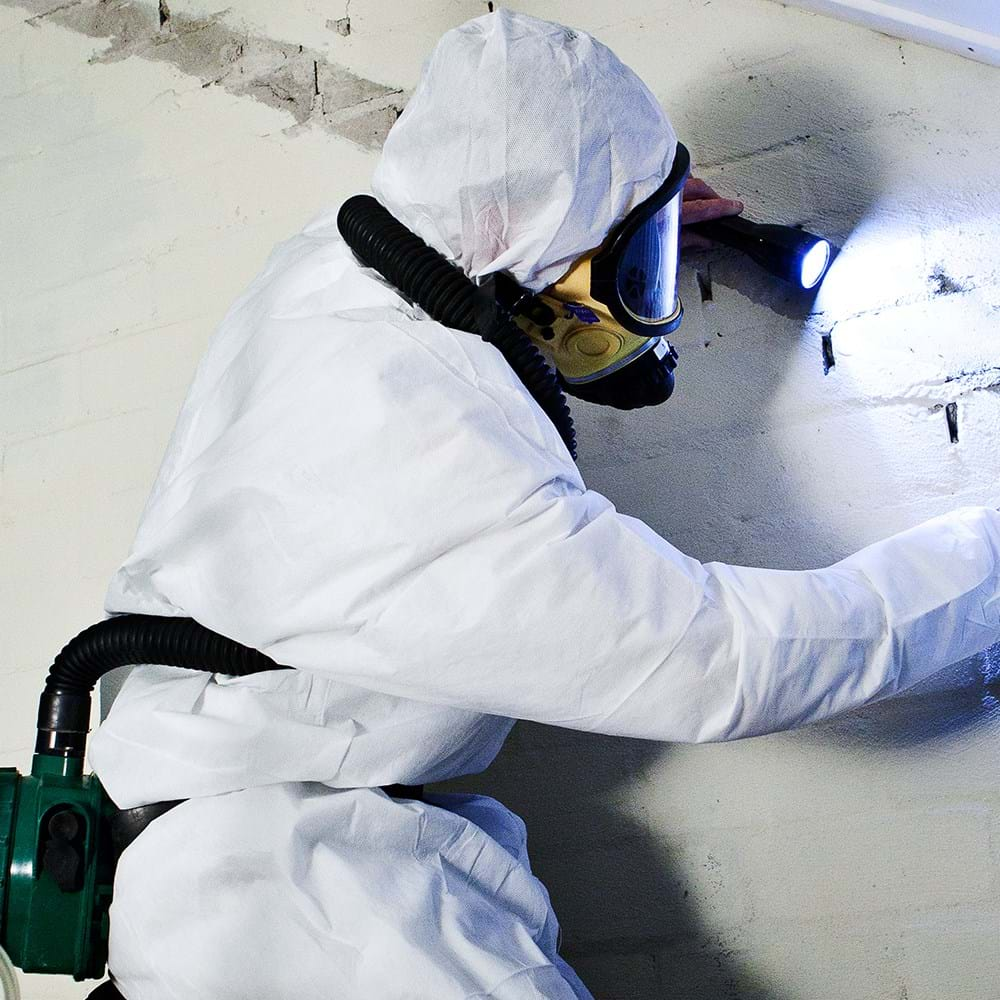 Upon discovering people living in the building, the asbestos abatement company examined the unit and concluded that they could not proceed with their work unless the floors were sealed. They proposed doing so with tape; but the couple declined the proposal, deeming it inadequate. At around this time, the landlord offered to pay Sharon and Victor if they permanently left their loft. Because the amount would not have allowed them to move anywhere near the neighborhood and Victor's business, the couple turned the offer down. As for the floor, the asbestos abatement company left the holes untouched, and came back during a long holiday weekend and finished the work anyway.
The construction work happening throughout the entire building lasted almost a year. The demolition noise and debris typically started at 7am and ended at 5pm, Monday through Saturday, thanks to permits somehow procured by the construction company in contravention of local regulation. The building was gradually taken down to the studs. For weeks the couple's hallway had no floorboards so they had to make their way in and out on 2 x 4s. That winter, during January and February, the unit was left intermittently without heat, sometimes for a week at a time. One day, it rained heavily for four hours inside several rooms in their apartment, causing substantial property damage. The crew had removed the building's gutters and left unsealed part of the roof that it had opened in order to add a new story. This essentially exposed the couple's apartment to the elements. Sharon's urgent requests for help from her landlord and from the City went unanswered.
During this process, Sharon learned that the landlord had procured construction permits by misrepresenting the building as unoccupied and without any rent stabilized units. She also came across construction plans taped to a wall that called for vent work and a stairway to go through her loft (explaining why the hazmat suit guy hadn't thought twice about smashing his way into it). She complained to the Department of Buildings (DOB) repeatedly. DOB investigators, however, would either fail to show up or claim that they could not get into the building (the buzzer stopped working during the construction, and the landlord ignored the couple's requests to get it fixed). When Sharon finally made contact with an DOB investigator on site, he asked for a bribe.
In the end, Sharon and Victor successfully sued their landlord for refusing to fix their floor; but their victory only got them compensation for several months of rent and new flooring. Upon completion of the construction, the landlord offered once more to pay the couple to leave, this time offering twice what he had offered the first time. Once more, he was turned down.
Last year, the building went into foreclosure, raising the specter of a new round of harassment if the new landlord deems it profitable to push Sharon and Victor out and get rid of their affordable unit. The current zoning limits the upside of doing so, because it does not allow a much larger building on that site. De Blasio's plan, however, makes it very worthwhile to remove Sharon and Victor from their home by either through a buyout or by harassing them into submission. It would give their landlord enough square feet of extra development rights to develop a building over twice as large as the one that currently stands there. This enormous handout, in return for which the public gets little or nothing, creates far greater incentive than currently exists to displace Sharon and Victor so as to facilitate the demolition of the building and of their affordable unit along with it. And the couple knows from over ten years of experience with the City's negligent approach to tenant protection, that if they try to hold on to their home, they won't be able to count on any government agency to help them.
For these reasons, Sharon and Victor strongly opposes de Blasio's upzoning, and urges you to join him and numerous community groups in doing so too.
Find out more about the SoHo/NoHo Upzoning plan here, and urge city officials to oppose it here.