← Back
Charles Lindbergh & The Village
Charles August Lindbergh was born on February 4, 1902, in Detroit, Michigan to a Swedish immigrant and U.S. Congressman of the same name and chemistry teacher Evangeline Lodge Land Lindbergh. He was fascinated with the mechanics of motorized transportation at a young age. Lindbergh dropped out of college in 1922 to begin flight training, and just five years later become a global icon for completing the first transatlantic flight. Today we explore a few of his many Greenwich Village connections.
The Kidnapping-Inspired Book
On March 1, 1932, Lindbergh's 20-month-old son was abducted from his crib. Two months later, the child's body was discovered. German immigrant Bruno Hauptmann was arrested soon after, convicted in 1935, and executed on April 3, 1936, although he claimed innocence until his final moments. To this day, many believe that others were involved in the conspiracy. Future author Maurice Sendak, who lived on West 9th Street in the 1960s, was four years old at the time of the kidnapping. The sensational case that gripped headlines for years deeply impacted him, inspiring his work for decades.
Sendak's book Outside Over There, the third part of a trilogy including Where the Wild Things Are, draws specifically from the Lindbergh kidnapping case. The book about jealousy and sibling rivalry includes the kidnapping of a baby by goblins who use Hauptmann's ladder to access the child's room. Some call the book, which has won multiple awards and inspired the movie "Labyrinth," Sendak's best work.
The Kidnapping-Inspired Artwork
Artist Chaim Gross exhibited his work and had studios in multiple Greenwich Village locations. The sensational trial must have caught his attention, because from 1932 to 1934, during the heart of the trial and while he lived and worked at 63 East 9th Street, he sculpted The Lindbergh Family and Hauptmann Trial.
These two 64″ tall columnar portraits were sculpted from golden streak ipilwood. Gross said that the Lindbergh half of the two-part sculpture represented Lindbergh, his plane The Eagle, Mrs. Lindbergh, and the baby on top. In the Hauptmann portion, there is a ladder, a head, the $50,000 ransom money, the baby upside down, and the tears of the family on top. Art historian Roberta K. Tarbell noted that these abstract portraits are unique for Gross as his real subject, throughout his career, has been the human figure.
The Contest and Controversy
Beyond artistic interpretations, Lindbergh has a much more direct connection to Greenwich Village, related to that record-setting transatlantic flight. On May 22nd, 1919, a $25,000 prize was offered to the first (Allied) aviator to fly nonstop from New York City to Paris, or vice-versa, within the next five years. Current technology prevented anyone from even attempting the feat, and in 1925 the offer was reissued. By the time Lindbergh took off from Roosevelt Field (now the site of the Roosevelt Field Mall) on May 20, 1927, and landed in Paris the following day, 33.5 hours of continuous solo flight later, six men had died attempting to win the prize.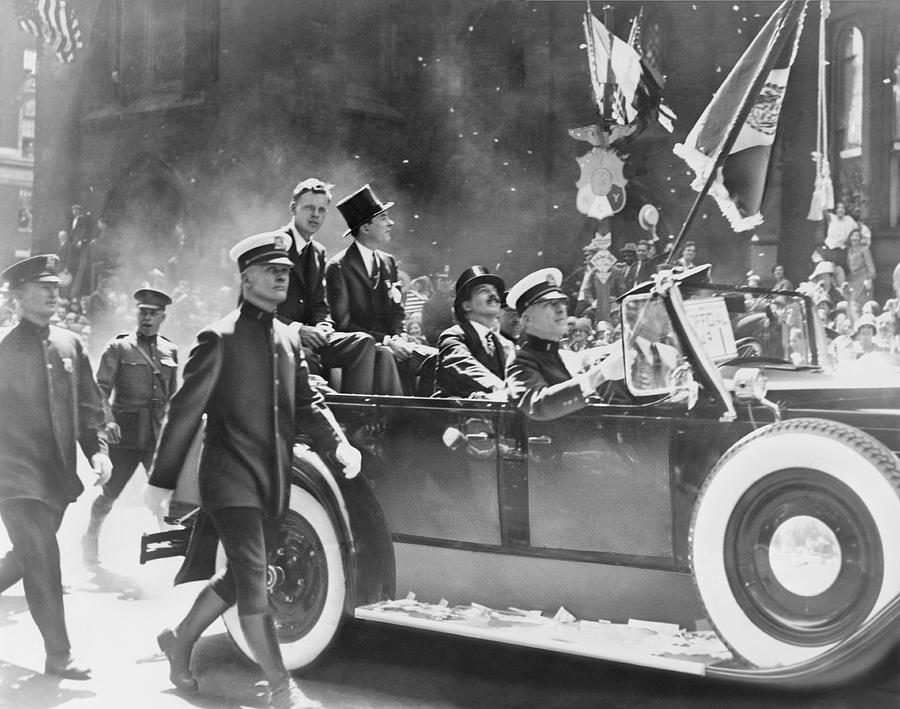 So what's the Village connection? The $25,000 Orteig Prize was offered by Frech American hotelier Raymond Orteig, owner of the Lafayette Hotel and operator of the Brevoort Hotel. After immigrating from France, one of Orteig's first jobs was at the Martin Hotel, which opened at University Place and 9th Street in 1883. In 1902, Ortieg purchased the hotel and renamed it the Hotel Lafayette. It became known for its clientele of French ex-pats, WWI aviators, artists, and bohemians. The building was demolished in 1957.
The Brevoort Hotel was one of the most fashionable hotels of its day. It stood at the northeast corner of 5th Avenue and 8th Street from 1854 to 1954, when it was replaced by a residential building named The Brevoort. It was here at the Hotel Brevoort where on June 27, 1927, the Orteig Prize was awarded to Lindbergh. The prize was lauded for attracting investment in aviation technology development and public interest many times the value of the prize itself.
On June 13, 1927, New York City held a ticker-tape parade to recognize this momentous occasion. But following the kidnapping and trial, controversy consumed Lindbergh's life. The American flag carried on his famous flight hung on the wall of the Café Lafayette until November 1941, when Orteig's son moved it to a private office, stating "The flag hung there since 1927 when Lindbergh was an aviator and everyone was proud of him. But now he's talking politics." In the late 1930s, Lindbergh and his wife were big fans of what was going on in Nazi Germany and were even planning to move there. In October 1938, Lindbergh was presented with the Service Cross of the German Eagle for his contributions to aviation by Hermann Göring on behalf of the Fuehrer Adolf Hitler.
Lindbergh wanted America to stay out of the war; his isolationist views were not uncommon in America at the time and mirrored those of his father, one of the few congressmen who opposed entering WWI. There was a wide range of support and opposition from Americans for his outspoken views on Roosevelt, race, and religion. But many were disgusted by the sight of their American hero accepting a Nazi award. A series of speeches Lindbergh made in the fall of 1941 prior to Pearl Harbor that were denounced as anti-Semitic only further reduced the esteem in which he was held by many, and a number of civic organizations and corporations ended their relationships with him. In one published piece, Lindbergh said: "These wars in Europe are not wars in which our civilization is defending itself against some Asiatic intruder… This is not a question of banding together to defend the white race against foreign invasion," and "That our civilization depends on a Western wall of race and arms which can hold back… the infiltration of inferior blood." At a speech in Des Moines he said: "The three most important groups who have been pressing this country toward war are the British, the Jewish and the Roosevelt Administration." Of the Jews, he said, "Instead of agitating for war, Jews in this country should be opposing it in every way, for they will be the first to feel its consequences. Their greatest danger to this country lies in their large ownership and influence in our motion pictures, our press, our radio and our government." For an increasing number of even war-averse Americans, these statements were a bridge too far. Just a few weeks later, the Japanese launched a surprise attack on Pearl Harbor, and Nazi Germany declared war on the United States.
After war broke out, Lindbergh worked for Henry Ford (a man with his own troubling history of anti-Semitism and Nazi coddling) in a Michigan plant constructing B-24 bombers for United Aircraft. In 1943, he convinced the company to send him to the Pacific as a consultant, but he ended up flying more than 50 combat missions at age 42. Following the end of the war, Lindbergh refused to backtrack on his many controversial positions. Later in life, Lindbergh focused on conservation. He campaigned to protect endangered species, establishing Haleakalā National Park in Hawaii, and protections for various African tribes such as the Maasai. Fifty years after his death, Lindbergh remains a controversial figure for this wide range of positive and negative contributions to history.