← Back
Independent Bookstores In Our Neighborhoods Offer the Coolest Way to Beat a Sizzling Day
There's no doubt that summertime in our New York City neighborhoods is sizzling hot! And as thermometers continue to tick upward and Independence Day celebrations approach, we recommend that you skip the fireworks and head into some of the coolest institutions in the city: independent bookstores. Greenwich Village, the East Village, and NoHo have some of the coolest there are to offer, and they even have air conditioners!
Three Lives & Company, 154 West 10th Street
During the midst of the Covid crisis, it appeared that to add insult to extreme injury, Three Lives & Company, the beloved bookshop at 154 West 10th Street in the heart of Greenwich Village, had shuttered its doors, and devoted customers went into mourning. For over 40 years, the little shop on the corner of Waverly Place and West 10th Street had remained the stalwart of independence; a bookstore that withstood the onslaught of the big box store bookseller, the advent of the digital book, the online buying craze, etc. Three Lives stood as the ideal of a civilized haven: a beautifully curated store with a literate staff who really love books. And finally, it seemed that the regular reports of the death of the bohemian glory days of the Village had finally come to pass.
Much to everyone's relief, the "little bookstore that could" was not shuttering, but the building was merely undergoing structural work. It was closed for less than a month. If civilization could survive through a worldwide health crisis, the independent bookstore could too.
Many believe the shop's name refers to "Three Lives," a book of fiction written by Gertrude Stein in 1905-1906. And while there is a small picture of Stein on one of the walls of the store, it is actually named for the three women who founded it. Jill Dunbar, Jenny Feder, and Helene Webb opened the shop on Seventh Avenue in 1978, and moved the store to its current location in 1983. Our neighborhoods had scores of bookshops then, and people hung out in them the way they hang out in Starbucks now — except bookshops rarely sold coffee or food or souvenirs.
"Jill was working for Betty Parsons Gallery on 57th Street," recalls Feder. "Helene and I were working at a village bookstore, next to the old Jefferson Market. Helene was a trained graphic artist, and I was also working as an apprentice at Circle Rep on Seventh Avenue doing sets and costumes. Everyone came to the shop. Our neighborhood was the city, and we had actors, writers, publishing people, artists — almost anyone who was involved in the arts at the time passed through the shop, and gave to the shop. They helped create it."
Toby Cox bought the store in 2001 after working there since the 1990s "I loved the idea of a corner bookshop," says Cox. "It was part of what the Village always meant — a little bit of civility and a welcoming face, a place where people buy books and sometimes neighbors leave keys. Bookselling is where I want to be."
Three Lives & Company was amongst the first of our Village Award winners in 1991.
Three Lives owner Toby Cox
Dashwood Books, 33 Bond Street
One of the 2023 Village Award winners, Dashwood Books at 33 Bond Street, is New York's only independent bookstore devoted entirely to photography. It stocks more than 10,000 titles, including hard-to-find works from Japan, Europe, and South America as well as the United States. Founder and owner David Strettell wanted to "create a community for photography book lovers, photographers, and people in the media could gather around interesting books," and he's certainly succeeded in the store's intimate half-basement at 33 Bond Street.
The store has become a mecca for photography lovers who come to enjoy the well-stocked shelves and excellent service by staff. Dashwood features both contemporary volumes and vintage books from around the world, all curated to create a unique resource and experience in NoHo and the city.
Left Bank Books, 41 Perry Street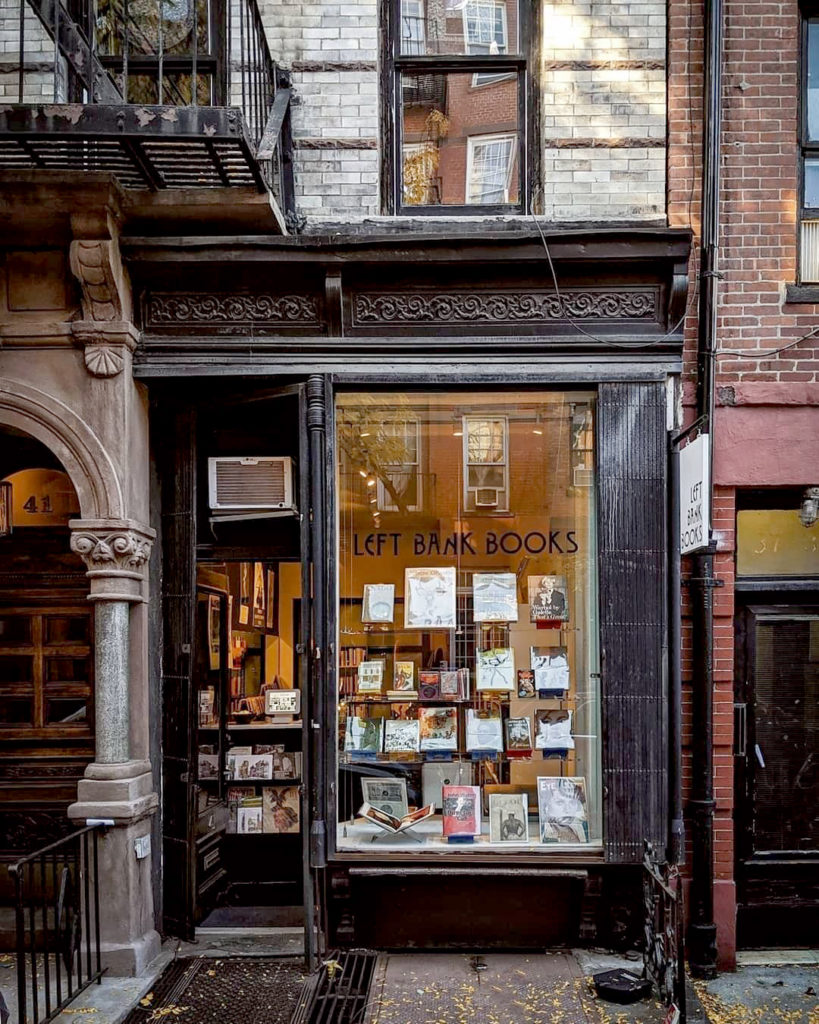 Left Bank Books at 41 Perry Street, along with Three Lives & Company, is distinguished by being a part of our "Small Business, Big History" project. Small Business, Big History is intended to help aid local small businesses and to offer the public a new way to enjoy and explore the unique riches our neighborhoods have to offer in terms of both storefront experiences and history and architecture.
We have recently relaunched an expanded version of the map and program, with 60% more local independent establishments and the fascinating histories connected to their homes and surroundings.
The owners of Left Bank Books strongly identify with the artistic and cultural heritage of the Village, NYC's "Left Bank," and work every day to reimagine what a small, well-curated Village bookshop can be. It showcases an eclectic selection from the 20th and 21st centuries (and occasionally earlier), encompassing literature, art, film, photography, fashion, architecture, design, music, theater, dance, children's books, and New York City. They host occasional events and exhibits, making them a destination for seasoned collectors, emerging enthusiasts, and curious newcomers the world over.
The store is housed in a six-story old-law tenement built in 1898. The building has a dumbell-shaped plan, typical of old-law tenements. Designed by George F. Pelham, one of the most prolific architects in NY history, it features carefully inscribed Romanesque Revival ornament from the ground floor to the cornice.
In 1969, the building was included in the Greenwich Village Historic District, still the city's largest and one of its first designated landmark districts.
Bonnie Slotnick Cookbooks, 28 East 2nd Street
To round out our small (but mighty!) list of fantastic independent bookstores in our neighborhoods, we have chosen Bonnie Slotnick Cookbooks. Bonnie's store specializes in antiquarian and out-of-print books on food, beverages, etiquette, entertaining, and housekeeping. The shelves are wonderfully organized: books on various ethnic cuisine such as French, African, Jewish, Latin, Chinese, and Irish; books from different American regions such as New England, the South, and the Midwest; recipe books for breakfast, chocolate, herbs and spices, vegetarian, dairy, food preserving and canning, and appetizers are just a few of the categories offered. Guidebooks on restaurants and fine dining can also be found. M.F.K. Fisher has a shelf of her own and many other legendary food writers and chefs' publications are represented including Craig Claiborne, Julia Child, Marian Cunningham, Edna Lewis, James Beard, and Pierre Franey. The bookstore opens onto a garden, where you can sit and decide which books you want to take home.
So this Independence Day, stay cool: shop local and support your independent bookstores. There are so many in our neighborhoods to explore.