← Back
Connie Converse: The Enigma and Mystery of the Original Singer Songwriter
Connie Converse was arguably the first modern singer-songwriter, writing and playing intimate songs on her acoustic guitar in the mid-1950s, before Bob Dylan ever arrived in Greenwich Village. But her original, beautiful, and remarkably poignant talent has remained virtually unknown — until now. The moving, witty, and melodically sophisticated songs she wrote in the 1950s went largely unheard until 2004 when they enjoyed exposure on NPR's music program, "Spinning On Air." Recently, Connie's music has been the subject of articles, a documentary film, podcasts, a stage presentation entitled A Star Has Burnt My Eye by Howard Fishman, and most recently, a book entitled To Anyone Who Ever Asks: The Life Music, and Mystery of Connie Converse, (also by Mr. Fishman, who will join Brittany Spanos of Rolling Stone for a Village Preservation Book Talk event — registration here) Albums of her songs performed by her have been released, and her songs have been rediscovered and performed by prominent contemporary artists. Her time has finally arrived. But she has gone. And her disappearance remains a mystery.
Born Elizabeth Eaton (Connie) Converse on August 3, 1924, in Laconia, New Hampshire, she was known throughout her adult life as a "polymath" and "genius." Outspoken, brave, and wildly independent, she was also tremendously talented. In seventh grade, her poem about Abraham Lincoln turned up in the local paper. Later, a plasticine statue she made of Christopher Columbus surveying the ocean was displayed at the Concord Public Library. She was the valedictorian of her high-school class and was awarded a full scholarship to Mount Holyoke College. To her family's dismay, she dropped out of school after her sophomore year to pursue her dreams of becoming a writer in New York City.
The idea of living in Greenwich Village was a like a siren's song to artists of all stripes during the repressive age of the 1950s, and Connie Converse was drawn to the place that was home at the time to the likes of Cason McCullers, William S. Burroughs, Margaret Mead, Patricia Highsmith, Anaïs Nin, Djuna Barnes, and her favorite writer, E.E. Cummings. She set up house in a 400 square-foot apartment in a building constructed in 1888 at 23 Grove Street between Bleecker and Bedford.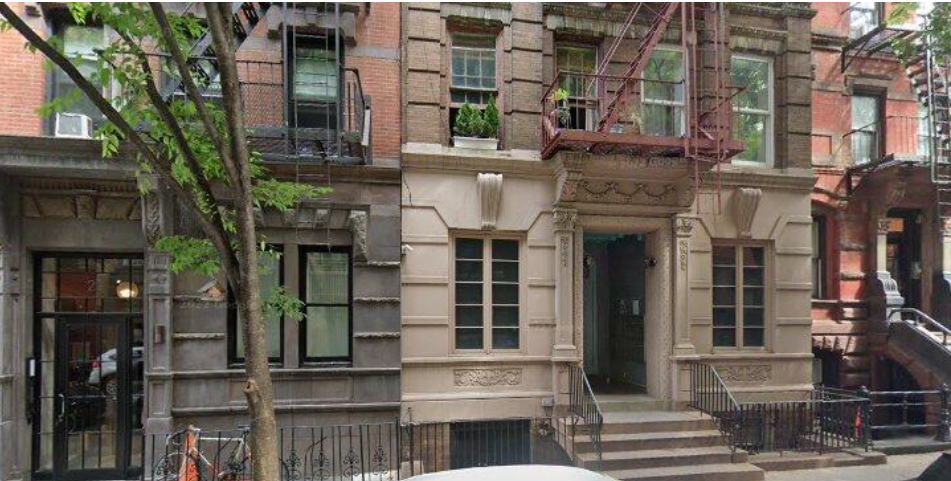 23 Grove Street
In June of 1949, she quickly picked up an editorial job at the Institute for Pacific Studies and was published as a writer for the very first time in Far East Survey, a bi-monthly academic journal of Asian studies. Her short essay was on Papua and New Guinea, but subsequently, her longer works about India, Formosa, Micronesia, and other topics were published in the journal.
In the fall of that year, the first of Converse's voluminous cartoons were also published in The Saturday Review of Literature.
At this time she was also writing poetry, painting, taking road trips, and teaching herself to play guitar.
Excited by her new creative outlet, Elizabeth — who had begun introducing herself as "Connie," the nickname her New York friends had given her  —  began writing profusely, eventually amassing a 40-song oeuvre. She set her favorite poems to music ("With Rue My Heart Is Laden" by A. E. Houseman), wrote love songs of her own ("The Moon Has No Heart"), and dabbled in feminist anthems ("Roving Woman"). She found herself in a cohort of other young Greenwich Village musicians, one of whom was a young man by the name of Pete Seeger. Connie began recording her tunes in her Grove Street apartment with the help of Gene Deitch, a young World War II veteran and music enthusiast. Gene had a Crestwood 404 tape-recording machine and they recorded in her tiny kitchen that she called "an afterthought kitchen." Deitch would become so enthralled with Connie's music that he would record her at his home in Hastings-on-Hudson, sometimes in front of live audiences of friends and admirers. "There were many better singers than Connie," Deitch wrote, "but few were as intelligent or literate or beautiful. Her songs still haunt me."
The American folk music scene at that time was dominated by traditional, political songs sung mainly by men — the solo acoustic female singer-songwriter was not yet an accepted or popular concept. Deitch claims that Converse was "50 years ahead of her time."
Despite her ambitions to be a singer-songwriter, she did not play conventional live gigs, but in 1954, thanks to a connection of Deitch's, Connie secured the chance to play a few tunes on Walter Cronkite's "CBS Morning Show." (unfortunately a recording of that appearance no longer exists).
Connie Converse with Walter Cronkite, CBS 1954.
When she wasn't writing or recording, she was working to get her music in front of managers, producers, agents, or anyone who would listen and take her music seriously. The CBS gig was expected to be a real boon for her career, and then —  nothing. The TV appearance yielded no wide acclaim; her recordings attracted not a single record contract. "We tried our best," says Deitch, "but we just couldn't sell her."
In January 1961 — the same year that Bob Dylan moved to Greenwich Village — frustrated by her inability to find the right audience for her songs, Converse turned her back on the music scene. She left New York and moved to Ann Arbor, Michigan, where she landed a job at the University of Michigan doing secretarial work and writing for the Journal of Conflict Resolution.
During her time in Ann Arbor, Converse seems to have quit songwriting altogether. In the summer of 1974, just before her 50th birthday, Connie Converse composed several letters to her family and friends:
"Human society fascinates me and awes me and fills me with grief and joy. I just can't find my place to plug into it. So let me go, please; and please accept my thanks for those happy times that each of you has given me over the years: and please know that I would have preferred to give you more than I ever did or could—I am in everyone's debt." She said she was going to head west and take another shot at a new life. She then packed up her Volkswagen Beetle and drove out of Ann Arbor. It was the last time anyone in her family ever saw or heard from her. Her whereabouts remain a mystery.
Village Preservation is proud to be producing a book talk with Howard Fishman about his recently published To Anyone Who Ever Asks: The Life Music, and Mystery of Connie Converse, and Brittany Spanos, writer for Rolling Stone. It will be held on Wednesday, July 19th at 6 PM at Jefferson Market Library, 425 6th Avenue, in the theater on the first floor.
You can register for the event here.