← Back
Hip Hop's 2nd Birthplace: Greenwich Village & the East Village
Hip Hop at 50
This is the first in a series of posts that celebrate the 50th Anniversary of the Birth of Hip Hop. Our exploration takes us to the seminal places of Hip Hop's early days in our neighborhoods and introduces some of the instrumental figures in the downtown world of Hip Hop.
While the birthplace of hip hop has been officially designated as 1520 Sedgwick Avenue in the Bronx, where on August 11, 1973, DJ Kool Herc presided over parties in the community room at a pivotal point in the genre's history, Greenwich Village and the East Village can boast of being the neighborhoods where all four hip hop elements were presented together for the first time and becoming its second birthplace. During a pivotal five-year period in hip hop history (1979-1984), nightlife venues, art galleries, walls, and parks throughout Greenwich Village and the East Village functioned as a secondary incubator and stage for bboys, graffiti artists, emcees, DJs, and designers creating what we now call Hip-Hop Culture. Hip hop culture bearers, pioneering artists, and early adopters connected with the existing punk, new wave, and no wave artists who were already living and creating in Greenwich Village and the East Village. The neighborhoods served as a nexus where African-American and Latino artists from the Bronx and uptown connected with transplant, ex-pat, and suburban white artists, scenesters, and tastemakers who were also creating art with a similar ethos. Today we explore a few seminal hip hop sites in our neighborhoods.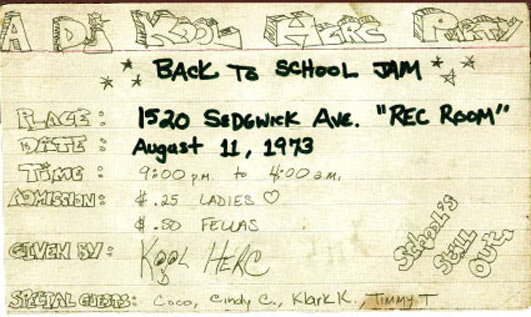 Born of a disenfranchised youth movement in the post-industrial urban scourge of America's neglected neighborhoods, hip hop's creators consisted of graffiti writers, bboys (break dancers), DJs, and emcees (MCs) who animate the black postmodern urban experience through dance, visual expression, and rap, with ad-libbed verbosity, assonance, and gritty vocabulary punctuated by rapid-fire delivery. Like jazz, it is an improvisational art form that draws from the long history of systematically disenfranchised Americans repurposing rhythmic, musical, and visual tools to create new forms of art.
The 2nd Birthplace
Hip hop music and culture is a powerful mash-up of social consciousness and creative expression. Now globally accepted, hip hop adapts to the environment it encounters. Almost everywhere you look you will find a hip hop scene; from the Bronx to Europe, Russia, South America, Africa, and Australia — hip hop is there. Each element of hip hop has its own subculture with a unique set of socio-political values, history, power dynamics, tastemakers, founders/pioneers, cultural customs, and codes.
Washington Square Park became a strong draw for the nascent hip hop movement and became a legendary gathering and creative space for hip hop culture creators. Bboys and emcees activated legendary cyphers (a gathering of rappers, bboys, and beatboxers, pulled tightly together in a circle where each person works to get a moment in the spotlight) in front of the park's arch and in its fountain during colder months when it wasn't in use. Graffiti writers and DJs used the park as a social gathering space to create community with their artistic peers. DJing, emceeing, bboying, and graffiti writing were first presented together as a unified cultural expression in lofts, concert halls, nightclubs, and art galleries throughout Greenwich Village and the East Village between 1979 and 1984.
"Hip hop's something us downtown kids thought was going on uptown and we wanted to bring it downtown, but all these elements were all disparate elements. Rappers didn't hang out with breakers and breakers didn't hang out with graffiti artists. Downtown kids created a subculture by mistake. We were toying with evolution." – Michael Holman quote excerpted from Tim Lawrence's seminal book Life and Death on the New York Dance Floor 1980-83.
DEF Jam Recordings
Rick Rubin was a student at NYU's Tisch School of the Arts studying filmmaking in the early 80s. A musician himself, he was inspired by what he was seeing on the streets in his adopted neighborhoods of Greenwich Village and the East Village. He founded DEF Jam Recordings when he was a sophomore living in room 712 at Weinstein Hall on University Place. He soon met and became partners with Russell Simmons, the brother of Rev. Run (Joseph Simmons) of Run-DMC, and Run-DMC's manager. Together, Simmons and Rubin made DEF Jam the first record label to exclusively promote and distribute hip hop music and were largely responsible for the evolution of the hip hop sound.
"So up until the time of DEF Jam, pretty much most of the rap records at the time were R&B records with people rapping on them. And then I think one of the things that separated our records from the ones that came prior was that they had more to do with what the actual hip hop culture was like, and that was only because we came as fans from this culture and, in making the records and producing the records, the goal was to capture the energy that you felt at a hip hop club — and they weren't really clubs then, they were more like a hip hop "night" at another club. So if you went out and you saw DJs and MCs and the energy that would happen on that one night, that was really what we tried to get into the records. – Rick Rubin quote- excerpted from NPR news article about the first 25 years of Def Jam
DEF Jam established itself permanently by discovering and/or promoting the careers of Jay-Z, DMX, Ja Rule, Method Man & Redman, Ludacris, Rihanna, Jeezy, and Kanye West, and has grown from a dorm room at NYU into a globally influential brand.
These are just some of the spots in our neighborhood where hip hop was nurtured, grew, and brought to life. Click here to register for our upcoming walking tour, The 2nd Birthplace Tour (Hip-Hop at 50), to learn more.
This blog was partially adapted from the research done for our 2nd Birthplace Tour (Hip-Hop at 50). We would like to thank the following people and organizations for their invaluable input and support in developing 2nd Birthplace:
Amanda Adams-Louis, 36 Chambaz of Stylz, Big Tara, Cricket, DJ Spinna, Elena Romero, Eric "DEAL"Felisbret, FlashTalks, James Top, Justine Leguizamo, Keistar Productions, Kyra Gaunt, Leeanne G-Bowley, Martha Diaz, Michael Holman, and Peaches Rodriguez.