← Back
The Art and Archives of the American Indian Community House
The American Indian Community House (AICH) is a nonprofit organization dedicated to serving the needs of Native Americans living in New York City. With a mission to enhance the well-being of Native Americans and promote intercultural understanding, the AICH offered a range of services, including substance abuse counseling, HIV support, career assistance, and visual and performing arts programs, and was located in our neighborhoods from 1989 to 2006, a particularly important period for its output and development.
In 1978, AICH converted a ground-floor retail space into a white-box gallery and appointed artist and curator G. Peter Jemison (Seneca/Heron clan) to serve as the first director of AICH's gallery. This gallery emerged in part due to the pioneering work of Lloyd R. Oxendine (Lumbee), who operated the American Art Gallery (1970-75), the city's first gallery solely dedicated to Contemporary North American Indian art. In 1985, Oxendine assumed the role of Director/Curator at AICH's gallery.
In 1989, AICH moved to 404 Lafayette Street/708 Broadway (at Washington Place), driven primarily by a need for expanded space to accommodate its growing programs. This building spanned a full city block and served as AICH's longest-standing home. At 404 Lafayette, AICH had one floor dedicated to client services, another floor for performances, and a ground-level storefront that featured a gallery and gift shop.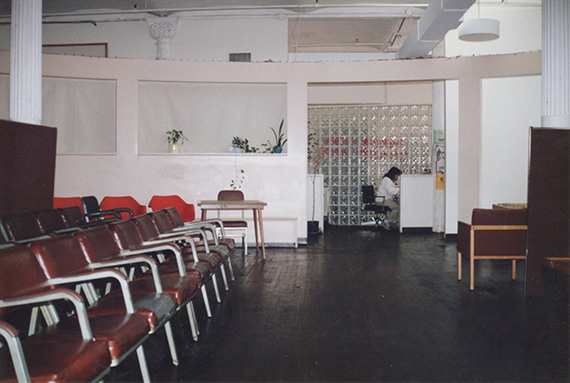 AICH's arts programs became a crucial resource for Native visual and performance artists, offering support to emerging talents, like Diane Burns, a key figure in the 1980s poetry scene whose first performance was at AICH. Diane Fraher, who would later found AMERINDA, served as the director of the Performing Arts department at AICH from 1982 to 1985. Here, she realized the importance of community spaces in fostering artistic creativity, noting, "a true sense of artistic community has to emerge before the actual creative process can even begin."
Several of the performances at AICH are archived at the Hemispheric Institute Digital Video Library, a digital library dedicated to documenting performance practices in the Americas.
"Reverb-Ber-Ber-Rations" by Spiderwoman Theater.
This was one of the earliest recorded performances in AICH's 404 Lafayette space. The Spiderwoman Theater Ensemble is the oldest Native American feminist theater group in the United States. Founded in 1976 at the Washington Square Methodist Episcopal Church in Greenwich Village, it's one of the leading performing arts groups to emerge out of the New York Contemporary Native American Art Movement.
"Reverb-Ber-Ber-Rations," performed by original members Lisa Mayo, Muriel Miguel, and Gloria Miguel of the Kuna and Rappahannock nations, explores the Miguel sisters' experiences of growing up and their discovery of Native spiritual beliefs and practices.
Spiderwoman Theater and AICH have a strong and enduring relationship, frequently performing in AICH's venues. Additionally, Lisa Mayo served on the Board of Directors of AICH from 1998 to 2007.
Native America: Thunderbird American Indian Dancers and Indigenous
For several years, AICH produced a cable network show called "Native America." Performances at AICH were recorded, edited, and broadcasted on the Manhattan Neighborhood Network in half-hour segments. This episode features a performance by the Thunderbird American Indian Dancers and blues-rock group 'Indigenous'.
Thunderbird American Indian Dancers, founded by Louis Mofsie (Hopi-Winnebago) in 1963, is the oldest resident Native American dance company in New York. This all-volunteer group aims to preserve the traditions, songs, and dances they inherited from their parents and other tribes living in New York. They've held annual Pow-Wows at the Theater for the New City since 1976.
Indian Summer 2006: Coatlicue Theater Company's Holding Up the Sky
Coatlicue Theater Company, led by Elvira and Hortencia Colorado, Chichimec Otomi storytellers, focused on sharing comedic yet educational stories about urban Native American women. This work,"Holding Up the Sky," is a series of theater skits addressing border and immigration issues within indigenous communities. The performance incorporates humor and audience participation and is inspired by Mayan mythology.
This performance was part of the last series of performances at AICH's 404 Lafayette space as they were forced to moved a few months later due to rising rents. Rent costs and reduced government funding has forced AICH to reduce services, but they've continued their important cultural and political work. This has included collaborating with the Museum of the City of New York on the 2019 exhibit, Urban Indian: Native New York Now and creating grassroots fundraising networks like the Manna-hatta Fund. In 2021, AICH began operating out of a seasonal home on Governors Island.