← Back
Bright Lights, Big Village
You decide to write a blog post about Bright Lights, Big City, the 1987 film based on a novel published three years earlier about the excesses and pitfalls of life among young up-and-comers in 1980s Manhattan that famously employed the then-distinct use of second-person narration. You mark how many shots from the film capture Manhattan during a very different era, from a decrepit Bryant Park outside the offices of the movie's stand-in for The New Yorker to the trendy and drug-infused parties taking place in the crowded lofts in Tribeca. You also take note of the key appearances of Greenwich Village that pop up on screen and the book's author's time residing in the neighborhood, and you discover the central theme for your post.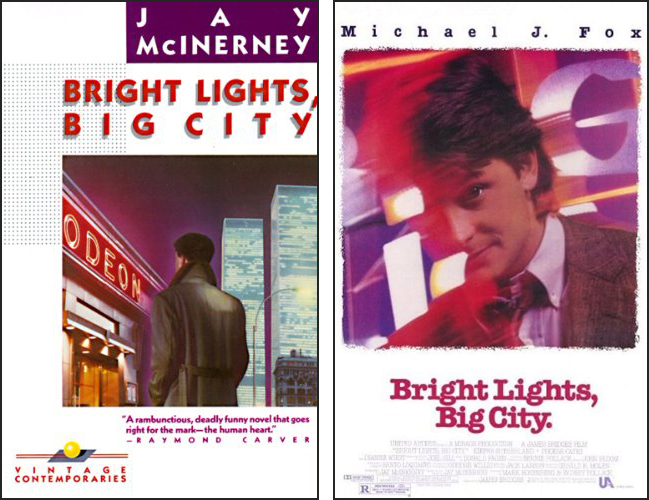 In Bright Lights Big City, the second-person narrator — unnamed in the book but dubbed Jamie Conway in the movie, a loose homonym of the novel's author, Jay McInerny — is a fact-checker at a fictional highbrow magazine and aspiring writer by day, and a cocaine-infused partygoer seeking to lose himself at both large downtown nightclubs and more intimate gatherings at night. As the story begins, his fashion-model wife Amanda has recently left him, pushing Jamie (played by Michael J. Fox) to seek greater thrills and more highs to escape his reality in his nightly adventures with his closest friend Tad Allagash (Kiefer Sutherland). Meanwhile, the rest of his life is falling apart, as he gets fired from his fact-checking job and loses his creativity as a writer. He meets Tad's cousin Vicky (played by Fox's future wife Tracy Pollan) for a date that turns out better than he expected. That evening, he heads to a party at Tad's invitation, only to encounter and have a pointless conversation with his ex-wife (Phoebe Cates); disgusted with Amanda, Tad, and himself, he exits the party, wandering the streets of lower Manhattan till dawn.
In the movie, Jamie lives at 24 Charles Street on the corner of Waverly Place, a six-story corner apartment house designed by George F. Pelham in 1903 that stands within the Greenwich Village Historic District. Eventually he meets his brother Michael at the apartment, there to remember their mother on the one-year anniversary of her death (throughout the film, Jamie follows the tabloid story of the "coma baby," trapped in the womb of his injured and dying mother, with the city and world breathlessly awaiting news of whether he can survive on his own). Jamie runs away from Michael — just as he has been running away from this tragic event in his life, one he eventually realizes was the true start of his descent into drugs and alcohol — and into the nearby Christopher Street subway station, jumping the turnstiles to escape on the 1 train.
The epiphanic climax of the movie, when Jamie finally breaks free of the cycle of despair and escape in which he's been trapped, also takes place in our neighborhood. After emerging from the aforementioned party where he left Tad and Amanda behind (warning: spoilers ahead), he wanders the streets of Tribeca for salvation. Just before sunrise, at the corner of Greenwich and Laight Streets, he finds a man loading fresh bread into a delivery truck. Jamie quickly trades his stylish, expensive but unnecessary sunglasses for just one loaf. He winds up on Pier 51 near Horatio Street (now part of Hudson River Park), a short walk in the film but more than a mile away in real life. Jamie's road to redemption starts there, as the warm glow of sunrise bathes the downtown skyline:
"It's 6 am on the island of Manhattan," says narrator Conway. "In the dawn's light, you can imagine the first ship from the Old World sailing slowly up the biggest river they had ever seen. That was how you felt, the first time you saw the city from a Greyhound window, like you were looking at a new world waiting to be discovered. And that's how it looks to you now. But you have to go slowly. You'll have to learn everything all over again." The film ends with a shot of the tabloid cover shouting that the "coma baby" has survived his ordeal and lives.
In your explorations for this post, you also discover another connection to our neighborhoods, this time in South of Union Square, as the novelist and movie's screenwriter McInerney once lived at 40-56 University Place/aka 26 East 10th Street. He is just one of many writers who have called this proposed historic district home, and you look forward to learning more about these authors on our South of Union Square walking tour.